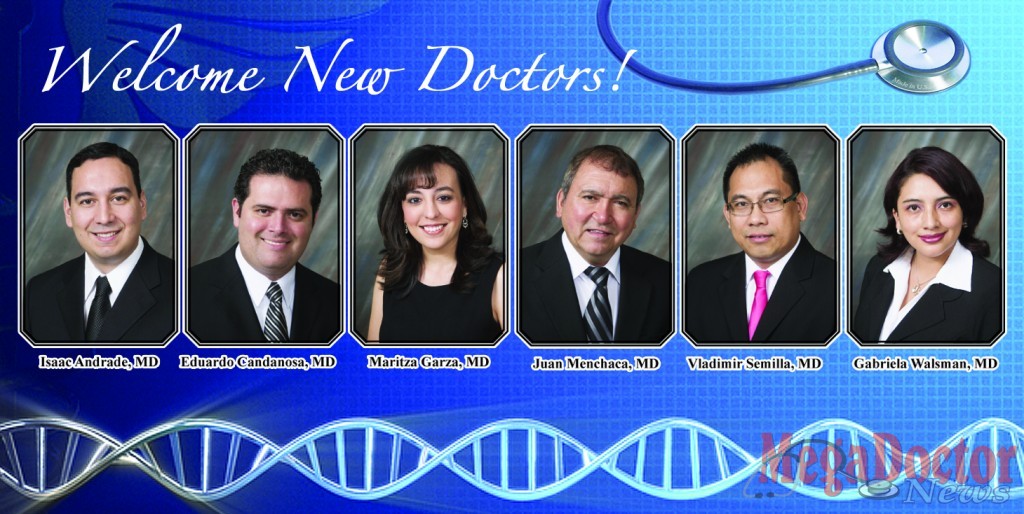 Mega Doctor News
The Class of 2014's six family physicians celebrate their recent graduation from the McAllen Family Medicine Residency Program (MFMRP). The resident physicians successfully completed three years of rigorous coursework, clinical, specialty and hospital rotations, becoming eligible for board certification in Family Medicine.
The graduates include Isaac Andrade, MD; Eduardo Candanosa, MD; Maritza Garza, MD; Juan Menchaca, MD; Vladimir Semilla, MD; and Gabriela Walsman, MD. Four of the graduates will remain in the Valley treating patients; one will practice medicine in Corpus Christi, and another in Virginia.
"Since 1977, the MFMRP has trained 192 family physicians. More than half continue to provide healthcare in the Rio Grande Valley today. More than three-quarters of the doctors remain in Texas, which ranks 47th nationally in access to primary care physicians," said Program Director Eric Petersen, M.D.
"Access to a primary care physician is the key to disease prevention and optimum management of chronic diseases such as diabetes and high blood pressure," Petersen said. "Studies show that health care costs are higher for patients who do not receive adequate primary care."
"The McAllen Family Medicine Residency Program and the physicians that stem from it are tremendous assets to the Valley," said Elmo Lopez, Jr., Chief Executive Officer of McAllen Medical Center. "The residency program has made an impact on our population's overall health and well-being."
Dr. Walsman, one of the graduates, summed up her experience at the McAllen Family Medicine Residency Program: "Choosing the McAllen Family Medicine Residency Program is one of the best decisions I have ever made. It prepared me well for the outpatient and inpatient practice by giving me a large variety of clinical experiences and providing an appropriate amount of autonomy and clinical guidance with well-rounded faculty. It was an honor to train within these walls. I gained more than just knowledge – I overcame my doubts and fears. The McAllen Family Medicine Residency Program taught me how to be a wise, diligent, and compassionate physician."   MDN