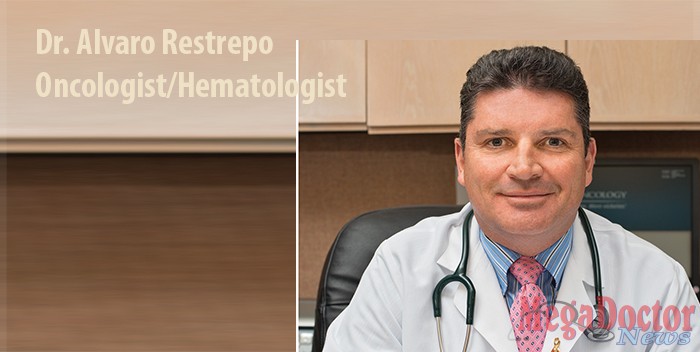 By Roberto Hugo Gonzalez
- Advertisement -

As originally published by Mega Doctor News newsprint Edition
The results confirm that receiving a breast cancer diagnosis can be a significant traumatic experience. This diagnosis is a potential life-threatening event associated with significant distress.
That is why it is so important to learn more about the disease; information related to breast cancer is now abundant. It is also equally important to get to know the professionals that will fight with you against this disease.
Dr. Alvaro Restrepo recognizes that it can be traumatic and because of that he told Mega Doctor News, "We have support groups that meet regularly to help patients learn about their disease and how to cope with it." He continued, "The treating oncologist and his team guides the patient step by step in all the stages of the disease and treatment and provides the best support to the patient."
Dr. Restrepo is board certified and specializes in internal medicine, medical oncology, and hematology.
He told Mega Doctor News, "One of the most important roles we have as oncologists is to be able to listen to our patients and to successfully guide them through a proven comprehensive treatment plan."
Dr. Restrepo is a committed physician who fights cancer.  Ever since he was a little boy he learned about how devastating this disease can be for the individual and the entire family.
- Advertisement -

"My mother's life was marked with a very bad case of malignant melanoma.  When I was 7 years old, she had 5 or 6 surgeries; her probabilities of dying were very high.  Since then I became very curious about the interesting field of fighting cancer," he said.
His father, Dr. Alberto Restrepo, was an important internist and hematologist who graduated with honors from Washington University in St. Louis, Missouri and from Cornell University in New York.
"My father, as a hematologist, inspired me at an early age. I used to go with him to visit patients at home and in the hospital, but in 1998, at the age of 67, he died of colon cancer," he said.
He pointed out that his mother, a retired microbiologist, used to work with her husband in their laboratory in Medellin, Colombia.  She taught Dr. Restrepo and his sister the basics of hematology, like blood drawing and peripheral blood smear interpretations.
Today, in order to keep up with new advances and findings related to breast cancer disease Dr. Restrepo attends national and international symposiums 3 or 4 times a year, among them the San Antonio Breast Cancer Symposium.  "This is the best breast cancer conference in the world, where the latest developments in breast cancer are presented every year," he said.
Dr. Restrepo is also part of a group leader in the field at Texas Oncology-McAllen. He said that being at Texas Oncology it allows him to practice excellent medicine with access to the best technology in radiology, radiation oncology, laboratory and chemotherapeutics, managed by an experienced multidisciplinary team, all in the same facility.
In more than 25 years of service, Texas Oncology has given treatment and hope to more people throughout the state than any other cancer care provider.
Going back in time and comparing it with today's advances, he says that the community has better education and awareness of cancer.  "More screenings, better diagnostic techniques, and more effective treatments like chemotherapies, radiation therapy, and targeted therapies are being done," he said.
It is important to note that Dr. Restrepo works as a general oncologist and hematologist. "I also did a fellowship in breast cancer; this is my current area of interest.  I am a member of the Texas Oncology and US Oncology Breast Cancer Research committees, member of the Society of Breast Diseases, and was recently awarded a School of Breast Cancer diploma from Baylor University," Dr. Restrepo stated.
He also said that whenever there is a cancer diagnosis it is important that the primary care physician refers the patient to an oncologist.  An oncologist is the expert in the field and will offer the patient the best treatment available.  He will also recommend that a second opinion be considered if necessary.
He also commented on his passion to be involved with Texas Oncology/US Oncology Research program, one of the largest community-based research networks in America.  Local research expands access to innovative and novel cancer care to our patients in The Rio Grande Valley.
Dr. Restrepo recommended a healthy diet and physical activity.  Current research shows that poor diet, not being active, and bad habits increase the risk of cancer. According to him the good news is that these can be changed and you can start today.
First of all, he said, "Stop smoking and decrease alcohol consumption to a maximum of one glass per day. Obtaining a healthy weight decreases the risk of cancer and many other metabolic disorders and it also prolongs survival."
He also recommends a combination of a regular exercise program, which improves symptoms of fatigue, improves quality of life, and helps in maintaining an ideal body weight by making healthy food choices, and focusing on plant-based foods.
A good diet plan, he says also includes two and a half cups of vegetables and fruit each day. "Choose to eat a variety of vegetables and fruits for snacks. Limit the use of creamy sauces, dressings and dips.  Choose whole grain instead of refined bread products. Limit how much processed meat you consume. Choose lean cuts of red meat and eat smaller portions, and prepare meat and poultry by baking or broiling instead of frying or charbroiling," he said.
Dr. Restrepo emphasized that adopting healthier lifestyles is easier for people who live, play, or go to school in an environment that supports healthy behaviors. One third of cancer deaths are related to an unhealthy lifestyle, poor diet, and low activity.   "Let's challenge ourselves to stop smoking, drink less alcohol, eat more fruits and vegetables, and lose some extra pounds doing more physical activity," he said.
As part of his activities to fight and cure cancer he is fully committed to bring awareness to this community and through Mega Doctor News, Dr. Restrepo is sending an invitation so you can take part in their Annual Texas Oncology Walk, Run and Ride event that takes place every year in October. MDN
GRADUATE DEGREE
Physician, M.D.
Instituto de Ciencias de la Salud, C.E.S. Colombia, S.A.
1981-1987
POST GRADUATE DEGREE
Internal Medicine
University of Miami/Jackson memorial Hospital 1991-1993
FELLOWSHIP
Hematology and Oncology
University of Miami/Jackson Memorial Hospital 1994-1996
Autologous Bone Marrow Transplantation
University of Miami/Jackson Memorial Hospital 1997-1998
Breast Cancer
University of Miami/Jackson Memorial Hospital 1997-1998
HONORS AND AWARDS
Fellow of the Year-Jackson Memorial Hospital 1995-1996
Certificate of Recognition Amgen Oncology Fellowship 1996-1997
Best Fellow of the Year-Ortho-Biotec Award 1997