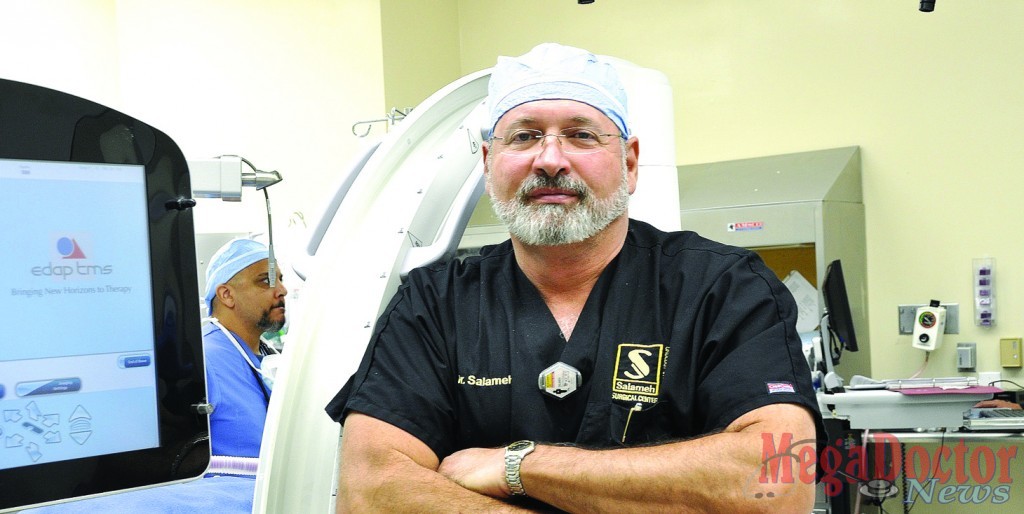 Mega Doctor News
- Advertisement -

By Roberto Hugo Gonzalez
No hospital stay and same day in-office procedures are services offered by Dr. R. Nicolas Salameh, a board-certified urologist in McAllen.
Dr. Salameh has come up with an idea to offer four important procedures that can easily be done in-office the same day of your visit. "The procedures are important issues for many in the Rio Grande Valley and that is why I decided to provide this alternative that will also save money to the patient," Dr. Salameh explained.
He pointed out that low sexual drive or no drive at all; dysfunctional bladder; prostate problems; and a vasectomy are among some of the symptoms or illnesses often occurring among the Valley's population. He felt that it was important to offer safe and fast treatment solutions after a proper medical analysis that can be done the same day of your visit.
Low T:
What can cause a lot of frustration in men is Low Testosterone (Low T). Low T is a medical condition known to cause symptoms such as reduced sex drive, reduced energy, and sexual dysfunction, among others. It's estimated to affect millions of men in the U.S.
If you feel you're experiencing the signs and/or symptoms of Low T, Dr. Salameh can help. He has been in urology practice for more than 20 years.
- Advertisement -

Dysfunctional Bladder:
Dysfunctional bladder can be embarrassing and frustrating in your life. Dr. Salameh said that people should not prolong it, if they have this situation. "This procedure is also done during your office visit; you can go home the same day," Dr. Salameh said.
He pointed out that this is a medical condition that can be treated. If you think you have these symptoms, then don't waste any time, get treated to avoid embarrassing moments in front of other people.
Prostate Problems:
For men under 50, the most common prostate problem is prostatitis. For men over 50, the most common prostate problem is prostate enlargement, frequent urge to urinate, getting up many times during the night to urinate, blood in the urine or semen, painful or burning urination among other symptoms. If you are feeling these symptoms, you should consult a doctor specializing in urology. Don't wait any longer and prevent other problems that may arise as a result of not treating your prostate problems in time.
Vasectomy:
For those that have finished having children, this is a procedure that can help. The beauty of the procedure with Dr. Salameh is that you go in to visit him in the morning and by the afternoon you are home. This procedure requires local sedation and you can even be awake with your wife by your side.
A vasectomy is considered a permanent method of birth control.
Appointment for Treatment
Whatever your symptoms or problems may be, don't wait any longer. Call Dr. Salameh today to set up an appointment for a consultation and medical analysis to determine your medical condition and treatment options. You can contact his office staff at 956-682-5500 at the Salameh Urology Institute located at the McAllen Doctors Center, 1801 South 5th Street, Suite 104 in McAllen, TX 78503. MDN