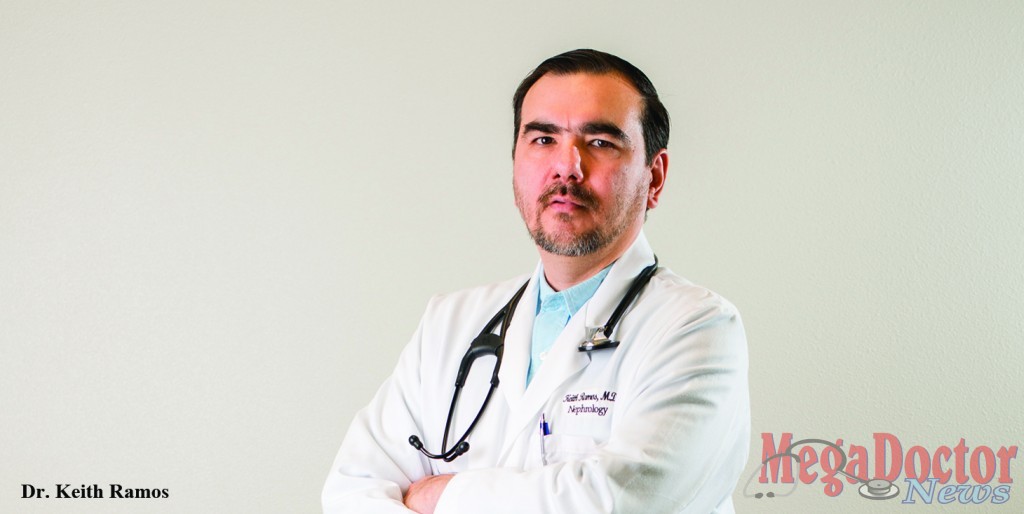 By Roberto Hugo Gonzalez, Mega Doctor News Publisher
- Advertisement -

One of the first reports we did on kidney disease was to announce that South Texas had the capabilities of performing kidney transplantation. This, without a doubt, is a plus for any region. The fact is that kidney patients can look for specialized assistance here without having to travel miles away is priceless.
Having doctors specializing in nephrology like Dr. Keith Ramos is also of great benefit for this community. Dr. Ramos owns and operates Kidney Doctors of South Texas, P.A., with three offices in the Rio Grande Valley.
This month, Dr. Ramos became our feature story and the front cover as our Mega Doctor. He is one that is recognized to be among the best in the field of nephrology.
One of the reasons that we created Mega Doctor News is because we wanted to bring doctors closer to people. Aside from dedicating many years in preparation to be a doctor, once they start their practice is sometimes impossible to get to know them unless you are sick.
Mega Doctor News is proud to have met Dr. Ramos because he has opened his doors, giving us an opportunity to introduce him as a nephrologist and to show a little bit of his personal life.
During this interview Dr. Ramos said that he admires the Mexican community. He said that they are very appreciative about him as a doctor. In some occasions the patients have expressed they feel better when they see him.
Dr. Keith A. Ramos runs three offices in the Rio Grande Valley under the name Kidney Doctors of South Texas, P.A. and his emphasis during this interview is the importance of learning more about the kidney disease in order to prevent it, pointing out that 1 in 5 American adults is at high risk for developing kidney disease today.
- Advertisement -

But I don't want to give the whole story in this column, feel free to glance through the pages of this May issue and get to know Dr. Ramos.
On another matter, Dr. R. Nicolas Salameh an urologist with more than 20 years of experience in this field has brought to our attention four important in-office medical procedures that in a way could frustrate many people.
He said that Low Sexual Drive, Dysfunctional Bladder, Prostate Problems, and Vasectomy can be treated safely the same day during in-office visit.
The above list of illnesses should not be taken lightly, it is important that you take measures to see your doctor for medical attention and stop frustration and embarrassment. You can find a complete article about these procedures inside this issue.
It was called "A Milestone Event" when Doctor's Hospital at Renaissance announced that they had partnered with Texas A&M Health Science Center Irma Rangel College of Pharmacy to establish a new Post Graduate Year 1 Pharmacy Practice Residency Program in the Rio Grande Valley.
This affiliation is timely, as this pharmacy residency program will serve as an essential resource for the UTHSC/UTRGV Medical School Residency Programs at DHR. More inside.
On another matter but also important for the Rio Grande Valley McAllen Medical Center, Valley Care Clinics, and The University of Texas Health Science Center at San Antonio's Department of Family and Community Medicine proudly announced Dr. Eric Petersen as the McAllen Family Medicine Residency Program Director. He will oversee the physician faculty and residents located at the 205 E. Toronto Avenue in McAllen.
The program has a 37-year tradition of serving the community and has trained nearly 200 family physicians and cared for thousands of patients in the Rio Grande Valley. Residency is part of a physician's training where they care for patients under the supervision of board-certified physicians with increasing independence over the three-year program.
You will enjoy this issue! MDN