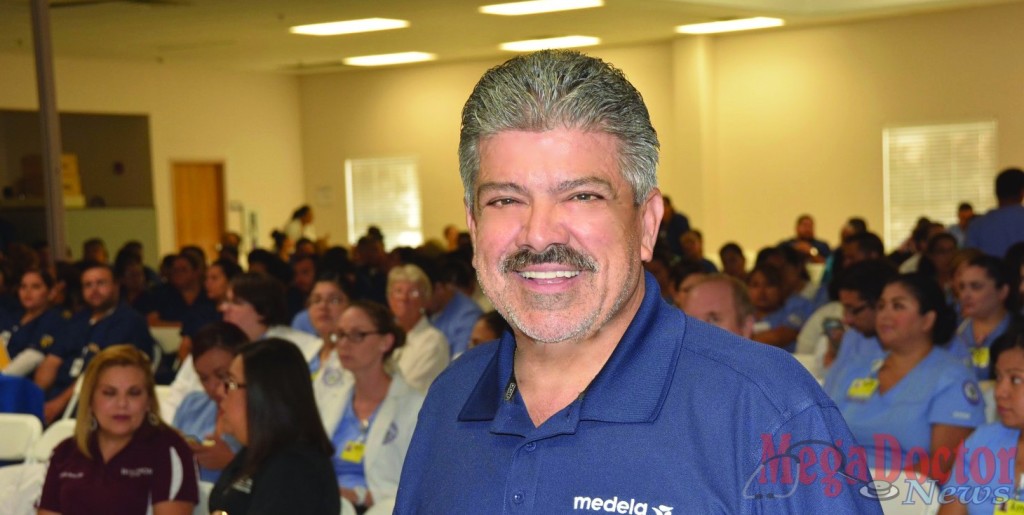 Mega Doctor News
- Advertisement -

By Roberto Hugo Gonzalez
During a well put-together workshop program hosted by Solara Hospitals of McAllen and Edinburg, Jessie Cantu, a registered nurse for 37 years and certified wound specialist thru the American Board of Wound Management for the last 14 years, presented a topic titled "Legal Implication in Wound Care."
Mr. Cantu spoke to Mega Doctor News about his topic "Legal Implications in Wound Care". "And you know again, wound care is very shallow. So I crossed out care with a Red Sharpie and I write underneath "Wound Management". We need to manage that wound, identifying why the wound is lazy or angry. We want happy wounds to respond to healing," he said.
He told Mega Doctor News that the biggest thing in this field is documentation. He said, "If it doesn't get documented, then it didn't get done." He also said that documentation is a tool that allows all the people involved in the Skin Wound Assessment Team to perform successfully.
He pointed out that the process is multidisciplinary because it involves the surgeon, the family doctor, the pharmacist, the infective disease specialist, the muscular doctor, the nurse, and the physical therapist.
"They all work together with one goal in mind, to get healing of that wound to jump start. Once that happens in 20 to 40 percent in two to four weeks the wound starts decreasing in size and it gets beefy red. You want them to be beefy red, and then you know that you have eliminated barriers."
But warns, "If the blood sugar was too high and the patient is a diabetic and not controlling their sugars or there's infection in the wound, or there's edema ("Hinchazón" al rededor de la herida), when there's swelling around it, the blood flow doesn't come to the wound. We need blood to come to the wound."
- Advertisement -

Cantu is an experimented professional in this field and says, "So, that's my goal, to make sure that we document; we are providing proper documentation, proper assessment of getting those wounds that are not responding, to jump start."
Cantu does training and consulting. He said, "I educate, I train, I consult, and I go around the country." His job has even taken him to Bogota, Colombia and he has done a presentation where three hundred doctors and nurses were present. His topics are on lower extremity wounds and leg wounds.
He says that being able to identify different diagnosis, like for example what type of wound it is, that is critical. Why do we have bone exposed? How do we jump start that wound? Can we grow good scar tissue over that exposed bone before it develops bone infection?
Jesse used to reside in the Rio Grande Valley, he moved to San Antonio, and from there he covers the country doing this type of educational presentations. He said, "I just got back from New York, and Baltimore where I did a very similar presentation to nurses, doctors, physical therapists, and the multidisciplinary teams; eventually I'll just have 22 states left, Washington State, California, and then all the way to the southern states, including Florida."
Do you have anything to add to this conversation? "Well, what I'd like to say is that some nurses developed a Tag for me: "When the wound gets messy, call Jesse", and I make sure that it is not Jesse, because it is all of us working together and with the patient to be successful." MDN