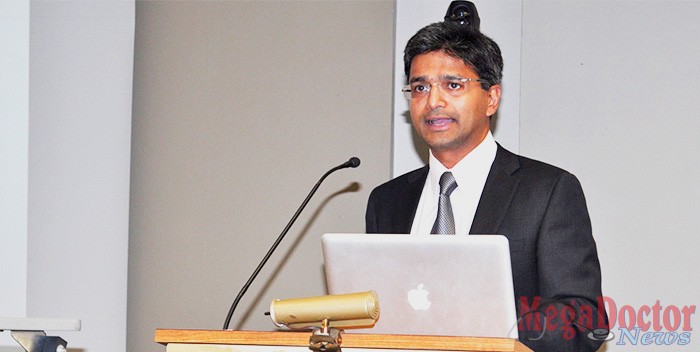 Mega Doctor News
By Roberto Hugo Gonzalez
Valley Retina Institute, PA in the Rio Grande Valley has been providing seminars every year for local residents. The institute is at the forefront of retinal research and has been involved in many nationwide studies and clinical trials.
Recently, Dr. Rohit Adyanthaya, an Ophthalmologist who specializes in the treatment of retinal diseases and cataracts, presented a seminar at Valley Baptist Hospital. Attendees were able to participate in a questions and answer session.
Valley Retina Institute, PA was founded in 1995 by Dr. Victor H. Gonzalez, who envisioned an ophthalmology clinic where highly trained physicians were using state of the art equipment to provide the finest eye care.
Dr. Adyanthaya diagnoses and treats patients with eye diseases and disorders such as cataracts, glaucoma, macular degeneration, and problems from diabetes. He performs medical and surgical interventions to help his patients see better.
It is important to mention that Dr. Adyanthaya completed his fellowship training at Johns Hopkins Hospital in Baltimore, Maryland, and Valley Retina Institute. He did his residency training at Stony Brook University Health Sciences Center School Of Medicine in Stony Brook, New York. He has published articles in numerous peer review journals, and has presented and spoken at national and international level meetings.
"I was born in India, and I went to medical school in Mumbai where after ranking 15th in the State level Medical Exams, I secured an ophthalmology residency," he said. He came to the U.S. and completed a fellowship at Johns Hopkins.  He said, "I also did my training in New York, after which I came to the Rio Grande Valley. I started working as an ophthalmologist with special interest in retinal eye diseases and cataracts at the Valley Retina Institute.
- Advertisement -

Dr. Adyanthaya is certified by the American Board of Ophthalmology and is a member of the American Medical Association, the American Society of Retina Specialists, and the American Society of Cataract and Refractive Surgeons.
"I was interested in problems that diabetes causes to the eye, and the Valley has a huge patient population with serious diabetic eye problems; that is what actually brought me here." In addition, he said, "I'm really happy I came here because I feel I can make a difference and help improve people's sight."
Dr. Adyanthalya told Mega Doctor News that when he lived in India, he used to attend patients and perform surgeries with charitable institutions doing free cataract surgeries. He said, "We used to go into these villages in the interior of the country and we used to operate on 20 to 30 patients in a day. These were patients with really bad eye problems but we were able to help them. I performed surgeries in at least 15 of these camps when I was in India."
Now in the U.S., he has been involved in doing screenings for patients with diabetes. "We have these health fairs, over the weekends and screen patients for problems related to diabetes, glaucoma, and cataracts."
Dr. Adyanthaya is very concerned because of the number of people affected with diabetes; he says that it is getting even worse. "The problems with bad heart conditions are also increasing." He said, "All of this can easily be avoided if we just exercise, eat healthy, and live a balanced life. Unfortunately, with the way things are going that doesn't happen."
You may call (956) 631-8875 for an appointment with Dr. Adyanthaya at Valley Retina Institute; he sees patients in McAllen, Harlingen and Brownsville. MDN