She is a survivor of a most formidable health enemy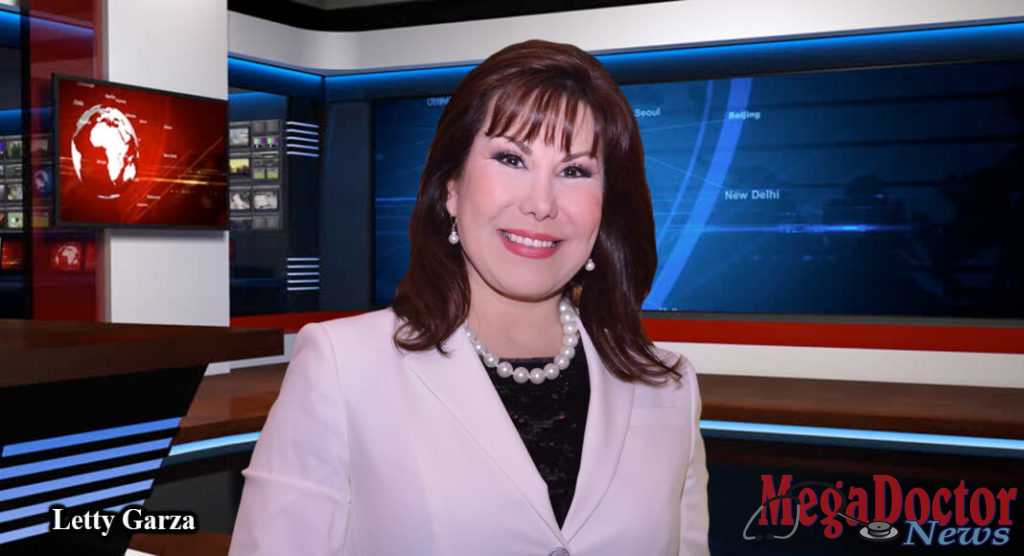 By Roberto Hugo Gonzalez
As originally published in Mega Doctor News newsprint edition June 2019
Early in December of 2016, Letty Garza, a well-known news broadcaster and her daughter decided to adopt a healthy diet for a few weeks. However, the appeal of a quick diet, sometimes creates a desire, with a vengeance, to go back and eat the opposite and much more, which could bring consequences.
Letty, the former news anchorwoman for TV Channel 5 in Weslaco, Texas said, "Less than two weeks into my clean diet, I broke down like most people do when they are on a no fat no sugar diet."
She continued, "I decided to have a greasy meal on Saturday night, and I got sick to my stomach. My left side was hurting come Sunday. Not feeling well on Monday morning, I woke up with a fever."
Letty decided to visit her doctor, a general practitioner, who recommended an ultrasound to find out more. "I was a little concerned, and sure enough, they found a suspicious spot in my left kidney. So then after that, the radiologist suggested I get a CAT scan, and after that, they referred me to a local urologist."
She still remembers vividly, when she and her husband together heard those horrible words from the urologist, "You have cancer." Letty told Mega Doctor News that it was Renal Cell Carcinoma Papillary 2. "It's a very aggressive type of cancer. Only 1 percent of the population gets it. I was fortunate to have caught it on time."
What can you do when you get a verdict that threatens your life? "We decided to get a second opinion because when you're told you have cancer, you're afraid, you're very afraid. I asked myself, "Is this really happening to me?"
After composing herself, she remembered hearing wonderful things about MD Anderson hospital in Houston and decided to go into survival mode. "I made a call right away. God! And next thing I'm meeting with Dr. Christopher Wood and his fantastic team at M.D. Anderson in Houston, Texas."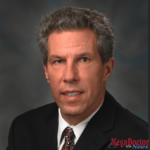 Dr. Wood explained that in Letty's specific case, the tumor appeared to be confined to the kidney. "There was no obvious evidence of any spread or metastasis, so it's very readily treatable with a surgical resection which is what we did." He said, "Besides, it was on the verge of spreading to stage 3."
At this point, there were many questions concerning how kidneys get sick. Can this be something in her lifestyle that created this situation?
Dr. Wood pointed out that there are many things in our lifestyle that are linked to kidney cancer, and smoking is probably the most common one. Letty tells us she's never been a smoker. Dr. Wood says, "There are a variety of different things both in our diets as well as in the environment that have been linked to kidney cancer. But in a specific case it's really impossible to tell what exactly the causative factor was."
Letty had symptoms for about a year or two of not feeling well; she felt tired. "I just didn't feel well. I always felt like I had a low-grade fever." After the surgery, which took place on January 26, 2017, she feels good. According to Letty, she can now sleep much better. "I felt fantastic."
Dr. Wood explained that there are different types of cancers, "In her particular case, I'm not sure that we can ever understand how fast it took for this to grow." He continued, "Kidney cancers don't grow at a linear rate either, sometimes they grow for a bit and stop and grow for a bit and stop."
Dr. Wood also said that Letty probably had this tumor for several years. "With regards to her symptoms, kidney cancers are notorious for what is called apparently aplastic syndromes. Basically, what that means is that the kidney tumor secretes hormones that cause side effects elsewhere in the body. So, it's possible that some of her symptoms may have been related to the tumor. It's possible that by removing the tumor, the symptoms have gone away."
At that time, Letty said, Dr. Wood recommended her for a CAT scan every six months for two years to make sure that she is cancer free. She said, "I do have a 20 percent chance of the cancer coming back. But I have a lot of faith that it is not going to come back. I'm so happy that I'm cancer free. I'm equally grateful to Dr. Noel Lopez, my local general practitioner, I am also thankful to Dr. Christopher Wood at M.D. Anderson in Houston."
Letty's kidney was taken out in 2017, plus two years of CAT scans should have ended February 2019. How do you feel today? "I'm feeling much better both emotionally and physically," she said.
"Eight months ago, during the routine checkup, a spot was found in my pancreas. My doctor doesn't think it's cancer but wants to continue seeing me every six months for another 2 years just to make sure," she said confidently.
Letty Garza, a longtime news anchor, is now retired from KRGV-TV as of May 2017. She concluded a distinguished tenure with the station that spanned nearly 35 years. She is married to Reynaldo Garza, and she has a daughter, Talisa.
Letty encourages everyone to pay attention to their bodies. "If you have pain someplace, you should go and get it investigated and certainly have your blood and urine checked too." Letty says, "Early detection is key."