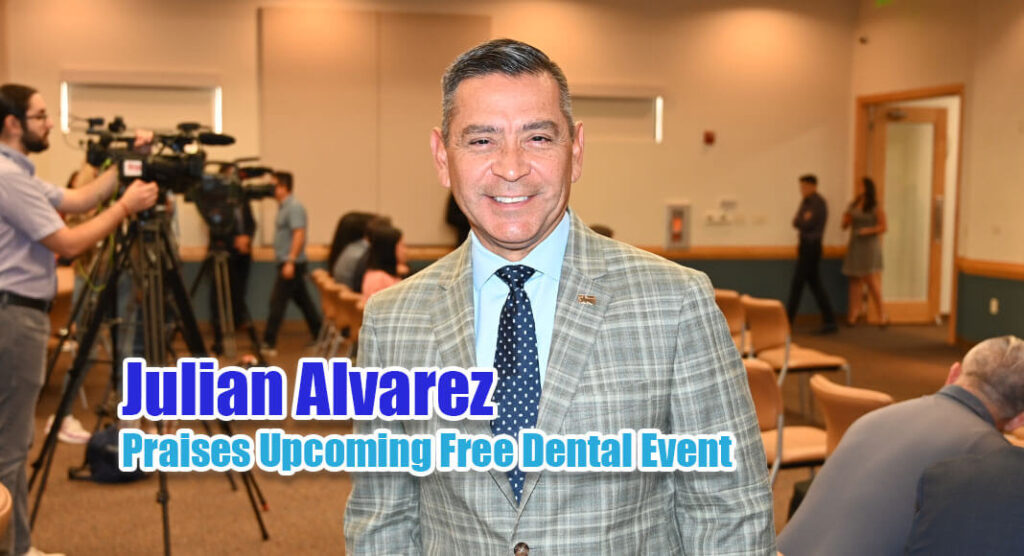 Mega Doctor News
- Advertisement -

By Roberto Hugo González
Julian Alvarez, the Senior Vice President of Business Development at Lone Star National Bank, recently attended an announcement for a community-enhancing event that will take place at the Bert Ogden Arena in Edinburg, Texas. This free dental clinic, organized by the Texas Mission of Mercy (TMOM), aims to offer essential dental care to underserved families in Hidalgo County and is a testament to the commitment Alvarez and his institution have to community well-being.
Alvarez is no stranger to philanthropic initiatives. Over the years, he has participated actively in many events aimed at uplifting the community. Alvarez knows the significance of giving back, whether it's food drives, educational programs, or healthcare initiatives like the TMOM dental event. "I feel proud to be with a company that takes leadership in solutions and benefits those most in need," he said. This sentiment resonates with the ethos of Lone Star National Bank, which has been actively involved in planning and executing this dental clinic for over a year.
When asked about the impact of the upcoming dental event, Alvarez emphasized its long-term benefits. "This is certainly a great initiative between us and the medical industry," he stated. "The advantages of having something like this, especially for those who need the services, are immense. Good health contributes to a strong workforce, which benefits everyone in the community." According to Alvarez, the event could serve hundreds if not thousands of people, thanks to the extensive planning and collaboration between various stakeholders.
David Deanda, president of Lone Star National Bank, Carlos Cárdenas, chairman of the Board at DHR Health, and the Bert Ogden Arena have been instrumental in making this event possible. "It's not just about Lone Star National Bank; it's about how we as a community can come together to provide much-needed services to those who are less fortunate," Alvarez said.
This collaborative effort underscores the power of community partnerships in addressing healthcare disparities. With more than 60 dentists and 92 pre-dental students prepared to volunteer their services, the event promises to have a significant impact.
The free dental event is a timely initiative. According to the American Dental Association, many adults lack access to essential dental care, leading to adverse health outcomes. TMOM has been actively involved in addressing this problem, organizing pop-up dental clinics across Texas each year to provide care for those who would otherwise go untreated. "We want to ensure that we can provide everyone the best quality of life," Alvarez added.
- Advertisement -

Julian Alvarez concluded the conversation by expressing his excitement that Lone Star National Bank could take the lead in such a crucial initiative. "I'm so glad that we took this step. It represents the values of our institution and the community we serve," he stated.
As the day of the event approaches, it's clear that Alvarez's commitment to social responsibility aligns perfectly with Lone Star National Bank's mission. Whether it's through financial services or community wellness programs, Alvarez and his team continue to prove that business can—and should—be a force for good in the community.
For those interested in benefiting from the free dental clinic, a pre-screening will be held on September 9, 2023, at Nuestra Clinica del Valle in Mission, Texas. The main event will take place at the Bert Ogden Arena in Edinburg on September 15-16, starting at 6:00 AM.
For more information or to volunteer, visit the Texas Mission of Mercy's website at www.tmominc.com.