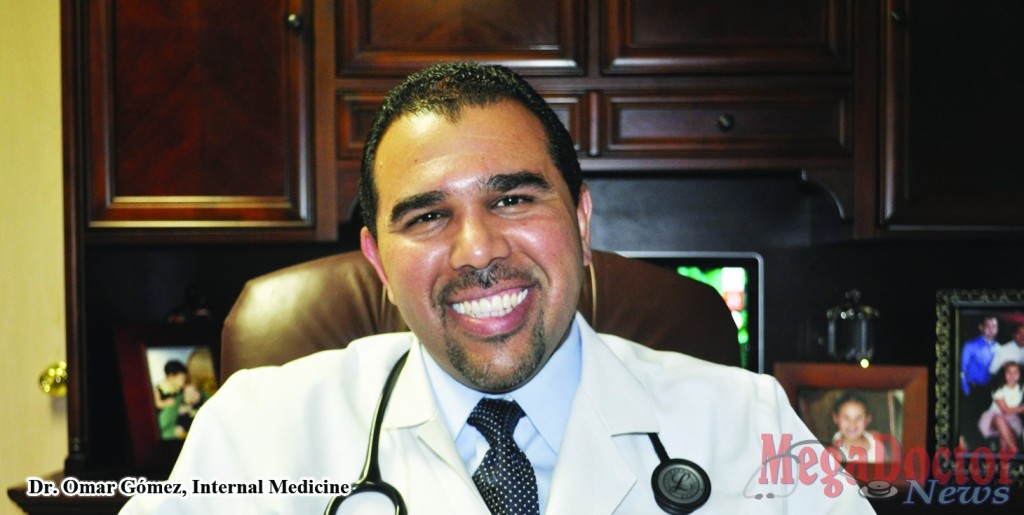 Mega Doctor News – 
By Roberto Hugo Gonzalez,
Dr. Omar Gómez is an internal medicine physician in the Rio Grande Valley originally from New York where he did his medical training.
He was born in New York City to parents Angel and Maritza Gómez but raised in the Dominican Republic. "I just stayed in New York for five years." He said, "My father is a retired bus driver and my mom is a bookkeeper and she is still working."
The interesting part here is that at five years of age he was sent to the Dominical Republic with his Grandparents Lupe and Manuel Santana and they took care of him. Dr. Gomez has fond memories of his grandmother Lupe.
"Unfortunately my grandfather died when I was young and for the rest of the journey I was raised by my grandmother."
He pointed out hat even though his grandparents never went to school, for them it was it was extremely important that for him to get an education.
He said, "My grandmother used to tell me I never went to school but you are going to. And you can do it, and you will and she pushed it up to the point that I am the only doctor in the family."
He moved to the Rio Grande Valley because he didn't want to stay in New York. "I didn't want my kids to be raised in New York and I wanted something in the south more family oriented."
At one point he considered Florida and then Texas where he already had friends practicing including Dr. Elvin Garcia. He said, "Dr. Garcia was the one who helped me to come down here."
But before the Valley there was a group of physicians in Dallas that offered me a position in Dallas but that didn't work, they never were able to execute that offer."
At that point he made a call to Dr. Elvin Garcia now a rheumatologist and asked him if there were any positions available in the Valley and the rest is history.
Dr. Garcia told him, "Is not Dallas, it's not New York, it's the valley. It's different; you need to come to see for yourself and find out if you like it."
Dr. Gomez told Mega Doctor News that he traveled wit his family to the Valley and he said, "We love it."
Internal medicine physicians are primary-care doctors who perform physical exams and treat a wide spectrum of common illnesses in adult men and women. Doctor Gómez is certified by the American Board of Internal Medicine and has been in practice for the last 15 years.
His education and training; he graduated as a doctor from the Universidad Nacional Pedro Henríquez Ureña (also called UNPHU). It is a private, coeducational university in Santo Domingo, Dominican Republic, and his training at the Woodhull Medical and Mental Health Centers. This is a health care system located in the Bedford-Stuyvesant section of Brooklyn, New York. Their main focus is on preventing disease and promoting healthy lifestyles.
You can contact Dr. Omar Gómez for an appointment call 956-475-3031 or you can visit with him at 524 South Cage Blvd. Pharr, Texas 78577. MDN