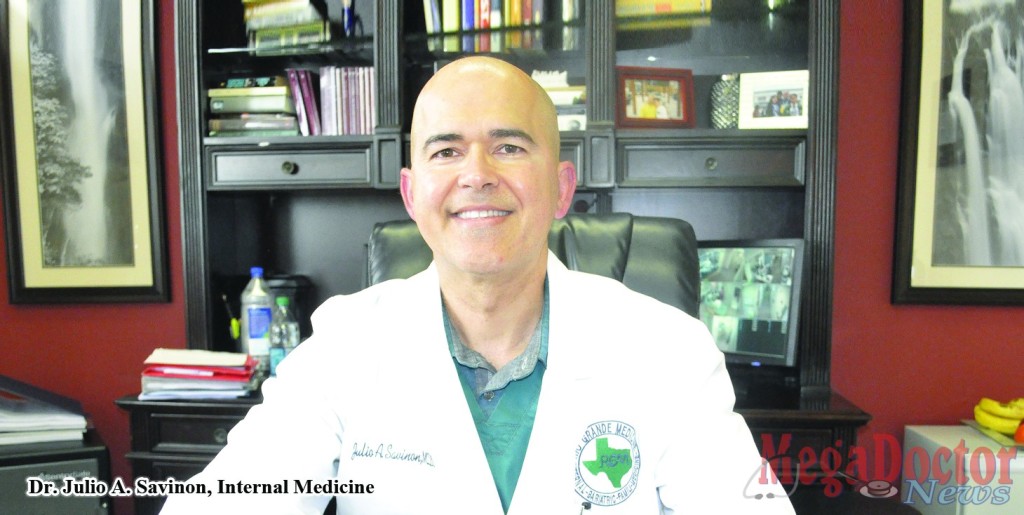 - Advertisement -

Mega Doctor News – 
By Roberto Hugo Gonzalez,
Dr. Julio A. Savinon specializes in internal medicine and treats common diseases like diabetes, hypertension, to diseases that are seen with some frequency like hypothyroidism, hyperthyroidism, osteoarthritis, and a group of infectious diseases.
He said that adult medicine practically involves the treatment of a wide variety of diseases that affect adults. "Internal medicine comprises all that can be treated with medications. We don't do surgeries. We don't treat kids or pregnant women. Basically, it's adult medicine practice."
Dr. Savinon was born in the Dominican Republic in Santa Domingo. He told Mega Doctor News that he started thinking of becoming a doctor in his childhood.
"My mother was a nurse aide in the Dominican Republic and I used to take her food to the hospital where she worked. I believe that my vocation started right there." He said, "I saw medicine in the hospital, how it was practiced and how those doctors were helping the patients and people in need. My vocation, I believe was born right there in my childhood."
After graduating from high school in Santa Domingo he entered college in pre-med right away at the Universidad Nacional Pedro Henríquez Ureña and studied for seven and a half years.
- Advertisement -

When he finished and graduated he went to practice in the county side of the Dominican Republic in a place named Jima Abajo.
"That was an obligatory year; you do not get your license in the Dominican Republic unless you do this year of internal medicine training in a Hospital," he stated.
After that, he transferred to Harlem Hospital in Manhattan, New York. "It's an affiliated hospital to Columbia University and that was in 1993. I spent three years there doing internal medicine after graduating from the Universidad Nacional Pedro Henríquez Ureña."
In 1996 he moved to the Valley, he kept in touch with another friend of his Dr. José Peña, an internist who told him about the opportunities available in South Texas.
Dr. Savinon is board certified in internal medicine and is also certified in obesity medicine. He has been practicing for almost twenty years.
He was born to parents Luis Savinon and Eulalia Serrata. His father at one time was a policeman and had worked in agriculture. "My father was a caring person. He was very jovial, and always in a good mood."
He also said that his mother instilled in him "love, respect, and hard work. She was linked to my vocation to medicine because she was a nurse aide".
He was inspired to become a doctor because he as any other human he was exposed to sick people, relatives, neighbors, and friends and he found it fascinating to help the sick.
"I had seen people with diabetes and complications, people that also had stomach ulcers and bleeding, those I remember, and some people with tuberculosis," Dr. Savinon said.  "I found the signs of medicine, biology, and other signs fascinating, and I wanted to help and that really moved me to help the people in need and especially the sick," Dr. Savinon said.
"I believe in the preservation of the environment," he says it is something that is important to him because it will affect future generations and he encourages everyone to do his or her part.
You can contact Dr. Julio A. Savinon at 956-421-2757 for an appointment or you can visit with him at Rio Grande Medicine located at 5505 S. Expressway 77 Ste. 205 in Harlingen, Texas.  MDN