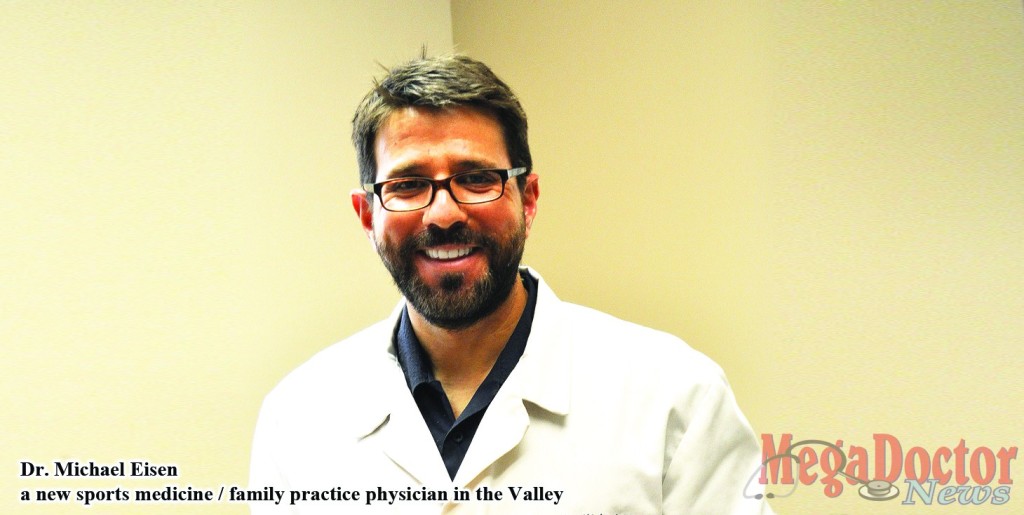 Mega Doctor News – 
Harlingen – A new sports medicine / family practice physician in the Valley – who has worked with pro sports teams such as the New York Jets – discussed how to prepare for long runs, such as marathons and half-marathons at Valley Baptist Medical Center in Harlingen.
Michael Eisen, MD, MS, ATC, also answered questions during the free "Dessert with the Doctor" presentation on "Preparing for the Long Run — Getting Ready for a Marathon or Half Marathon".
The information was particularly useful to many runners in the Valley who may wish to begin training for an "Inaugural South Padre Marathon" which will include a half marathon and a full marathon, as well as a 'half-marathon relay' (in which each runner on a 3-person team runs about four miles) on Nov. 14 in Port Isabel and South Padre Island (www.RunSPI.com).
During this event, Dr. Eisen will serve as Medical Director of the marathon, with Valley Baptist serving as the medical sponsor / official hospital for the race.
On May 21, Dr. Eisen discussed the medical concerns of long-distance running – such as possible heat stroke and heart complications — and the special challenges posed by running either 13 miles (half-marathon) or 26.2 miles (full marathon).
He discussed at length the five most common reasons that people think they are injured – such as does running cause arthritis – and if there's evidence for that.  Dr. Eisen said. "One of the most common questions that people ask about participating in a marathon – the possible risk of dying in the race.  Overall, the death rate is extremely low, but it's always good to first consult with your health care provider, especially if you have a history of medical conditions."
Dr. Eisen previously worked with other marathons — including the New York City Marathon – as well as other endurance events such as triathlons.
Dr. Eisen is no stranger to high-profile sporting events; in addition to working with the New York Jets pro football team, he also served as Athletic Trainer with the Tampa Bay Rays major league baseball team – as well as the national championship Louisiana State University (LSU) baseball team.
As a specialist in sports medicine, Dr. Eisen has expertise in the science of athletic nutrition and conditioning, preventing and diagnosing athletic injuries, and increasing performance.  His new medical practice in Harlingen includes comprehensive non-operative services to examine, diagnose and treat a wide range of health conditions, including joint disorders, arthritis and sports-related injuries.
In addition, Dr. Eisen provides acute and chronic care of sprains and strains of shoulders, wrists, knees, elbow, hips, feet and ankles.  He also provides sports physicals, diagnosis and management of concussions, ultrasound-guided injections and diagnostics, and "visco-supplementation," a procedure that involves the injection of gel-like substances into a joint, such as the knee, to relieve pain from arthritis.
"We are committed to serving our patients with compassionate, personalized care, for an increased range of motion and a higher quality of life," Dr. Eisen told Mega Doctor News.  "We are committed to helping our patients, whether they are athletes or 'weekend warriors' — to live pain-free as much as possible – and to help them get back into the game."
Dr. Eisen, who is board-certified in family medicine, completed a residency in family practice medicine at Overlook Medical Center in New Jersey, as well as a fellowship in sports medicine at Atlantic Health Sports at Morristown Medical Center, also in New Jersey.   He received a medical degree from St. George's University in Grenada, and attended the University of South Florida in Tampa.  He also received a Master of Science degree from Louisiana State University and a Bachelor of Science degree from Troy University in Alabama.
Dr. Eisen is a member of the American College of Sports Medicine and the American Medical Society for Sports Medicine.  He has received awards for his volunteer work, including with the Special Olympics.
Perhaps not surprisingly, Dr. Eisen's hobbies include outdoor activities — including hiking and kayaking — as well as some indoor activities, such as playing the banjo and spending time with his wife, Dr. Stephanie Hinojosa, a Valley native who is a pediatrician in Harlingen, and their one-year-old daughter.
Dr. Eisen is now part of the Valley Baptist Physician Network.
MDN