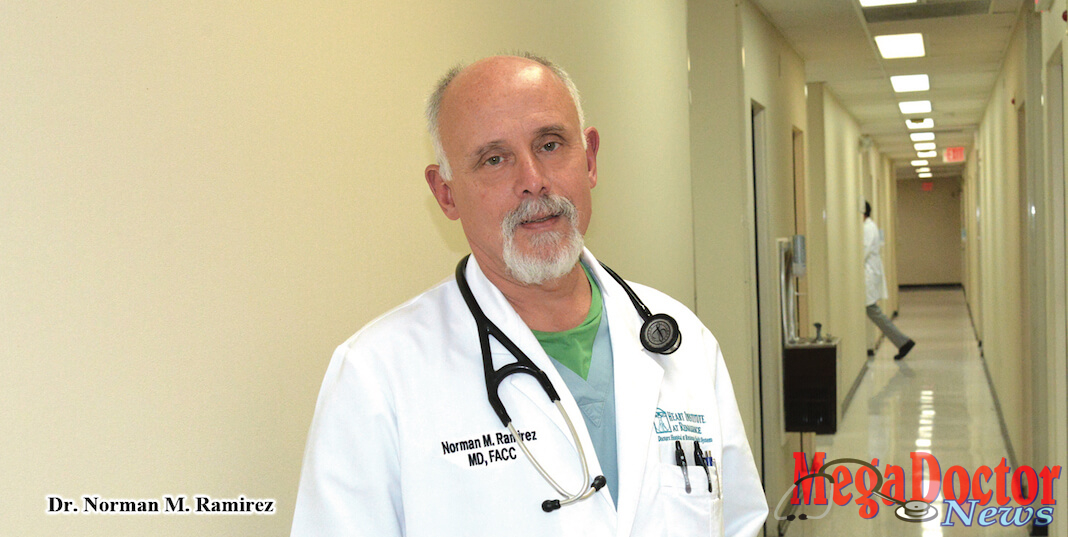 By Roberto Hugo Gonzalez
As originally published by Mega Doctor News in its newsprint edition September 2017
I have said it before, when I think that I have met them all, and I mean the talented, dedicated, and passionate local physicians, I find I must correct myself, again.
I recently had the honor and the pleasure of meeting Dr. Norman Ramirez, a physician in internal medicine and cardiology. Raised in Starr County, he has lived and worked most of his life in the upper Valley. His work is well known by his patients.
He is the son of the late Dr. Mario E. Ramirez, an accomplished physician who dedicated his life to attending to his patients with the utmost care. Dr. Norman Ramirez' father also worked with other leaders diligently to make the school of medicine a reality.
Dr. Norman Ramirez' own career is an example of excellence in medicine. Not many in this profession were accepted to Yale University at the age of 16, as in his case. It doesn't stop there, once he graduated with top honors in 1977, he enrolled at Stanford University and obtained his medical degree in only three and a half years. That in itself, is quite another accomplishment.
His training in the most advanced surgical procedures became key to his success today. Some of the surgeries he performed, made him a pioneer in the field. "I don't hold myself above any other physician," he told Mega Doctor News. "There are many good doctors in the area," he added.
- Advertisement -

Even though he won the honor to be recognized among the best, he acknowledges the talents of doctors in the region.
One thing I learned, is that as a publisher I am no longer the one that works the most. Dr. Ramirez' work starts at 4:30 a.m., he is already at the hospital checking on his patients and then in surgery while still early in the morning. He must make it to his office by 10 a.m. in time to see more patients.  His schedule is tight; his responsibility grows as the day progresses. Dr. Ramirez does what he loves more, taking care of his patients and saving lives, that is why he is a Mega Doctor!
On Another Note:
Texas Oncology-McAllen invites local walkers, runners, and cyclists to participate in the 2017 Walk, Run, & Ride event. The annual event promotes cancer awareness, rallies cancer survivors, and raises funds benefiting local nonprofits. The 10th Annual Walk, Run, & Ride is scheduled to take place on Saturday, October 14, 2017. More inside this issue.
Congratulations:
Dr. Lydia Aguilera, the director of the UTRGV/UT Austin Cooperative Pharmacy Program has added another level of expertise in her field by achieving board certification in ambulatory care pharmacy from the National Board of Pharmacy Specialties (BPS).
Good News:
The U.S. Department of Health and Human Services' Health Resources and Services Administration awarded $3.75 million to The University of Texas Rio Grande Valley School of Medicine to develop three Area Health Education Centers (AHEC).
Dr. John Ronnau, UTRGV School of Medicine senior associate dean for Interprofessional Education, said the grant – which will allocate $750,000 per year for five years – is intended to help increase access to primary healthcare in rural and underserved areas; develop and enhance education and training networks within communities, academic institutions and community-based organizations.
More inside this issue, enjoy! MDN
Related articles:
Dr. Norman M. Ramirez, an Outstanding Physician and Pioneer in Medicine
Dr. Lydia Aguilera Gains Highest Standard of Certification for Pharmacists
School of Medicine Already Paying Off, Awarded $3.75 Million to Provide Healthcare to Underserved Areas