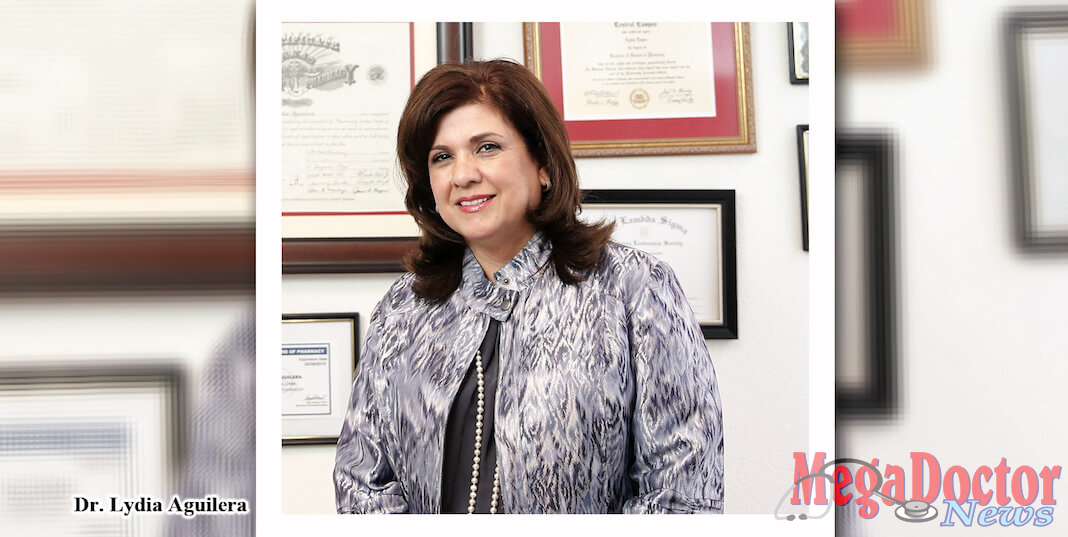 By Gail Fagan
- Advertisement -

Mega Doctor News
Rio Grande Valley, Texas – 2017 – Visitors to Dr. Lydia Aguilera's office are greeted by a wall full of framed educational accomplishments, recognitions of her achievements, and thankful notes from her pharmacy students at The University of Texas Rio Grande Valley. Now, at age 60, the director of the UTRGV/UT Austin Cooperative Pharmacy Program has added another level of expertise in her field by achieving board certification in ambulatory care pharmacy from the National Board of Pharmacy Specialties (BPS).
"Gaining the certification builds your foundation of knowledge. It's a review, but you also learn new things – and knowledge is power – allowing you to not only help your patient, but also your team of doctors, nurses, dieticians and other healthcare team members," said Aguilera, a clinical associate professor who has headed UTRGV's cooperative program since 2010.
Board certification through the BPS is recognized as the highest standard for determining which pharmacists are qualified to contribute at advanced levels of practice. Board Certified Ambulatory Care Pharmacists (BCACPs) focus primarily on the special needs of patients who may have concurrent illnesses and take multiple medications, and who often administer these drugs themselves or with the assistance of a caregiver at home. The BPS website says 148 pharmacists in Texas have an Ambulatory Care Board Certification, and only eight in the Valley have that certification.
Dr. M. Lynn Crismon, dean of the UT Austin College of Pharmacy, said BPS board-certified pharmacists stand out as the most qualified to take on today's expanding expectations of patients, physicians, employers and others who recognize the increasing need for a team approach to healthcare. "Through board certification, as well as her other accomplishments, Dr. Aguilera has demonstrated her ability to provide comprehensive medication management for people with chronic disease states in the context of a team-based model," he said. "We believe that innovative, integrated team-based care is the future of healthcare, and we are excited that we have faculty such as Dr. Aguilera to help prepare student pharmacists serve in direct patient care roles in transformed healthcare systems."
UTRGV's Dean of the College of Health Affairs, Dr. Michael Lehker, said Aguilera's ambulatory care board certification is very relevant to the South Texas region, and represents another example of her drive for excellence and elevation of the program.  "She is also a mentor to faculty and students, a cheerleader for the program and our students, a recruiter, a consoler, a provider and much more," Lehker said. "Her inexhaustible enthusiasm and energy are the driving forces in making it possible to provide opportunities for talented students in the Valley to attend one of the leading institutions of pharmacy education in the nation. Dr. Aguilera and her team breathe and live student success."
Valley Roots and Role Models
- Advertisement -

Aguilera's dedication to her profession and to helping train new pharmacists to serve South Texas began in the Valley. "I had some really good role models – the pharmacists in my community," said Aguilera, naming a long list of well-known Valley pharmacists. "Growing up with asthma and allergies, I was at their pharmacies weekly and they took good care of me and my family."
A native of Edinburg, she attended then-Pan American University, and graduated with a Bachelor of Pharmacy degree from the University of Houston in 1980. She returned to the Valley and became a practicing pharmacist and independent pharmacy owner for many years, but through her role as a preceptor for pharmacy school students, she learned to love teaching.
"I enjoyed the feedback from the students; I enjoyed teaching and learning from them about their needs," she said. Aguilera returned to school at age 50 to earn a Doctor of Pharmacy degree from the University of Florida, and began teaching full time in 2009 at then-UTPA's cooperative pharmacy program.
Building an Exemplary Program
The cooperative program, which has students taking their pre-pharmacy courses at UTRGV, two years of pharmacy coursework at UT Austin's College of Pharmacy and returning to UTRGV for their final coursework and rotations, is helping to build a talented pharmacy workforce for South Texas that understands the language and culture of the community. "We know our people and our needs because they are our families, they are our neighbors," Aguilera said.
Since its inception in 2001, the program has graduated more than 100 pharmacists as of 2016, with 80 percent of those graduates staying in the Valley or Laredo. In 2013, the program was lauded by Excelencia in Education as a top doctoral program in the nation in advancing education achievement for Latino students in higher education. In 2016, U.S. News and World Report ranked the UT Austin Pharmacy program from which her students graduate as the third-best in the nation.
Training Culturally Sensitive Pharmacists
Aguilera carries her passion to develop pharmacists who are sensitive to the community's needs into her daily classroom and research.  She has a special interest in complementary and alternative medicine (CAM) – therapies that are outside the scope of scientific medicine but may be used in the treatment of disease and ill health. Examples include natural products, yoga, deep breathing, chiropractic manipulation, meditation and others.
"I prepare a lecture for my students on beliefs and herbs that are used by the Hispanic population here," said Aguilera. She has surveyed many Valley yerberías to learn more about what illnesses people seek treatment for and which products or alternative treatments are being recommended and used.
"The Texas Medical Association has recommended that physicians ask patients about their use of CAM in therapy. So, I tell my students to be proactive in discussing CAM treatments with patients, but to ask with an attitude of tolerance and respect," she said.
Certified in medication therapy management (MTM), Aguilera also provides MTM training to her students and other Valley pharmacists. As a pharmacist and MTM, she serves as a consultant with the Salud y Vida program, which provides chronic care management for qualified RGV participants with uncontrolled diabetes but no insurance.
As a first-generation college graduate herself, and knowing the financial burden of going to pharmacy school, Aguilera has set up scholarships at UTRGV to support the program's students. "Every day, I can't wait to get here because I know I am going to meet another student who is right where I was, who might need guidance, support and a role model," Aguilera said. "That is what I do to help them reach their goals and be successful."