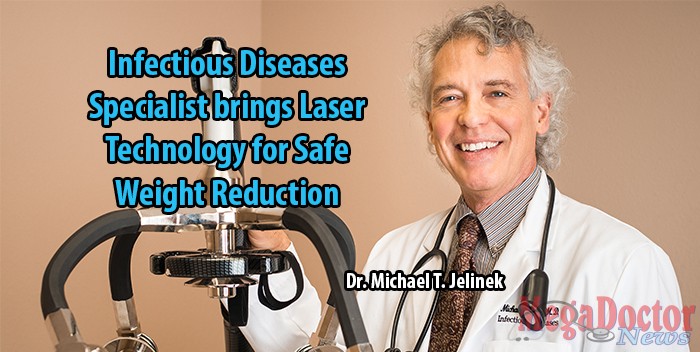 By Roberto Hugo Gonzalez
- Advertisement -

As originally published by Mega Doctor News in its newsprint Edition
Last July, Mega Doctor News met with Dr. Michael T. Jelinek and he became a Mega Doctor cover story, which was titled "Infectious Diseases Specialist brings Laser Technology for Safe Weight Reduction".
To begin with, let's talk about his first specialty. Infectious diseases kill more people worldwide than any other single cause. In June of this year, the American Medical Association recognized obesity as a disease in order to fight what it described as an "obesity epidemic." That is why it is important for a city or a region to have access to professionals that deal with infectious diseases and obesity.
Our metropolitan area which is comprised of McAllen-Edinburg-Mission is fortunate to have Dr. Michael T. Jelinek, a board certified Infectious Disease Specialist.
Currently Dr. Jelinek has expanded his services with a special focus on age management, disease prevention, concierge medicine, and weight management.
Dr. Jelinek was inspired to practice medicine because he believes in personal health improvement. "Age reversal is achievable," he told Mega Doctor News.
Dr. Jelinek is the only medical doctor in this region offering non-invasive body contouring using Zerona®, a device cleared by the Federal Food and Drug Administration (FDA), which reduces fat and inches.
- Advertisement -

Through clinical studies it has been demonstrated that the Zerona® low-level laser stimulates the fat cell to emulsify (liquefy) the fat within the cell. Then the liquefied fat moves from inside the cell through a temporary pore formed in the cell membrane to outside the cell where it is in the interstitial space until absorbed by the lymphatic system. This results in millions of fat cells becoming smaller so inches are reduced off the waist, hips and thighs. This process does not injure the fat cells in any way.
The most amazing part of this process is the Zerona® treatment is completely painless; as you are going through the procedure you can expect 40 minutes to relax, read or do absolutely nothing.
"There is no heat or any sensation whatsoever while being treated," Dr. Jelinek told Mega Doctor News. He pointed out that for each treatment you will be met by a physician or technician who will position the laser at the desired areas of the body. Then he/she will step out for 20 minutes while the front of your body is treated and then will return to reset for the backside of your body for an additional 20 minutes.
"After you are done you can get back to your normal activities immediately with absolutely no downtime, pain, swelling, or any discomfort. This is a symptom–free process, except for losing unwanted inches," the doctor said.
One important announcement — Dr. Jelinek explained that this is a six-treatment procedure performed every other day. The treatments are for 40 minutes and the period between the treatments should not exceed 72 hours. "If more than 72 hours intervenes, some of the fat may be uptaken by the fat cells again," Dr. Jelinek said.
This particular service that Dr. Jelinek is providing in the South Texas region is very important because The Gallup-Healthways Well-Being Index reported last April that the Metropolitan Statistical Area (MSA), comprised by McAllen-Edinburg-Mission, was labeled as the top fattest metro area of the nation.
The obesity rate of 38.8% eclipses the national average and that didn't set well with many leaders of the area. Because of these findings local area municipalities, large businesses, and individuals started to do what is necessary, implementing programs of exercise and a balanced diet in order to lose the pounds.
In this case, Dr. Jelinek and Zerona® another program called Krono Therapeutic are a Godsend. The experience of the doctor and the efficiency of the technology can very well make this metropolitan area one of the skinniest in the U.S. and that would be a day for a big celebration.
It is important to mention that 21% of the metropolitan area's population has been diagnosed with diabetes making it the highest rate of any metropolis in the country. Estimated population for Hidalgo County by the U.S. Census is 806,552 for the year 2012.
Meeting Dr. Jelinek has been a learning experience. His dedication to his profession and his concern for the well being of his patients makes him a unique doctor in the Rio Grande Valley. That is why he has been selected to be the Mega Doctor of the month of July. MDN