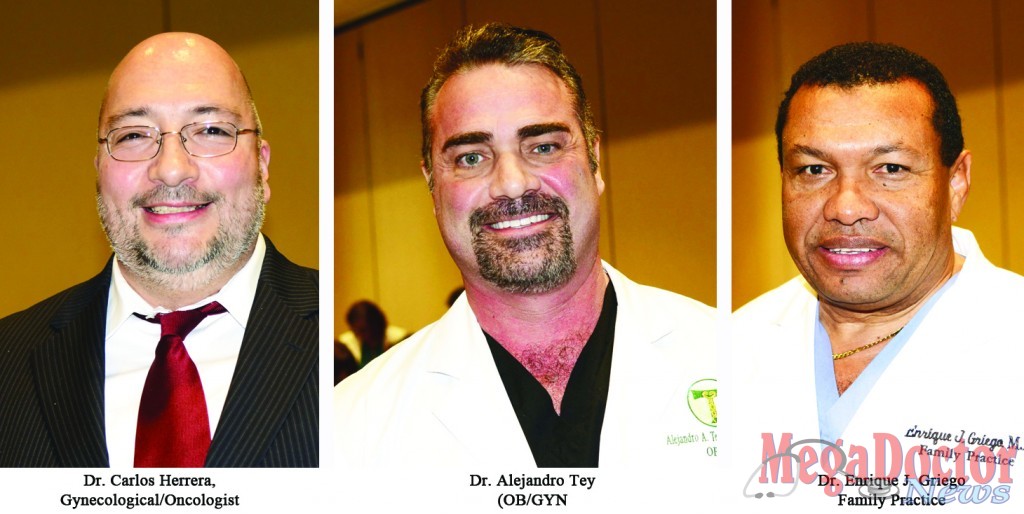 By Roberto Hugo Gonzalez
As originally published First by Mega Doctor News newsprint Edition
Doctors Hospital at Renaissance, Cancer Center at Renaissance and the Renaissance Cancer Foundation hosted "Love the women in your life" to promote ovarian cancer prevention and detection. The topic of the event is without a doubt very important and that is how the three doctors that participated as speakers for this event classified it.
Speakers included Dr. Carlos Herrera, Gynecological/Oncologist, Dr. Enrique J. Griego (Family Practice Physician), and Dr. Alejandro Tey (OB/GYN).
Dr. Carlos Herrera said, "We are finally at a time when we can do something to decrease the incidence of ovarian cancer."
He pointed out that during the last two years things have changed a lot, "We look at things that can prevent this horrendous disease."
The seminar brought in a large group of women that ere eager to learn more about prevention and at the end of the program had specific questions for the participating doctors.
Dr. Enrique Griego told Mega Doctor News, "As a medical doctor I have a commitment with the community and believe that the community need more education about the subject instead of more medication."
Dr. Griego said that ovarian cancer is an increasing disease due to the high number of obese people, and the consumption of processed food. "More and more I see women opting to smoke and not having children," he said.
He pointed out that women should be aware that the decisions they take are risk factors that could increase ovarian cancer in their lives.
"All cancers are silent, but this one in particular is more because sometimes for years grows undetected with no symptoms and when discovered the cancer is already in a very advanced stage," he said.
Dr. Griego said that of every 100 women diagnosed with ovarian cancer, after five years only 17 survives. He adds, "This result is because the cancer is already in stage three or four when gets discovered."
The doctor emphasized the women should visit their doctor at least once a year for their regular examn and that they should know that Papanicolaou exam does not detect ovarian cancer.
Dr. Griego said that there is no screen available to detect ovarian cancer like the one available to detect prostate, breast or uterine cancer. "When we suspect that a patient might have ovarian cancer we do a vaginal ultrasound and blood test that might help us discover at an early stage."
Dr. Tey said that he was happy to have been invited because he is passionate about this topic. "When it comes to ovarian cancer admittedly for physicians is the worst disease, because is the hardest one to detect," He said, "To me this makes it more important where you and us can make a big difference, where you can become proactive by taking care of yourself and as clinicians we have to keep a high index of suspicion and follow the patient."
He pointed out that it was important to reemphasize that 20,000 women will be diagnosed with ovarian cancer this year. "15,000 will die of ovarian cancer this year, it is the fifth most common cause of cancer in women and is the number one gynecologic cause of cancer death and that one in 70 women in their lifetime will develop it, and the problem is that ideology unfortunately is unknown."
During this seminar, attendees were invited to ask questions, and one asked, "If I am CA 125 which is very low can I still be diagnosed with ovarian cancer? Dr. Carlos Herrera said, "What a great question, and the answer to that is yes." He continued to say, "Fifty percent of ovarian cancers do not have an elevation of CA 125 and that what we see often."
DHR, which is conglomerate of hospital with different specialties has taken the awareness responsibility seriously, seminars like this that are open to the public bring educational information to prevent severe diseases.
Dr. Tey, Dr. Herrera and Dr. Griego participate in these events as part of their commitment to the community and their fight to keep their patients informed and armed to protect themselves against diseases.
Last month, February was National Cancer Prevention Month. According to reports from the American Cancer Society, an estimated 21,980 new cases of ovarian cancer were expected to occur in 2014. Ovarian cancer is the 5th leading cause of cancer related death among women, and is expected to account for 14,270 cancer deaths in 2014.
One important topic discussed during the seminar is that oral contraceptives (birth control pills) decreases the risk of developing ovarian cancer, especially among women who use them for several years. Women who used oral contraceptives for 5 or more years have about a 50% lower risk of developing ovarian cancer compared with women who never used oral contraceptives. Still, birth control pills do have some serious risks and side effects. Women considering taking these drugs for any reason should first discuss the possible risks and benefits with their doctor.
Ovarian Cancer Awareness Seminar, provided at the Edinburg Conference Center educated participants on the most common symptoms of ovarian cancer, prevention through healthy lifestyle, recommended screenings, treatment, and the most advanced ovarian cancer genetic testing. MDN