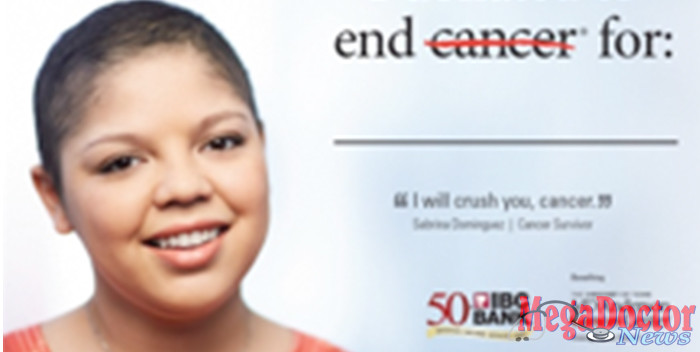 IBC BANK WILL MATCH ALL DONATIONS DOLLAR FOR DOLLAR 
(July 19, 2016) LAREDO, Texas – IBC Bank launched its End Cancer Campaign on June 15 in all 206 branches in Texas and Oklahoma to benefit cancer research at The University of Texas MD Anderson Cancer Center. The community can join the fight to end cancer by making a donation at any IBC Bank location or by donating online at www.mdanderson.org/ibc. 
            IBC Bank campaign materials will feature MD Anderson teen cancer survivor, Sabrina Dominguez. At the young age of 16, Sabrina was diagnosed with medulloblastoma, a type of brain cancer. Sabrina currently is a freshman at Texas A&M University.
 "You can't, for one second, let cancer win," Sabrina said.
For every donation made from June to August 31st, IBC Bank customers will receive a card, featuring Sabrina, on which to write a tribute to a loved one and display at each branch location. 
"IBC Bank has been a proud supporter of MD Anderson for many years and encourages the communities we serve to become an MD Anderson supporter as well," said Dennis E. Nixon, IBC Bank Chairman of the Board and MD Anderson Senior Member of the Board of Visitors. "As an additional commitment to this cause, IBC Bank will match all customer donations, dollar for dollar. Together, we can make a difference in the lives of those touched by this disease." 
"As a global leader for cancer care and research, we consider it our responsibility to direct our full energy and passion toward ending this deadly disease," said Ronald A. DePinho, M.D., president of MD Anderson. "We are profoundly grateful for IBC Bank's commitment to our mission to end cancer, and we will commit 100 percent of funds raised into cutting-edge research that will save lives." 
MD Anderson is the world's most impactful cancer center. Its clinical trials engine is the largest in the world, testing and advancing new lifesaving drugs for all forms of cancer. Since 1944, more than 1.1 million patients have turned to MD Anderson for cancer care. As of 2015, the institution has provided more than $186 million in uncompensated care to underinsured and uninsured Texans.
            IBC Bank is a division of International Bancshares Corporation (NASDAQ: IBOC), an $11.9 billion multi-bank financial holding company headquartered in Laredo, Texas celebrating its 50th anniversary since its founding in 1966. International Bancshares Corporation consists of 206 facilities and more than 315 ATMs serving 88 communities in Texas and Oklahoma. In 2014, IBC Banks was named one of America's 50 Most Trustworthy Financial Companies by Forbes magazine. In 2015, IBC Bank was ranked 50th on Forbes' prestigious list of 100 Best Banks in America. IBC Bank's commitment to "Do More" reflects the bank's dedication to the growth and success of both the customers and the communities it serves.  Visit us on our YouTube channel, IBCBankWeDoMore. MEMBER FDIC / INTERNATIONAL BANCSHARES CORPORATION. More information is available at ibc.com.