- Advertisement -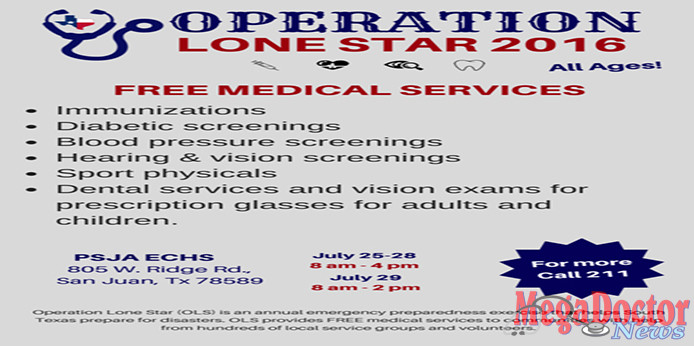 Texas Border Business
PHARR –FREE medical services including dental and vision will be available to all during the annual Operation Lone Star (OLS) held at PSJA Early College High School (805 W. Ridge Rd in San Juan) from July 25 to July 29.
OLS is a full-scale emergency exercise uniting federal, state and local health and human service agencies. It is one of the largest public health exercises in the country. Only two sites host this even in Hidalgo County, PSJA and La Joya.
Medical services provided during Operation Lone Star include:
·      Immunizations
·      Blood Pressure Checks
·      Diabetes Screenings
- Advertisement -

·      Hearing and Vision Exams
·      Medical Evaluations including Sports Physicals for Students
·      Dental Services
·      Vision Exams and Mobile lab to make prescription glasses
OLS is open to individuals of all ages and no identifications will be required. Please note there is a waiting time. Minor must be accompanied by parent or legal guardian to obtain any of the services available. For more information, please call 211.
Hours of Operation: 
July 25-28 (Monday-Thursday 8 am – 4 pm)
July 29 (Friday 8 am – 2 pm)