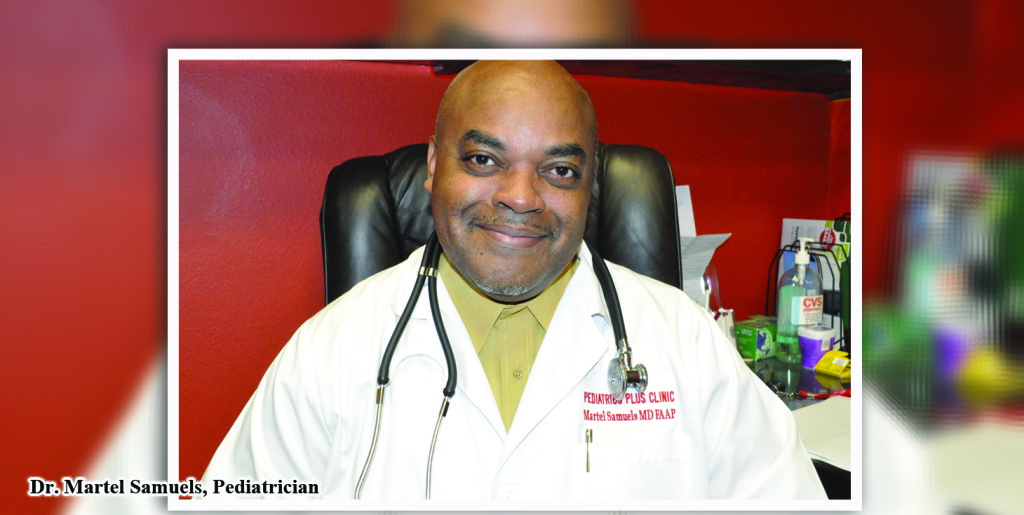 Mega Doctor News – 
By Roberto Hugo Gonzalez,
Dr. Martel Samuels is a board certified pediatrician practicing medicine in the Rio Grande Valley. The Valley has been experiencing a demographic explosion; consequently the services of dedicated pediatricians are always welcomed. Dr. Samuels and his staff operate five clinics serving a growing number of children.
He was born in Toronto, Canada to parents Harris and Elaine Samuels. He says that his father was a very hard worker, and learned from him to strive hard and to accomplish goals.
He says, "He taught us that despite trials and difficulties; you must never give up. You must seek success the hard way, working long hours and putting in more than the average person so you can be recognized by your efforts." In addition he says that his dad had a small hotel in Jamaica.
"My mother was a teacher; she instilled in us the need for academics and to be studious. Like any mother would, she insisted I do my homework, and pushed me to excel academically."
Dr. Samuels is now a recognized pediatrician in South Texas; he gives God credit for the blessings of his success and his clinics' expansion. He says, "We are fortunate to have five clinics in different towns of the Valley." He mentioned that they are involved with different chambers of commerce as well as with trade shows where they offer free services to families that attend. This activity gives him the opportunity to give back to the communities of the area.
"We also give back to school projects, Christmas projects. We look at the children who are less able and who are needy; and we try to provide care as well as support."
In addition they are very confident with the clinics they have now, but he says that there is every possibility they will open a sixth location. "It's not etched in stone." Dr. Samuels has been in the Valley since 2010.
His inspiration to become a doctor is as he says "multifaceted". "I think over time, I am an experienced doctor and so I've had an opportunity to see medicine from different angles." He says, "I come from a small country with fewer resources and had to work with less to achieve a lot."
He considers it is an inspiration to see families bring not just 1, 2, but 3 successive siblings and children to him to be cared for. He says categorically, "This validates what you are doing and also fosters a lot of pride and comfort that you are doing a good thing in keeping patients healthy."
Dr. Samuels graduated from the University of the West Indies in Kingston, Jamaica in 1992. He worked for a few years afterward as a family physician in Jamaica.  In 2007, he entered a pediatric residency program that lasted three years at Driscoll Children's Hospital in Corpus Christi; it ended in 2010.
He is married to Monica who is a registered nurse and they have five children.  "My children are Javeon who is 12, Jordan is 15, Alexus 16 going on 17, Lorenzo is 20, and Mercedes who is 21."
Dr. Samuels established his clinics in Weslaco, McAllen, Alamo, and Palmview. He says, "In Alamo, we have two locations; one is closer to Donna."
You are welcome to visit Dr. Samuels by calling (956) 702-2444 to set up an appointment at one of his clinics. MDN