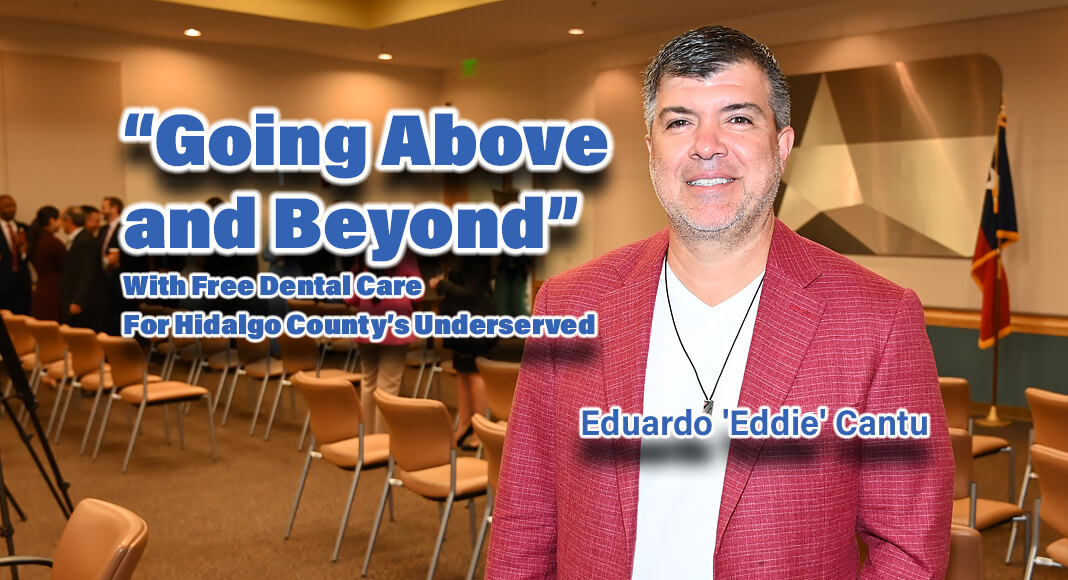 Mega Doctor News
By Roberto Hugo González
Community healthcare is receiving a significant boost with the announcement of an upcoming Texas Mission of Mercy (TMOM) event. On September 15-16, 2023, TMOM, an organization offering free dental services to underserved communities, will host a two-day clinic at the Bert Ogden Arena in Edinburg. This event is a collaborative effort featuring key stakeholders such as Lone Star National Bank, DHR Health, Bert Ogden Arena, and over 60 dentists and 92 pre-dental students prepared to serve those in need.
Attorney Eduardo "Eddie" Cantu, Hidalgo County Precinct 2 Commissioner, was at the announcement spearheaded by Dr. Carlos Cruz, an oral and maxillofacial surgeon, and David Deanda, president of Lone Star National Bank. Other notable figures involved include Dr. Carlos J. Cardenas, Chairman of the Board of DHR Health Chairman, and Hidalgo County Judge Richard F. Cortez.
When asked for his opinion on the initiative, Mr. Cantu showed nothing but enthusiasm and praise. "This is a great event. I'm glad to see Lone Star National Bank getting involved in helping our community with something we really need," said Cantu. His sentiments stem from a place of community commitment and underscore the dire need for such services, especially for children.
As a part of Hidalgo County, also involved in the planning, Mr. Cantu elaborated on the scope and significance of the event. "It's tremendous. I've seen stuff like this before; the county puts together Operation Lone Star, where we provide healthcare and dental care. To see this continue because not enough kids are served at Operation Lone Star is truly remarkable."
Adding to his thoughts, Mr. Cantu stated, "It's always good to see Lone Star National Bank stepping up to the plate and helping the community. They're very involved, but this event goes above and beyond." It was clear from Mr. Cantu's words that the level of collaboration and commitment from all stakeholders was highly commendable, showcasing the power of community leadership in addressing critical needs.
During the event, it was also said that the Hidalgo County Community Service Agency provided $65,000 from Community Service Block grant funds to assist vulnerable families in accessing needed services. These critical funds were provided to assist those families who could not afford dental services. CSBG funds were allocated to cover many of the administrative and logistical expenses associated with the Texas Mission of Mercy and were paid directly to the Texas Mission of Mercy organization.
- Advertisement -

The American Dental Association reports that a large number of adults lack access to essential dental care, increasing the risk of more severe health issues. TMOM seeks to fill this gap as it hosts four pop-up clinics each year across Texas. The upcoming event will provide essential services free of charge. Dental services will include free dental cleanings, fillings, extractions, and basic pain-relieving and preventive procedures.
TMOM anticipates a high turnout and advises potential patients to arrive as early as 5:30 AM to secure a spot. Pre-screening will also be available on September 9, 2023, at Nuestra Clinica del Valle in Mission, Texas, to expedite treatment on the clinic day.
The TMOM event exemplifies what can be achieved when leaders from various sectors come together for a common cause. Not only does it address immediate healthcare needs, but it also lays the groundwork for long-term solutions to healthcare disparities in the community.
By joining forces, Lone Star National Bank, DHR Health, Bert Ogden Arena, Judge Richard F. Cortez, and other stakeholders are setting an example for community-driven change, an initiative that has received much-deserved praise from community leaders like Attorney Eduardo "Eddie" Cantu.
For information or to volunteer, please visit www.tmominc.com, Texas Mission of Mercy.
Pre-screening Date: 8 AM – 2 PM on September 9, 2023, at Nuestra Clinica del Valle in Mission, Texas: 611 N Bryan Road, Mission, TX 78572.
With this forthcoming event, Hidalgo County takes a significant step forward in offering essential healthcare services to its underserved populations. If the enthusiasm and commitment of its stakeholders are any indicators, the event is set to be a milestone in community health.