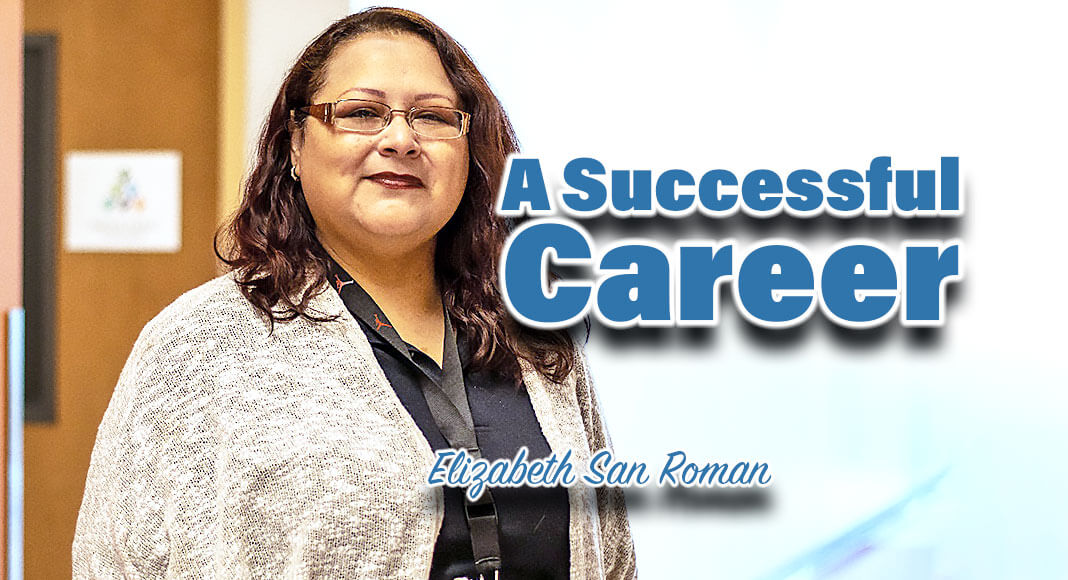 Mega Doctor News
Grateful for the family that South Texas College has given her, Elizabeth San Roman retires after 24 years of being an administrative assistant to Vocational Nursing. As a huge advocate for the program, she promises to keep promoting the amazing work that nurses and medical staff do at STC.
San Roman, 48, takes pride in her years of experience helping students and faculty as she reminisces on the privilege it has been working for the program for so many years.
"As a secretary, I'm there for our students. I'm the first person they contact. They know I'm there for them; they feel safe coming to me," said San Roman. "I must also know all about our programs so I can guide them. I love helping the students. It's more than a job, it's been my whole life."
STC Vocational Nursing Department Chair, Margo Vargas-Ayala, Ph.D., highlighted San Roman's legacy to the program and said she was grateful to have worked by her side.
"When I first started working as assistant program chair in Weslaco 10 years ago, I quickly learned she was the backbone of the Vocational Nursing program. She has been a tremendous asset to our students and to all of our team. We're going to miss her," said Ayala.
Established in 1998, the Vocational Nursing program transitioned through STC's Pecan and Mid-Valley campuses, until it found its home at the Nursing & Allied Health campus in McAllen, a journey that San Roman was a witness of during her employment with STC.
"When I started, Vocational Nursing was very small. Even though I was only assigned to be in that program, I would help all the departments," she said. "That's how I got involved, I would always know a little about each program, because we are here for the college, we need to help out."
Born and raised in Donna, San Roman has always had a huge appreciation for education. After her father's passing, she was encouraged by her mother to attend technical school. Right after graduating, she started an accounting job where she fell in love with business and administration duties.
Becoming a mother helped San Roman find her way to STC after she started looking for a similar job that would allow her to maintain a life balance.
"Yes, I answer phones, but I also work scheduling, registration and classroom assignments; it's much more than just paperwork. It's a huge responsibility," said San Roman.
San Roman added that helping nursing students and watching them grow as professionals has been her favorite part of working with STC.
"I enjoy seeing people progress. Even when I go to the hospital, some of my nurses are former students and they take very special care of me. Some come visit just to check on me and thank me. I'm very proud of them."
She also expressed her appreciation for faculty and was grateful to be a helping hand all these years.
"I like to go out of my way to help the instructors; we want our students to be happy. It's a school, this is a place for them."
Faculty and staff reassure San Roman that STC will always welcome her with open arms and wish her well on her retirement as she plans to spend more time with her family.
"She has been a constant for the program, she's the foundation of our team. We're sad to let her go but we understand. We wish her the best," said Jessica Neely, Vocational Nursing instructor.
For more information on South Texas College Nursing and Allied Health programs, visit nah.southtexascollege.edu or call 956-872-3100.