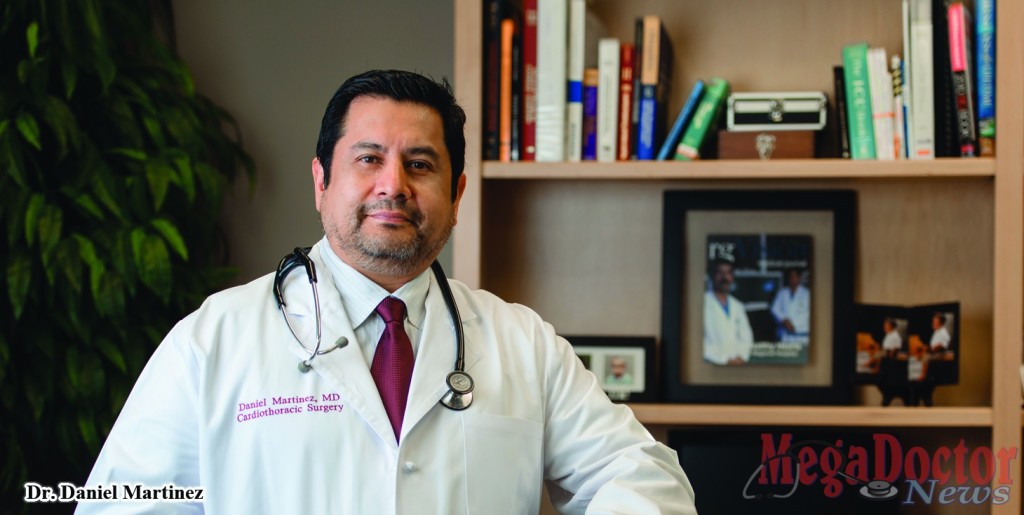 By Roberto Hugo Gonzalez,
Publisher of Mega Doctor News
This month Mega Doctor News is featuring a thoracic surgeon that has performed thousands of procedures in his field. Dr. Daniel Martinez is a board certified cardiovascular surgeon practicing from RGV Heart Surgeons in Harlingen, Texas.
He said that it took many years of training and dedication to become a heart surgeon and Dr. Martinez made a lot of personal sacrifices to fulfill his goal.  He still continues to educate himself by attending conferences on the most contemporary cardiothoracic procedures in order to bring cutting edge medicine to Rio Grande Valley residents.
It is important to note that while he was at LSUHSC-Shreveport, Dr. Martinez instituted the first Extra Corporeal Membrane Oxygenation (ECMO) in a newborn.  ECMO is an important treatment for cardiorespiratory failure in infants and children. ECMO is the use of an artificial lung (membrane) located outside the body (extracorporeal), that adds oxygen in the blood and this blood then carries the oxygen to the body tissues (oxygenation).
His interest and expertise in the field of heart surgery includes complex valvular procedures and a Minimally Invasive Cardiac Surgery (MICS) approach. Just recently Harlingen Medical Center received a 3-Star award by the Society of Thoracic Surgeons for outstanding results in Coronary Artery Bypass Grafting (CABG) procedures as well as Minimally Invasive Lung Surgery, Heart Failure Surgery, and Arrhythmia Surgery. In this issue you will get to learn more about him.
Each month Mega Doctor News brings the most interesting and brilliant medical professionals practicing in the Rio Grande Valley. Today we bring you Dr. Luis Rios, Jr.
Dr. Rios is one of those great individuals that has studied and trained with one goal in mind, to be the best at his profession; he has practiced for 16 years in the field of plastic surgery.
On another matter, here we have a doctor that has practiced medicine for the last 47 years; his main purpose in life is still the same as when he first became a doctor, to make people healthy and always be available to serve his patients. We are talking about Dr. Homero Rivas who is a member of a well-established family that started in the grocery business in the 1930's. His parents Margil and Consuelo Rivas started the M Rivas Supermarkets that at one time grew to nine stores. Read more about Dr. Rivas in this issue.
During the many years that I have been a reporter, I have heard different motives as to why people are attracted to the Rio Grande Valley. For example, when I had the opportunity to interview Chef Marcel Fortuin, he came for the first time to the Valley; the first things that he saw were the palms. He loved them and he has been here since then. He is originally from the Netherlands.
When we featured Dr. Cesar A. Matos, a psychiatrist, he said while in New York he received an offer to come and work in the Valley. With the offer there was a color pamphlet with photos of the hospital surrounded by red bougainvillea, well that did the trick for him. He has been in the Valley since 1993.
Today we have the honor of featuring Dr. Umang Khetarpal, an Otolaryngologist. He is a physician trained in the medical and surgical management and treatment of patients with diseases and disorders of the ear, nose, throat, and related structures of the head and neck. They are commonly referred to as ENT physicians.
He was attracted when he first visited South Padre Island and loved the warm weather and friendliness of local people. This is fortunate for the Rio Grande Valley because he is also a brilliant medical surgeon.
There is more in this issue, I know that you will like it.  MDN