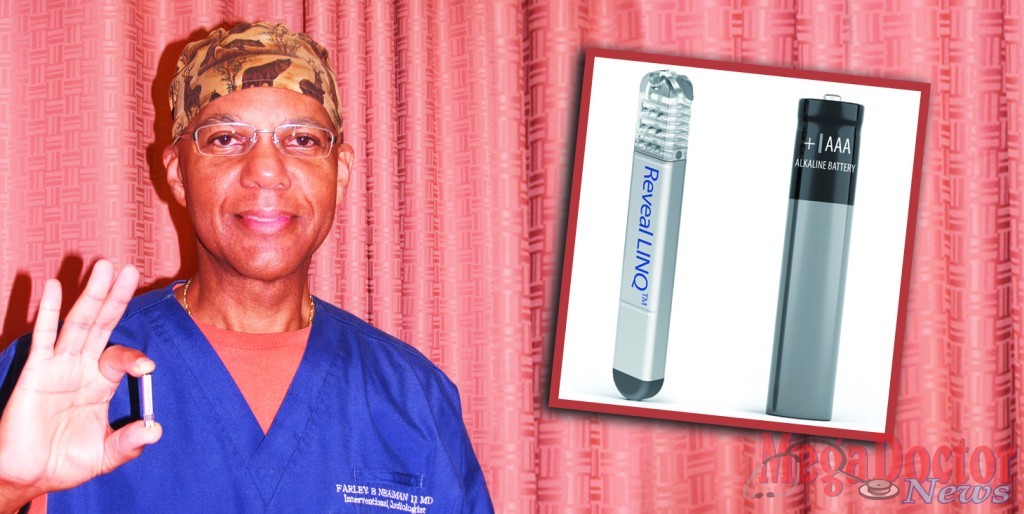 As originally First published by Mega Doctor News newsprint Edition
Harlingen, March 11, 2014 – A 45-year-old Harlingen mother of two children has become the first patient south of San Antonio to receive a new type of heart monitoring device which is 87 percent smaller than existing devices – and about the length of a "triple A" battery, but thinner than a battery. According to hospital officials this is 15-minute procedure.
Dr. Farley Neasman, Interventional Cardiologist, implanted the Valley's first "Medtronic Reveal LINQ Insertable Cardiac Monitor System", the smallest implantable cardiac monitoring device available, into heart patient Maria Maldonado at Valley Baptist Medical Center-Harlingen Tuesday (March 11, 2014).
"This device may be very small, but it is actually part of a powerful system that allows us to continuously monitor a patient's heart for up to three years," Dr. Neasman said.
The wireless device helps physicians diagnose and monitor irregular heartbeats (such as when the heart beats too fast or too slow) in their patients.  The device detects and records abnormal heart rhythms over long periods of time, to help determine whether a patient has an abnormal heart rhythm.  Information transmitted by the device helps the patient's physician to make a more accurate diagnosis and develop a treatment plan based on each patient's individual needs.
Cardiologists place the miniature device just beneath the patient's skin, through a small incision less than one centimeter (a little more than 3/8 of an inch) in the upper left side of the patient's chest.  Ms. Maldonado's procedure was very quick (about 15 minutes) and within a couple of hours she was ready to go home from the hospital.  She said she was thankful that the new monitor is "so small and patient-friendly."
"The device is often nearly invisible to the naked eye once it is inserted," Dr. Neasman said. "Unlike some other types of monitors, the patient does not have to deal with bulky devices, sticky recording pads, or wires that are visible under their clothing.  Patients with these insertable cardiac monitors can continue with their normal daily activities — such as bathing, swimming and exercise in consultation with their physician — without the monitor getting in the way."
In Ms. Maldonado's case, she hopes the monitor and subsequent treatment of her heart condition will allow her to get back to running – and to playing outside with her six-year-old daughter, who loves to ride bicycles.  Those activities have been curtailed since Ms. Maldonado began having chest pains.  Lately, she often feels tired and has to sit down for an hour or more.
- Advertisement -

"My life has completely changed, but I am hopeful this new monitor will help find out what is wrong with my heart, such as if it's going too fast or too slow … and that eventually I will be able to play with my daughter again, exercise, and go to the grocery store without becoming fatigued," Ms. Maldonado said.
The implanted device is part of a simplified remote monitoring system that can transmit data about the patient's heart to their physician from nearly any location in the world, using global cellular technology.
"The Reveal LINQ device is indicated for patients who experience transient symptoms such as dizziness, palpitation (pounding in the chest), syncope (fainting or passing out), and chest pain that may suggest a cardiac arrhythmia," Dr. Neasman added. "The Reveal LINQ is also being used to diagnose other conditions such as cryptogenic stroke (a 'brain attack' with no known cause), which in many cases, can be caused by undiagnosed atrial fibrillation (an irregular and often rapid heart rate)," Dr. Neasman added.
Parker MacDonald, RN, BSN, CCRN, Director of the Cardiac Catheterization Laboratories and Cardiac Rehabilitation Dept. at Valley Baptist, said the device is placed using "a minimally-invasive insertion outpatient procedure in our state-of-the-art digital cath labs at Valley Baptist."
"This is another 'first' for our area which shows Valley Baptist's commitment to serving our community by keeping our services on the cutting edge of technology," Ms. MacDonald added.
With advances in technology, the new device has 20 percent more data memory than its much-larger predecessor, the "Reveal® XT" cardiac monitoring device.  Patients who have the device implanted can still receive an MRI (magnetic resonance imaging) exam if needed.  MDN