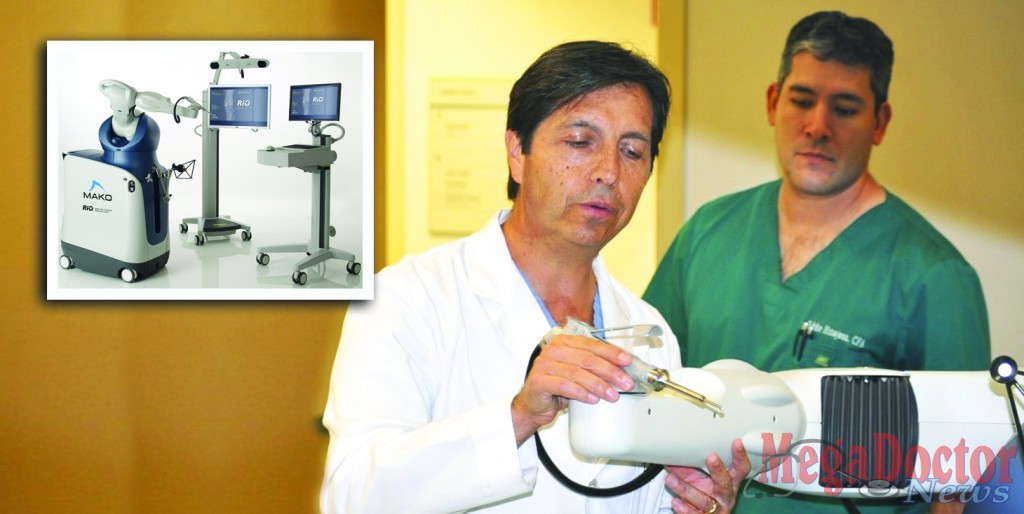 Cornerstone Regional Hospital the first in South Texas to offer MAKOplasty® Partial Knee Resurfacing
- Advertisement -

As originally First Published by Mega Doctor News newsprint Edition on September 2012
As is well known, Dr. Raul Marquez of Marquez Orthopedics & Sports Medicine (Marquez Orthopedics) is one of the best in this field of medicine.  Dr. Marquez's reputation attracts patients from all over the nation as well as from Mexico.
On September 5, 2012, he participated in a one of a kind Media Day event where he performed a Live MAKOplasty® surgery which was broadcasted live into Dr. Raul Marquez' teaching amphitheater in Edinburg, Texas.
This event was promoted by Cornerstone Regional Hospital proudly announcing that it is now offering MAKOplasty® Partial Knee Resurfacing, a minimally invasive treatment option for adults living with early to mid-stage osteoarthritis (OA) that has not yet progressed to all three compartments of the knee.
MAKOplasty® is less invasive than traditional total knee surgery and is performed using RIO®, a highly advanced, surgeon controlled robotic arm system.  Cornerstone Regional Hospital is the first in South Texas to acquire this technology, and Dr. Raul Marquez is the first orthopedic surgeon to perform this procedure.
The Media Day, hosted by Cornerstone Regional Hospital and Dr. Raul Marquez, provided the opportunity to witness a live MAKOplasty® Partial Knee Resurfacing, and a chance to meet "RIO® the Robot," and learned about how this procedure can help patients attain mobility faster and with less pain.    MDN