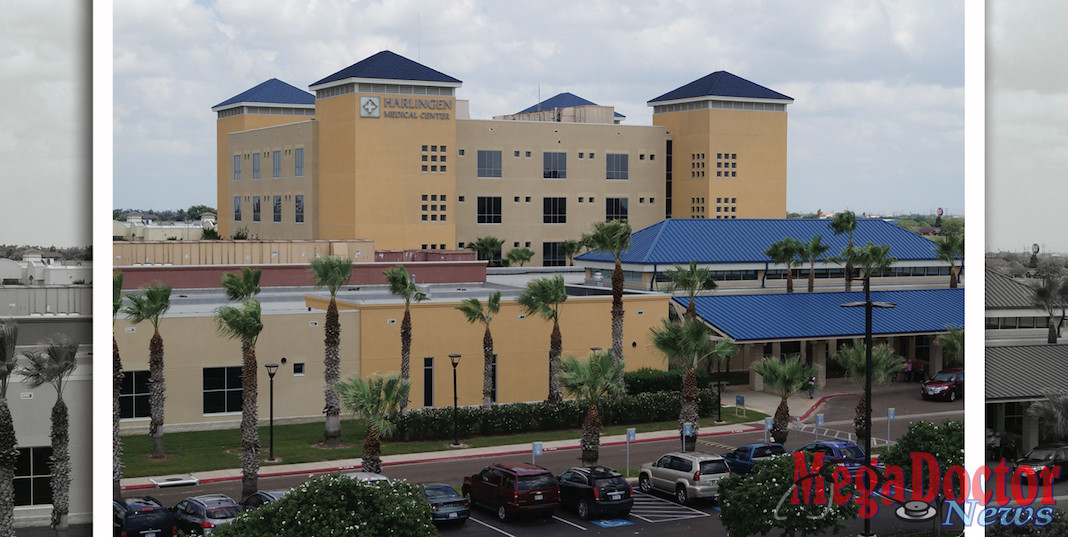 Patients being helped to walk again without pain by nationally-recognized, award-winning hospital
As originally published by Mega Doctor News newsprint edition October 2016.
Harlingen, Texas – Do you know someone who has trouble walking, or going up steps, without pain?  One Rio Grande Valley woman said all she wanted was for the pain in her knee to go away – so she could get back to a 'normal' life.
"And, thank goodness, that's exactly what happened after I had knee replacement surgery at Harlingen Medical Center," the patient said. "I'm now enjoying life, with no pain — and I get to run around with my little grandbabies."
This woman was one of many patients who have experienced a superior level of health care since "discovering" Harlingen Medical Center, a relatively-new but already nationally-recognized hospital on the U.S. Expressway 83 (at the Ed Carey exit) in Harlingen.
In fact, Harlingen Medical Center has been setting the bar high for health care in the Valley by consistently scoring high for patient satisfaction and patient safety, and winning numerous awards for caring for heart patients, orthopedic patients, and women coming to the hospital to have a baby, among others.  The hospital operates under a concept of "Patient-Focused Care", which always places the patient first.
In August, Harlingen Medical Center achieved a 4-star rating, reflecting high levels of quality healthcare being provided to Rio Grande Valley residents, in accordance with the "Overall Hospital Quality Star Ratings" by the U.S. Center for Medicare & Medicaid Services.  The 4-star rating, on a scale of one to five, indicates an above-average performance.  By comparison, most other hospitals across the country received a 3-star rating.
Most recently, Harlingen Medical Center was named the 2016 "Best Hospital" and "Best Emergency Room" by readers of a local newspaper, the Valley Morning Star. Harlingen Medical Center was also recently recognized by a national publication, U.S. News & World Report, as a high-performing hospital in knee replacement surgery (in the magazine's 2016-2017 "Best Hospitals" listings).
"This rating for knee replacement reflects our commitment to maintain the highest level of care — and to create a superior overall experience for our patients and their families," said Brenda Ivory, President and Chief Executive Officer at Harlingen Medical Center.
Knee replacement surgery can, in many cases, help patients with arthritis and other conditions to be able to walk again without pain.  Dr. Jose Cobos, an orthopedic surgeon, said patients who have severe knee pain due to damage (or arthritis) to the knee joint, and whose activities and function are limited because of that pain, may be candidates for knee replacement surgery.
Harlingen Medical Center is also known as "the heart hospital" for the Cameron County area.  The Cardiovascular Center at Harlingen Medical Center provides life-saving treatments, such as to open a blocked blood vessel to a patient's heart.  Cardiologists at Harlingen Medical Center have received national recognition for heart treatment, which in some cases includes inserting a tiny metal device called a stent and / or a tiny balloon to open clogged arteries.
Many people in South Texas are in need of these treatments because of high rates of high blood pressure, high cholesterol, and diabetes.  Harlingen Medical Center has been ranked among the top hospitals in the country in cardiovascular care, having received the Thomson Reuters "100 Top Hospitals: Cardiovascular Benchmarks Award."
"We have some of the most experienced cardiologists in the Valley," said Linda Bull, Director of the Cardiac Catheterization Laboratory at Harlingen Medical Center. "We also have physicians who perform very specialized electrophysiology studies of the heart, as well as complex catheter ablation procedures and peripheral vascular procedures, including treating abdominal aortic aneurysms. And they have received recognition for using some of the most advanced technology, including the world's smallest heart pump (the Impella® 2.5 Catheter)."
In order to make these important services available to more people in South Texas, Harlingen Medical Center is currently undertaking a major expansion project, which will include a new emergency room — along with new cardiac catheterization laboratories for heart patients, new endoscopy laboratories to treat gastro-intestinal problems, and additional operating rooms for surgical procedures.
During the month of October, Harlingen Medical Center is celebrating its 14th Anniversary of providing critical healthcare services to the people of the Valley. MDN