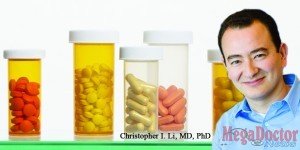 As originally published by Mega Doctor News in the newsprint edition
- Advertisement -

What is the most common chronic medical condition among US adults? High blood pressure.
And what is one of the most common cancers among women? Breast cancer.
Now, no one is suggesting that the high blood pressure causes breast cancer…but because they're both so common, it just makes sense to look for any possible links. And researchers have found one.
It turns out that a certain type of drug used to treat high blood pressure is associated with more than double the risk for breast cancer…while a different type of blood pressure drug is associated with a reduced risk for breast cancer.
If you or a woman you love takes blood pressure medication, you should know which is which.
In-Home Interviews For Accuracy
Previous studies that looked for a connection between blood pressure drugs and breast cancer had only small numbers of patients…did not factor in how long the drugs were used…and/or relied on patients' own recall about medication use, which can be inaccurate. So epidemiologists at Fred Hutchinson Cancer Research Center in Seattle tackled the subject in a unique way.
- Advertisement -

The study participants included nearly 2,000 Seattle-area postmenopausal women who had been diagnosed between 2000 and 2008 with either invasive ductal breast cancer (the most common form, which arises in the milk ducts) or invasive lobular breast cancer (which arises in the milk glands)…plus nearly 900 cancer-free postmenopausal women who served as controls.
To ensure that participants' reports about medication use were as accurate as possible, the women were interviewed in their own homes and asked to show the researchers the actual bottles of all medications that they were currently using.
To aid participants' memories of past medication use, the researchers also showed the women photographs of commonly used blood pressure drugs, along with cards listing their brand and generic names. In addition, the women answered detailed questions about medication dosages and dates of usage…and about other risk factors for breast cancer, including their reproductive, medical and family health histories.
Breast Cancer/Blood Pressure Connection
The rate of high blood pressure was the same—44%—among the women with breast cancer and the women without breast cancer. Researchers analyzed the data several different ways, cross-comparing women with and without breast cancer…women with and without high blood pressure…women who did and did not take the various types of blood pressure drugs…and short-term versus long-term use of the drugs. The researchers also adjusted for age and other breast cancer risk factors, such as smoking, alcohol use and family history of breast cancer.
Here's what they found…
Using a type of blood pressure drug called a calcium-channel blocker for 10 years or more was associated with 2.4 times higher risk for ductal breast cancer and 2.6 times higher risk for lobular breast cancer. There was some indication that risks were even greater—3.7 times higher for ductal breast cancer and 3.6 times higher for lobular breast cancer—among current users of the so-called short-acting calcium-channel blockers. However, because short-acting formulations are prescribed less often, the effect of duration of use could not be assessed.
Using drugs known as ACE inhibitors for 10 years or longer was associated with a 30% reduced risk for ductal breast cancer and a 40% reduced risk for lobular breast cancer. Using an ACE inhibitor for less than 10 years did not significantly decrease or increase breast cancer risk.
There was no increase or decrease in breast cancer risk among women taking other types of blood pressure drugs—diuretics, beta-blockers or angiotensin receptor blockers (ARBs).
Help For The Hypertensive Woman
The different blood pressure drugs work in different ways. Calcium-channel blockers work by preventing calcium from entering the cells of the heart and blood vessels, which allows the muscle cells to relax and thus reduces blood pressure. Nearly 15% of blood pressure drug prescriptions are for calcium-channel blockers such as amlodipine (Norvasc)…diltiazem (Cardizem)…felodipine (Plendil)…isradipine (Dynacirc)…nicardipine (Cardene)…nifedipine (Procardia)…and verapamil (Calan).
Why are calcium-channel blockers associated with increased risk for breast cancer? That's not known, and this study wasn't designed to answer that question. Researchers also could not say why ACE inhibitors were associated with lower breast cancer risk, and they noted that this finding needs to be replicated in future studies that include a greater number of long-term users of ACE inhibitors. The current study results must be interpreted with caution and should not yet affect clinical practice, the researchers said—so clearly, more research is needed.
What can you do in the meantime? Reduce your blood pressure naturally—which may reduce your need for any sort of blood pressure drug—by eating right. For guidance, read Foods That Help Control Blood Pressure. MDN