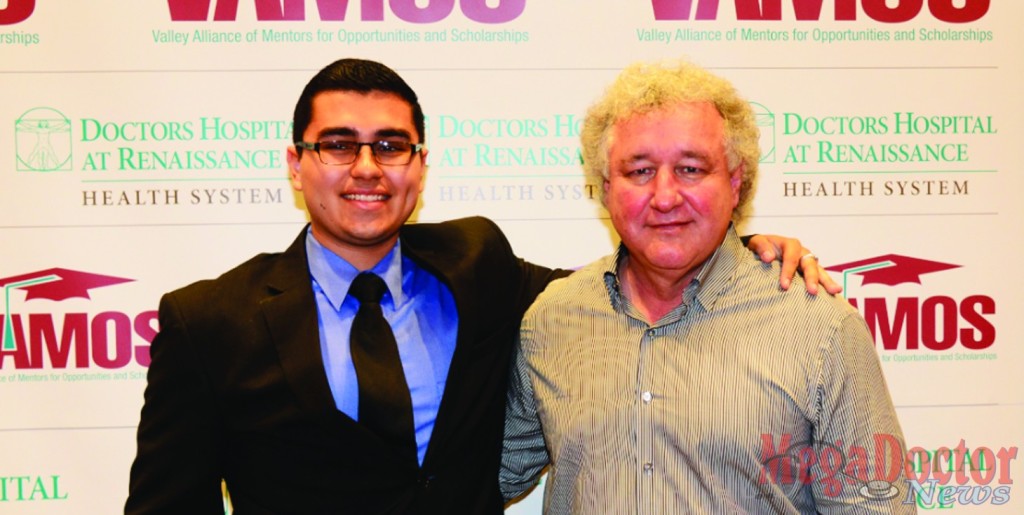 Mega Doctor News – 
By Roberto Hugo Gonzalez,
Mega Doctor News met Reynaldo Garcia for the first time during an event promoted by The Valley Alliance of Mentors for Opportunities and Scholarships (VAMOS). This non-profit organization is dedicated to making the dream of a college education a reality for graduating high school seniors of the Rio Grande Valley.
Reynaldo wants to be a medical doctor. Today, he is a student at Pan American studying bio premed with plans to graduate from UTPA and then attend the medical school that is going to open up soon in the Rio Grande Valley.
He is originally from Laredo, Texas and moved to the Rio Grande Valley seven years ago, he lives in Pharr with mother and siblings. He said, "I've been adapting to the weather, so far everything has been great."
Why do you want to be a doctor? I want to be a doctor just because of the life experiences I've been through. My mother had neurosurgery when I was seven years old." He said, "She suffers from Meniere's disease so they had to operate on her vascular nerve in order for her to not suffer as severe as she used to. She had a two percent survival rate, and Dr. James Olson a neurosurgeon in San Antonio was able to successfully perform the surgery, she came thru alive and is more healthy."
You decided to become a doctor because of this experience? "Of course, yes, because I want to cause the same impact in another family. I want to see another kid be able to grow up with his mother because I was able to save somebody, otherwise his life would have changed dramatically just as mine would have changed if my mother wouldn't have been there for me."
He pointed out, "That's why I'm here, I chose to participate in VAMOS, and apply for the VAMOS scholarship otherwise financially I would have not been able to even dream of a career as a doctor."
When did you apply to VAMOS? "I applied to VAMOS last year in December 2014. For me it's made a tremendous difference not only the mentoring but the financial assistance has made me get through college and not struggle as hard." He continued to say, "I was able to get four As and one B last semester so I'm keeping up my GPA in order to get more scholarships, and see if I can actually obtain a successful score and make my dream come true and become a neurosurgeon."
Reynaldo is only 19 and he is the oldest in his family. "I have three siblings so I have to shape them up. I have to teach them that college is a good path to take because I'm the first generation of ever graduating from high school and the first one to enter college.
He said that he entered with 80 sum hours plus and tells his siblings, "If in high school you accelerate the pace, and apply for scholarships such as VAMOS it is possible to receive your degree in whatever you want."
Reynaldo said, "In my mind I thought financially, maybe I am unable to do this but I know that if I put enough effort, somebody will see my effort, and push me with the tools necessary in order to get where I want to be."
He said that his parents are divorced but he lives with his mother; he also sees his dad often. "He is a truck driver."
He told Mega Doctor News that his mom is disabled because of the surgery and still suffers with Meniere's disease but not as severe as she used to. Reynaldo said, "I want to cause the same impact as I said. I want to be able to convey that emotion, that energy into somebody else and be able to show my little brothers and sister that college is actually possible. Financially you won't be stopped."
His little brother Julian is 12, his sister Gloria is 6 and Franco his baby brother is 8 months old.
Reynaldo made this last comment, "My ambition is not only to become a neurosurgeon, but also be able to help my community."  MDN