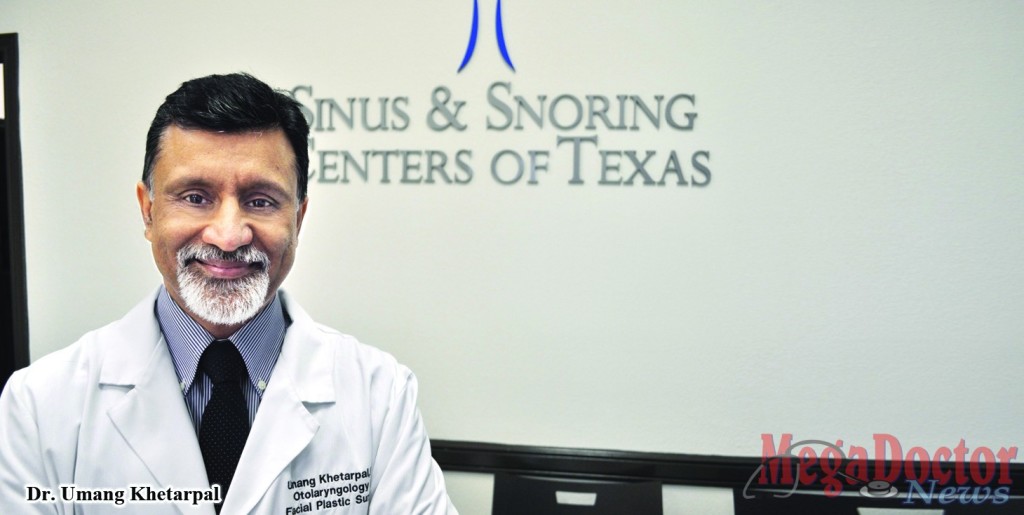 - Advertisement -

Mega Doctor News – 
By Roberto Hugo Gonzalez,
Dr. Umang Khetarpal is an Otolaryngologist. He is a physician trained in the medical and surgical management and treatment of patients with diseases and disorders of the ear, nose, throat, and related structures of the head and neck. They are commonly referred to as ENT physicians.
Dr. Khetarpal is a surgeon with years of experience. He graduated from distinguished universities from India and the United States. His practice is now located in the Rio Grande Valley. He is the founder of Sinus and Snoring Centers of Texas and he is double Board-Certified in Ear, Nose and Throat-Head, Neck and Facial Plastic Surgery as well as in Sleep Medicine.
After interviewing Dr. Khetarpal, Mega Doctor News places him among South Texas brilliant physicians, with extensive education, training and experience.
He did an ENT residency in the best institution in India called the All Indian Institute of Medical Sciences at that time. "I did a three-year residency there and then I was offered a fellowship research and   clinical fellowship at Massachusetts Eye and Ear Infirmary in Boston." He said, "That was back in 1989 when I started doing my fellowship in Boston. So I spent between Massachusetts Eye and Ear Infirmary, Brigham and Women's Hospital and Harvard Medical School about 5-1/2 years doing research and clinical work."
Because all foreign doctors have to retrain if the wish to practice medicine in the United States, he re did his ENT residency. He said, "I did that in SUNY, State University of New York in Syracuse."
- Advertisement -

Once he finished he joined a medical practice in Michigan for about a year.
Dr. Khetarpal's initial intention was to stay in India because there's a huge need, but once he came to the United States and started doing all the research that became his interest and decided to stay here.
The fact that he is now in the Valley is due to an invitation by a friend. "They said it was an opportunity to come down and help low income people in the Valley."  He continued to say, "I was in that spiritual phase of my existence."
He told Mega Doctor News that he didn't know anything about the Valley or that even existed.
His point of view changed when he visited the South Padre Island. He experimented the warm weather, and above all the friendliness of the local people and the unique blend and flavor of our neighbors to the South.
Another factor is that he learned the shortage of physicians. He said, "There's certainly a huge need for well-trained physicians. I figured that we'd come down and try to make a difference." And he did, he has been in the Rio Grande Valley for the last 14 years.
Dr. Khetarpal is indeed a very unique medical profession; he practices medicine out of two offices, Southwest Ear, Nose, Throat and Facial Plastic Surgery Institute and Sinus & Snoring Centers of Texas in Edinburg and Brownsville.
For more information you can visit his websites www.SinusSnoringMD.com and www.entfacialplasticmd.com MDN