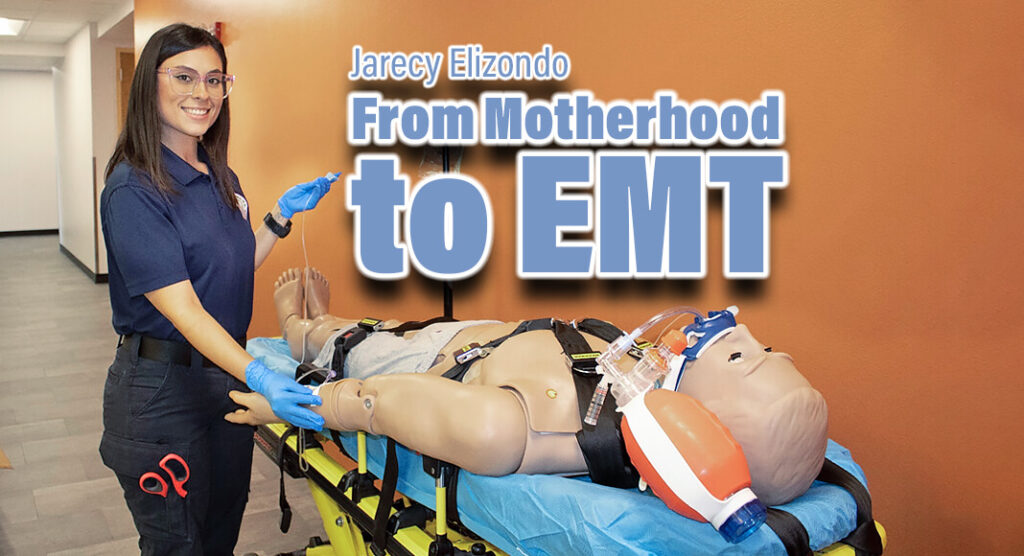 Mega Doctor News
By Selene Rodriguez
With determination to make a name for herself, South Texas College student Jarecy Elizondo has returned to college to prove that it's never too late to pursue your dreams, even after years of dedicating herself wholeheartedly to the unique needs of her autistic son.
Recognized as the top graduate of STC's Emergency Medical Technician (EMT) Basic Certificate spring 2023 class, the 26-year-old has found true purpose in a career that allows her to make a difference and take action for the sake of others.
"I just know that I can become more, I want to be part of that community that makes a difference even if it's just one call at a time," she said. "To be a full-time student, while working part-time and taking care of my son, essentially by myself, has been a hard journey but it'll be worth it to see my name on that diploma."
Born in Chicago, but raised in the Rio Grande Valley, Elizondo's mission to become a medical professional started in 2015, when she enrolled in STC's Associate Degree in Nursing program shortly after graduating from Edinburg North High School.
"Health care was always a first choice for me, but life happened and I had to redirect my goals," she shared. "Now that my son's 6 years old and starting school, I have found the perfect time to come back to college and a much better career for me."
After several years working for fast-food restaurants and child care centers, Elizondo looked to return to STC, interested in the Occupational Therapy Assistant program.
"I look up to my son's therapists, they do amazing work so I thought it would be perfect," she said. "But I realized I'm a more of a fast-pace type of person, I like the adrenaline and the rush to take action so I enrolled in the EMT program instead. I'm at a point in my life where I have no more time to waste."
With her husband working out of town and no close relatives to help take care of her son, Elizondo started school in January 2023 aided by daycare services and a flexible work schedule.
"I'm only required to go to campus three days a week, which allows me to work part-time and take care of my son, there's so much opportunity here for me. This is not a four-year path with no rewards or breaks, here I can go little by little and have certificates to fall back on in case I have to postpone school again," she explained. "I already obtained my EMT basic certificate and by the end of this year I will obtain the advanced certificate, if I continue this path. I could even become a Registered Nurse (RN) before I turn 30."
STC's Emergency Medical Services program offers short-term certificates that lead to a Paramedic Associate of Applied Science. After graduating, they are also eligible to take on the EMT Paramedic to RN track, striving for an associate degree in Nursing.
Elizondo's first accomplishment at STC is already yielding results. Shortly after obtaining her basic EMT certificate, she was hired at Lifeline RGV, an ambulance company that provides transportation services.
"I'm really grateful to my instructors for being incredibly attentive and responsive even after hours. I have never left a class without an answer," she said. "I'm also enjoying the camaraderie among my cohort, as future first responders we never know when one of us will be taking care of each other's families so encourage each other to learn as much as we can."
She refers to her ability to handle emergency situations as one of her best traits and takes great responsibility in her commitment as a first responder.
"In this career you always have to be ready to expect the worst and be well aware that when you get a call it's because someone needs you, not only physically, but emotionally," she said. "I would advise others to not come into the health care field for money, do it because you care. You need to want to help to be in this profession."
Elizondo's main motivation as an aspiring paramedic continues to be her son and the strong desire to build a better future for her family.
"My son's the biggest reason why I'm working on myself and on our future together. I want him to be proud of his mother," she said. "He also loves ambulances, he rides with me at work, so it works out."
For more information on STC's Emergency Medical Service program, visit nah.southtexascollege.edu or call 956-872-3100.