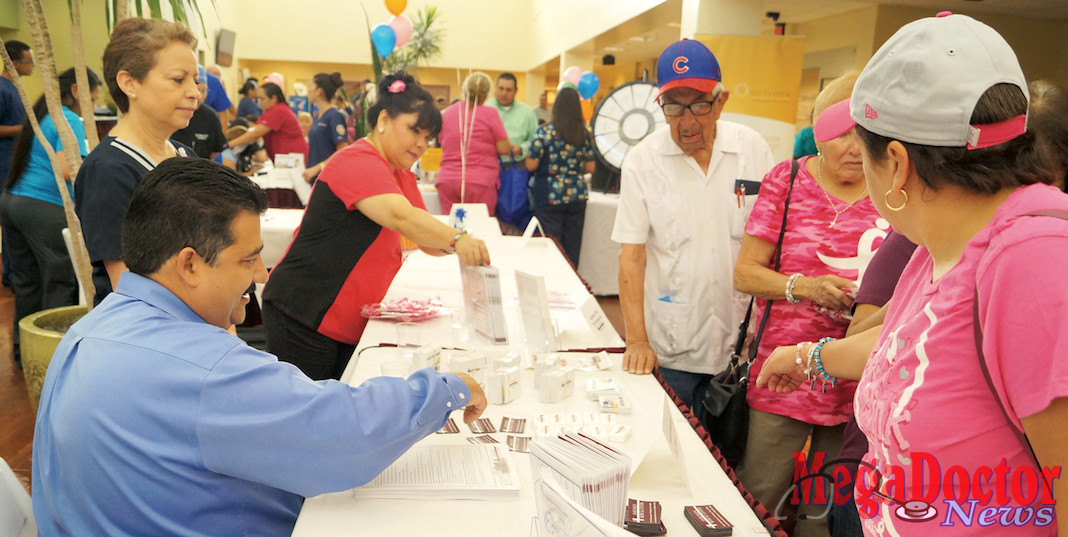 Mega Doctor News – 
Harlingen – Did you know that hypertension, also known as high blood pressure, may cause you to develop serious health conditions, including heart attack, stroke, heart disease, kidney disease, and, even death if left untreated?  It's true, which is why it is very important that you know your numbers.
Harlingen Medical Center is giving you the opportunity to come in and receive your numbers to ensure your health and wellness.  The award-winning and nationally recognized hospital, will host its Annual Community Health & Wellness Fair on Wednesday, October 5, 2016, at its Main Lobby, between the hours of 9:00 a.m. and 11:00 a.m.  The event is being hosted in conjunction with the hospital's 14th Anniversary in operation – October 2, 2016.
Blood pressure screenings will be one of numerous free medical screenings the event will feature.
According to the Centers for Disease Control and Prevention, millions of Americans suffer from high blood pressure, but, are not taking care of themselves as they should.  Mostly because they avoid taking their blood pressure medication as instructed, or all together avoid taking medication.
"There are people who have very high blood pressure and feel comfortably fine until they have a heart attack," said Lisa Aguilar, LVN, Employee Health Nurse at Harlingen Medical Center.  "A simple action can avoid a potentially deadly consequence.  People who suffer from high blood pressure should take their medication as instructed by their physician."
They should also regularly check their blood pressure to ensure it is at the goal rate of 120/80, added Aguilar.  Some people may show a bit higher numbers and that is okay – as long as it being supervised by their primary care physician or cardiologist.  But, if numbers are continuously more than 140/120, when checked, which is considered hypertension, then, you should be consulting with a physician to address this medical condition.
The Harlingen Medical Center Annual Community Health & Wellness Fair will also feature other services, including:
Blood Sugar Screening
A1C Screening for Diabetes
Body Mass Index Screening
Vision Screening
Weight Loss Management
Nutrition & Health Education
Upper Back Massage Therapy
Flu Vaccination (free for the first 50 people)
The event will feature free flu vaccines for the first 50 people to register at the flu vaccine booth.
"Now is the time to get your flu vaccine to prevent illness later in the season," said Aguilar.  "The vaccine is designed to help prevent the flu virus from getting the best of you later."
The event will also feature a masseuse who will be offering massage therapy sessions that are designed to help improve blood flow and relieve body aches and pains.
The Harlingen Medical Center Annual Community Health & Wellness Fair will also provide an excellent opportunity for continuing education regarding people's eating habits, food intake and how people should eat to improve their quality of life and lifestyle.
The fair will include a Harlingen Medical Center Doc Talk Lecture.  It will feature an expert on this subject, Nutritionist Sandra Betancourt, Registered Dietitian / Licensed Dietitian, who will present her perspective on how you can eat smarter and live a healthier life.
Betancourt is a nutritionist who helps people take steps towards a healthy lifestyle, and guides them through the process while monitoring their progress.  She works one-on-one with clients and explains what they should be eating and should not be eating – identifying the ideal food items and the non-ideal food items.  She also ensures that her clients incorporate a daily exercise routine into their lives, and guides them on that front as well.
"We are very pleased to have this expert on the subject of weight management," said Michael Swartz, Business Development & Marketing Manager at Harlingen Medical Center.  "There are so many people who want to eat healthier, cook healthier and live better lives.  But, they often do not know where or how to start doing that."
The Doc Talk Lecture on "Eat Smart, Live a Healthier Life: What You Need to Know", begins at 11:00 a.m., at the hospital's Medical Office Building (MOB) Conference Room, located at 5505 S. Expressway 77, in Harlingen.
Since opening on October 2, 2002, Harlingen Medical Center has won numerous awards for its care, taking top honors in the specialties of cardiovascular care, orthopedic care, and women's services, among others.  Most recently, Harlingen Medical Center was named the 2016 "Best Hospital" and "Best Emergency Room" by readers of the Valley Morning Star.
The Level IV Trauma Designated hospital operates under a concept of "Patient-Focused Care", which always places the patient first.  To learn more about its services and programs, please visit the hospital's website at www.HarlingenMedicalCenter.com.
For more information, call at (956) 365-1848 or (956) 365-1027. MDN