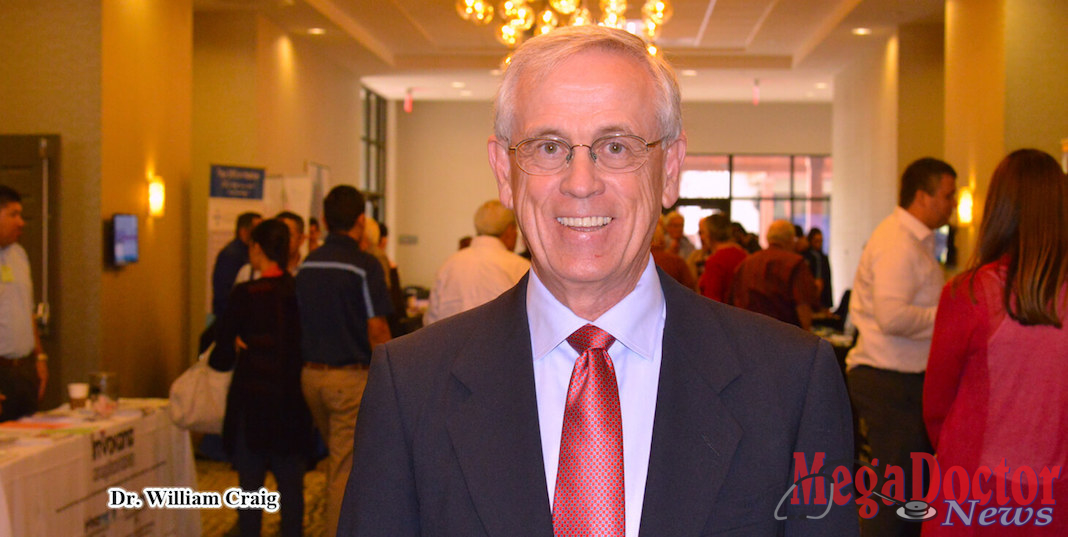 By Roberto Hugo Gonzalez
- Advertisement -

As originally published by Mega Doctor News in its newsprint edition May 2018
William Craig is a seasoned and high caliber physician in Cardiology based out of San Antonio. He completed his cardiology fellowship training in 1980 and trained at Brooke Army Medical Center (BAMC) spending 12 years in the Army.
"After", he told Mega Doctor News, "They kept me on staff as a faculty and I ran the cardiology training fellowship program for a few years." Duringthe time at the lab, he helped start the stent angioplasty program in the army. He became chief of cardiology for BAMC in 1984 and was a consultant to the surgeon general for cardiology for two years. At that time, he was told to pack and go to Walter Reed Army Medical Center (WRAMC) to become the chief. To that order, he replied, "I said no, I want to stay in San Antonio, so I got out of the army."
As a cardiologist, he and his team were in charge of prominent people, like the 5-star U.S. General Omar Nelson Bradleyduring World War II. He said, "There were two, Eisenhower was one, Bradley was the other one."
He pointed out that when he was in El Paso in the army, he took care of General Bradley. "I've taken care of a few other prominent people I probably shouldn't exactly say who," he said.
You don't want to say? "Well, I never actually had to take care of her directly, but when I was chief of cardiology at BAMC, Lady Bird Johnson was still alive, we were the official hospital if she got sick."
Dr. Craig had security clearance and was briefed by the Secret Service once in a while so if she ended up in the hospital, he could take care of her, but we never did.
- Advertisement -

There is no question, Dr. Craig has spent many years working in Cardiology in the hospital, performing surgeries, and taking care of people with heart attacks. He says, "That's very intensive labor."
At this stage of his career, he decided that he needs to help more people by treating them preventively and the whole focus of his presentation at the 26th Annual Rio Grande Valley Medical Education Conference & Expo is that he can do a better job.
He said that there is a lot of medications being used for prevention, to keep people healthy and out of the hospital, as well as prevent them from having heart attacks, heart failures, and strokes. "All of that, we do a pretty good job just by seeing patients in the office."
Dr. Craig says that he has a way to manage them better, which includes the physician knowing exactly what's going on just about every day of the patient lives. He said, "Technology now is allowing us to get that information in the office on a regular basis and to manage them before they have symptoms, if we see something that's developing that we don't like at home."
He said has is working with a company that knew his background that asked him to help them develop a system. Once they agreed on a plan, a tablet computer was placed at the patient's homes, including devices that connect to that computer via Bluetooth.
The idea of using technology is to be able to know ahead of time the condition of the patient. He said, "When they take their blood pressure and heart rate, and stand on a scale, that information gets sent to their tablet then directly to us every day." He continues, "It takes very little time for the patient to do that, giving us an opportunity to see data and a trend. If something is not right, we can call the patient and make an adjustment before it causes symptoms."
Dr. Craig said that it takes less than five minutes for the patient to do his part. Even though it's not fancy data he gets at the office, it sufficient to help more people and prevent additional problems.
"The equipment is in a small carrying bag and the patient can also take it out of town. The transmission is from a U.S. cellular phone or Wi-Fi enabled iPad and you can take that with you," he said.
Dr. Craig decided at this point not say the name of the company as he is working to perfect this technology to be ready by the end of 2018. "I think some of these are going to be available as devices approved by the FDA to put out in homes by the end of the year."
Do you still have your practice in San Antonio? "I'm still in private practice. I'm not employed by a hospital. I mean the success of my practice depends on you knowing what we're doing so we are financially sound. That's really a challenge these days with all the changes in funding. So, you have to really be efficient," he finalized.