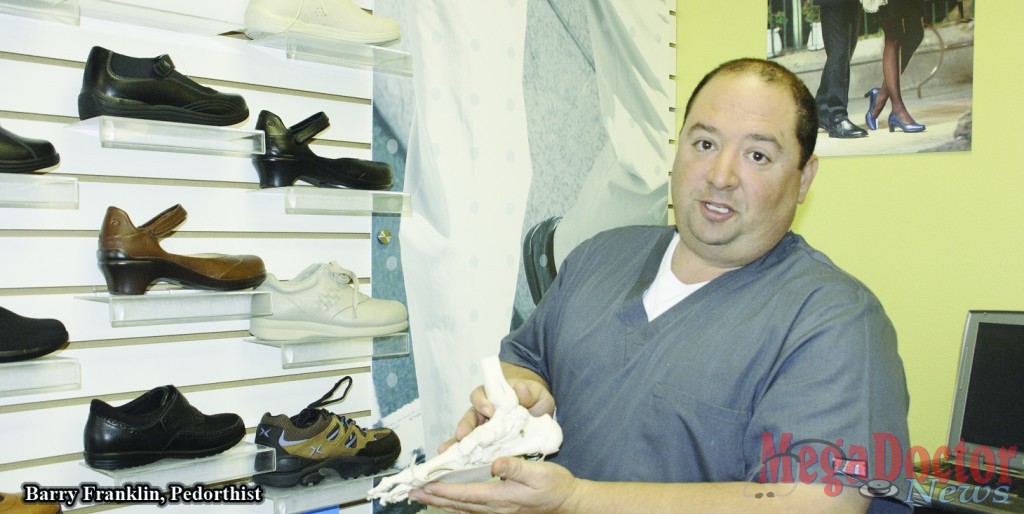 By Roy Martinez
- Advertisement -

Mega Doctor News
Your feet, they have been with you since birth. So it is very normal to take them for granted. Have you ever given any thought about the important role your feet play in every minute of every day of your life.
Your feet help you stand up, they help in walking and running. They are in effect the foundation of your body. At Foot Solutions in McAllen their focus to help you find the footwear that is right for your particular foot and lifestyle.
The highly trained team led by owner and Pedorthist Barry Franklin takes pride in helping their customers when they come in complaining of problems. A Pedorthist is a health care professional who is specifically educated and trained in using therapeutic shoes, shoe modifications for therapeutic purposes.
"The nice part of Foot Solutions is that we are a medical center, says Franklin, "you can come in even without a doctor's prescription, we can run you through a process to identify what is going on and we can make recommendations.
If you are having problems, says Franklin, Barry said, "Foot Solutions is actually a good place to go to start looking when you have foot pain because it doesn't cost to come in the store." They can analyze, and if they see something that is as he puts it "beyond our pay grade, we refer it to a physician or ask the patient to see their doctor." With injures they always recommend seeing a doctor. Foot Solutions also helps diabetics with diabetic shoes.
When a customer comes in Barry goes through a ten-step process, which includes measuring the foot sitting and standing. This measurement will tell if the fascia (connective tissue that surrounds muscles) or part of the foot is stretching, "we do a gait analysis, see if the foot has issues with pronation (the inward roll of the foot while walking or running) or supination (when the foot rolls outward) they check for bunions and calluses. Most of his customers just walk in the door.
- Advertisement -

Many times, Foot Solutions will fit a patient with inserts to help with knee, hip and back problems, problems with the metatarsals (bones in the foot), because what they are doing is relieving the pressures. Foot Solutions has machines, which can precisely measure the arch of the foot. If nothing else a visit to Foot Solutions will give you a precise measurement of your foot so you are not buying the wrong size shoe which could be causing problems, especially if you are a runner.
Foot Solutions has one store in the Rio Grande Valley, they have been serving customers for almost nine years. It all started when Barry who came to the Valley twenty years ago to work as an accountant and started to look at different opportunities.
Barry tells Mega Doctor News, "Foot Solutions seemed like a good fit especially here in the Rio Grande Valley where there are so many diabetics. Originally it was a way to provide income for his family. After he got his certification as a pedorthist, and learning what I could do to help people, it became more about helping people than about money. "It was about changing people's lives, it ended up being a lot more fulfilling, than I would have ever anticipated when I first started." said Barry.
The Foot Solutions Store is located at 6100 N 10th Street McAllen; they can be reached by calling (956) 661- 9933. For further information you can visit their website at www.foosolutions.com/store/mcallen MDN