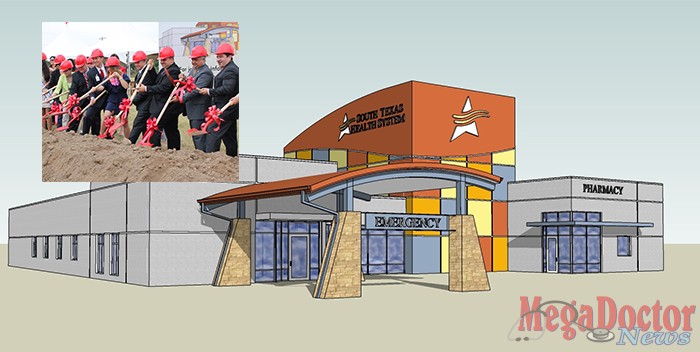 Mega Doctor News
South Texas Health System administration and board members, along with local community leaders, broke ground today on the South Texas ER at Weslaco – South Texas Health System's first freestanding emergency room. The South Texas ER at Weslaco is expected to open at 400 W. Expressway 83 this winter.
The South Texas ER at Weslaco will serve residents in the Mid-Valley area with 14 treatment and three short-stay observation rooms, a full laboratory, an ambulance bay and retail pharmacy. Diagnostics will be available on an emergency and outpatient basis to include CT, X-ray, ultrasound, bone density and mammography. The facility will have separate outpatient and emergency entrances and waiting areas.
The South Texas ER at Weslaco will operate with emergency physicians and ancillary staff round-the-clock and on holidays. Providing Level IV trauma care, it will be capable of treating adult and pediatric general emergency cases on an outpatient basis, plus patients needing observation for less than 24 hours. Patients requiring surgical intervention or a higher level of care would be stabilized and transferred to an area hospital.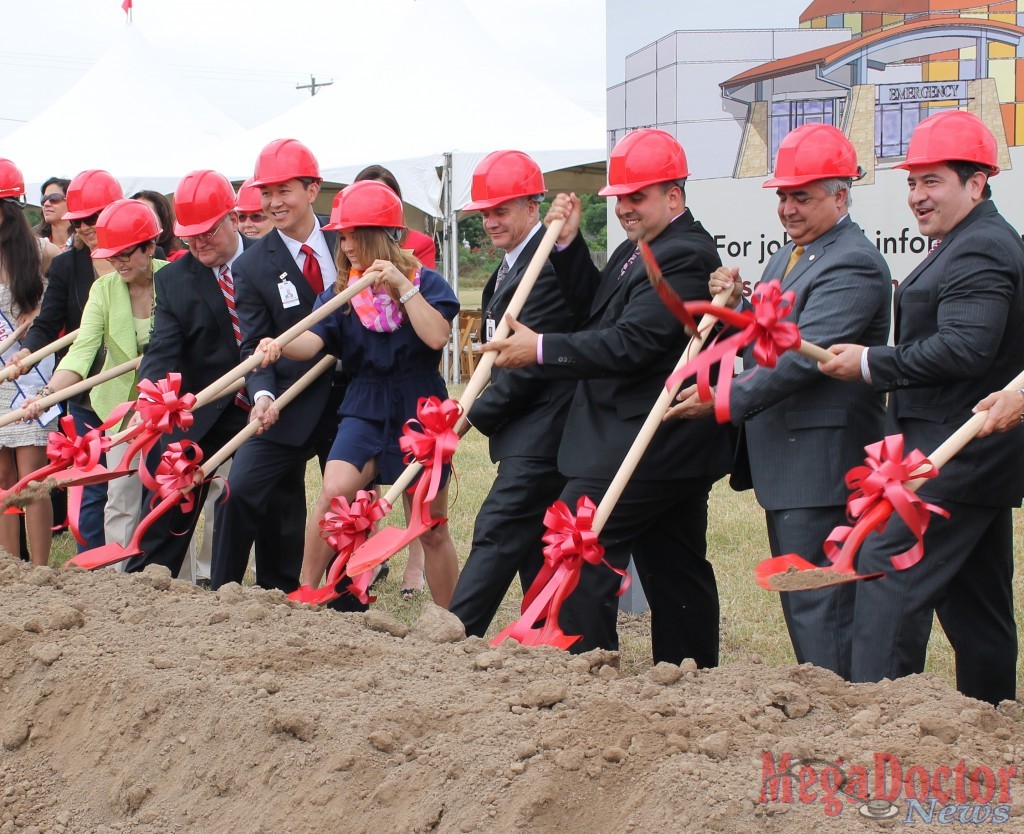 "The South Texas ER at Weslaco expands accessibility to quality healthcare to the growing Mid-Valley area. Residents will experience first class emergency care in their own community. The provision of outpatient laboratory and radiological services provides a continuum of care for patients with chronic conditions. With the retail pharmacy on site, this facility is a one-stop shop for patients. Think of us as your friendly neighborhood medical center where you can go for quick, quality service, but know that we've got all the big-city advancements at our fingertips should you need it," said Jason Chang, Chief Executive Officer of the McAllen Heart Hospital and project manager for the new development.
Special amenities will be available at the South Texas ER at Weslaco. The Senior Care ER program began at Edinburg Regional Medical Center and recently expanded to the McAllen Heart Hospital providing elderly patients with items such as hearing amplification devices, reading glasses and large-print forms to aid in the process of communicating with the care team. Senior Care will be offered at the freestanding ER. Additionally, the South Texas ER at Weslaco will offer ER Reserve appointment requests and online accessible wait times.
"The freestanding emergency room, the amenities, the reservation program and online wait times – all of these programs are part of our ER Just Got Easier initiative," Chang said. "We recognize that many in our community utilize emergency rooms as their primary means of medical treatment. Until that fact changes by shrinking the void of primary care physicians here, we are working diligently to simplify the ER. We're making ER easier by making it closer, quicker and more comfortable."
State Representative Armando Martinez, D-Weslaco, spoke at the groundbreaking about his experiences as a municipal paramedic. Each time the ambulance picks up a patient, there's a decision to be made, he said.
"It's not just about taking (the patient) to the closest ER, but the closest and most appropriate facility," Rep. Martinez said. "… In order to provide the service, you first must have the services. Medics will no longer have to leave our community uncovered," he said referring to when first responders transport patients to a facility outside of the immediate area for a higher level of care. "Thank you, South Texas Health System, for providing this to the people of Weslaco."
South Texas Health System is the largest healthcare provider in the Rio Grande Valley, operating six acute care facilities – McAllen Medical Center, McAllen Heart Hospital, Edinburg Regional Medical Center, Edinburg Children's Hospital, Edinburg Regional Rehab Center, Cornerstone Regional Hospital – and one behavioral health hospital, South Texas Behavioral Health Center.