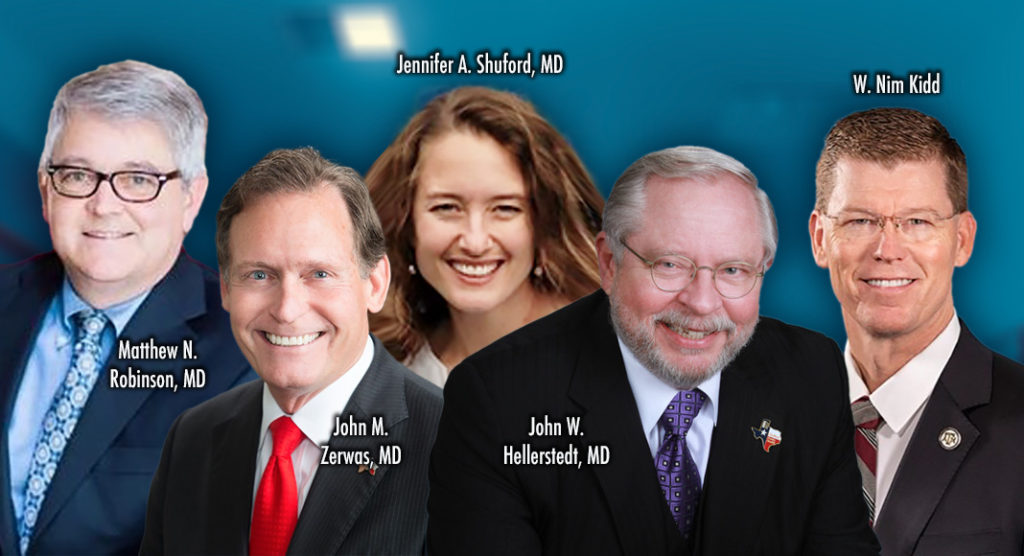 Mega Doctor NEWS
The Texas Medical Association (TMA) Board of Trustees awarded four physicians and the state's emergency management chief with the TMA President's Award for outstanding leadership during the COVID-19 crisis and the successful effort to revise the state's scientific curriculum standards. TMA honored the recipients Saturday during a video presentation of TMA's annual Winter Conference, held virtually this year because of the coronavirus pandemic.
The TMA President's Award, rarely given out and only under unique circumstances, recognizes an individual or a group of leaders whose actions made a significant positive impact in the lives of Texas patients and the practice of medicine.
This year's recipients are Texas Department of State Health Services (DSHS) Commissioner John W. Hellerstedt, MD; DSHS Infectious Disease Medical Officer Jennifer A. Shuford, MD; The University of Texas System Executive Vice Chancellor for Health Affairs John M. Zerwas, MD; Texas Division of Emergency Management Chief W. Nim Kidd; and Texas State Board of Education member Matthew M. Robinson, MD.
"2020 has been so unusual with the pandemic and has so directly affected all our physician members, patients, and Texas schoolchildren that we felt this would be the perfect opportunity to give out this award to several special individuals who made such a significant contribution to the health of Texans," said TMA president Diana L. Fite, MD. "TMA is proud to honor you with this award," said Dr. Fite, a member of the TMA board, to the honorees.
Drs. Hellerstedt, Shuford, and Zerwas, and Chief Kidd spearheaded the state's initial pandemic response by providing critical medical supplies, including millions of pieces of personal protective equipment such as N95 masks, to thousands of physicians and hospitals. Dr. Fite said their coordination with state Regional Advisory Councils, the Texas Health Care Industry COVID-19 Strike Force, and the COVID-19 Expert Vaccine Allocation Panel gave frontline physicians greater confidence in the COVID-19 response.
"The fruits of your remarkable work continue today as the pandemic continues to threaten the health of all Texans, and the physicians and health care workers who treat them," Dr. Fite told the honorees. "The TMA Board felt that your actions during these early months of the COVID-19 pandemic more than qualify you for this recognition."
Dr. Robinson, a urologist from Dickinson, led the effort on the State Board of Education to uphold accurate scientific curriculum standards during the revision of the Texas Essential Knowledge and Skills curriculum for health and physical education. "He battled for medicine's united voice so that the changes made to the curriculum, especially regarding vaccinations and reproductive health, are scientific in fact," said Dr. Fite. "Generations of Texas public school students will benefit from the medically accurate health education he fought for, setting them on a path for a healthier adulthood." "The TMA Board of Trustees and I are proud to bestow the rare honor of the TMA President's Award on these special folks," said Dr. Fite. "Congratulations from the 55,000 members of the Texas Medical Association!"