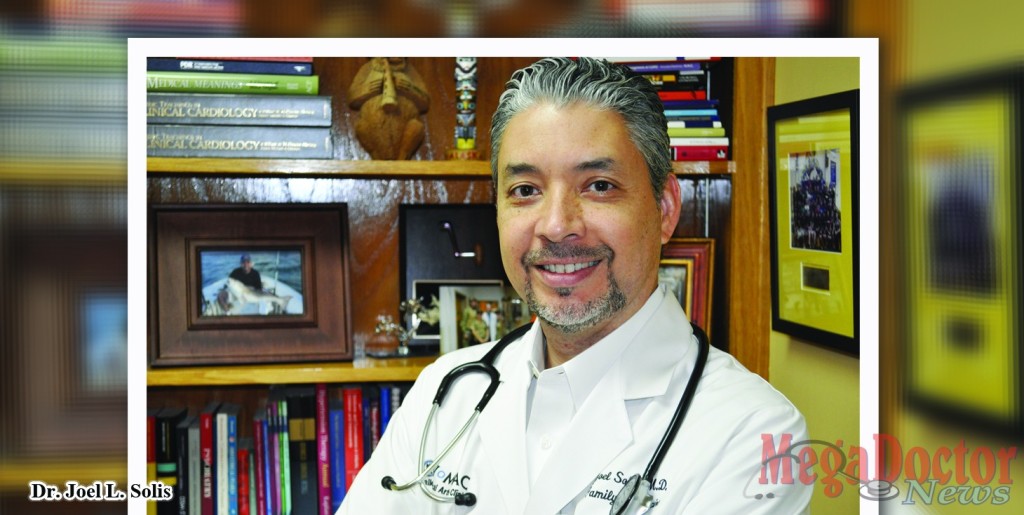 - Advertisement -

Mega Doctor News
By Roberto Hugo Gonzalez
Dr. Joel Solis has been with Valley Medical Arts Clinic since 2006. His specialty consists of general medicine with a special interest in sports medicine. He has been affiliated with local sports clubs including the Killer Bees, and the Rio Grande Valley Vipers. "I am currently the UTRGV athletics interim sports physician," he said.
Dr. Solis has acquired vast experience in the sports medicine field.
He told Mega Doctor News that as a team physician for hockey with the Killer Bees, basketball with the RGV Vipers, and UTRGV athletics he has worked alongside with several orthopedic surgeons like Dr. Kip Owen, Dr. Michael Sander, and Dr. Patrick Sander. "In addition, I have a sports medicine clinic at Advanced Orthopedic Institute where I work alongside orthopedic surgeon Dr. Bill Snyder," said Dr. Solis.
He pointed out that following his residency, he practiced general medicine. He then moved on to emergency medicine where he had an opportunity to learn and practice the acute side of medicine for about three years.
Dr. Solis returned to outpatient medicine and is now practicing at Valley Medical Arts Clinic.
In 1991, Dr. Solis obtained his Bachelor's of Science and in 1999 his Master's of Science from University of Texas San Antonio. He earned his medical degree from Robert Wood Johnson Medical School in Newark, New Jersey. He then continued to the University of Texas McAllen Family Medicine Residency Program which started in 1999, and completed in 2002.
- Advertisement -

Did anything happen within the residency that stands out during those three years? "Absolutely. I fell in love with the community. It gave me an opportunity to put down roots, appreciate the type of medicine that I could practice and the type of help I could give the local community." He said, "I believe this is a unique community in our country. It's full of tradition. There's a lot of great opportunities where we are vastly needed here. I saw this as I was down here those three years, and since then I've stayed."
Dr. Solis is Board certified times two in family medicine, the first time in 2002, and then in 2009. He has been in practice for the last thirteen years.
We know what made him stay in the Rio Grande Valley, but how did he end up here? Dr. Solis said that his mentor in medical school knew he was from Houston, Texas. His mentor believed that the lower Rio Grande Valley was a great place for him and felt like at some point the Valley would evolve into what it is now.
Dr. Solis said that his mentor, Lou Tsaurohas, was a very respected individual in the tri-state area, and always listened to him. Lou made comments like the Valley is a great place being next to Mexico and he was always reminding him of his roots. Lou also felt strongly that the Valley was wide open for medicine.
"In a way, he felt that I could relate to my own community. He basically sent me to McAllen and to Laredo to do a rotation for a whole month. He wanted to make sure that I experienced it, and I did. Upon his stern recommendation, he thought I should probably consider doing my residency here," he said.
Since he has been in the Valley, he has discovered a passion for research and academics, in addition to a dedication to serving the community.
Dr. Solis has been a community preceptor for both the University of Texas Pan American (NP and PA Programs), and the University of Texas Medical Branch Medical School.  He is excited about performing clinical trials at Valley Medical Arts Clinic in Diabetes, Hyperlipidemia, and Influenza.
He has since integrated all of these interests into his practice.  He believes medicine is multifaceted and is looking forward to working along side the medical school.
"I have since learned that there are a lot of great opportunities here, and we are vastly needed." Dr. Solis finalized.
You call 956-631-5411 or you can visit Dr. Joel Solis at Valley Medical Arts Clinic PA located at 5201 North 10th Street in McAllen, Texas. MDN