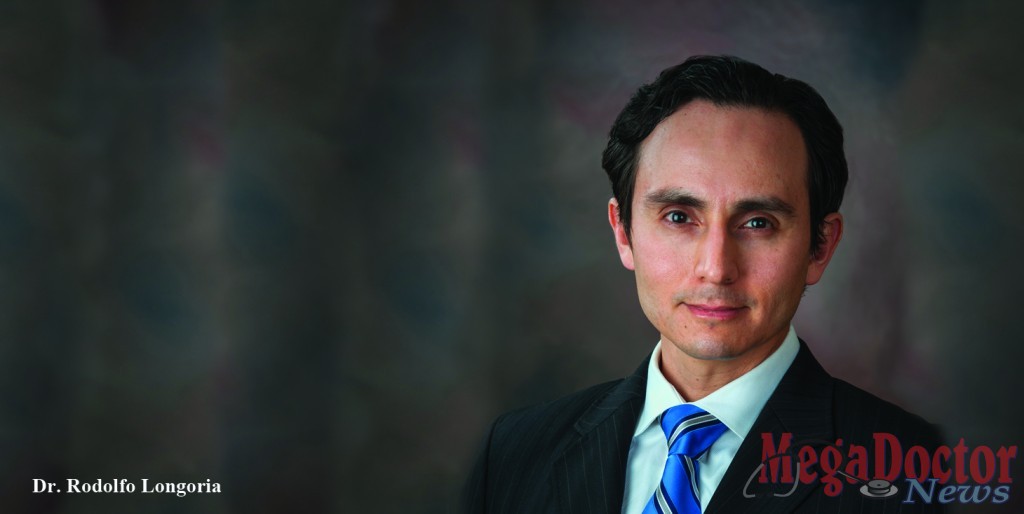 Mega Doctor News
- Advertisement -

As originally published by Mega Doctor News newsprint Edition
Brownsville – Dr. Rodolfo Longoria, Emergency Physician, has been named the 2013 Physician of the Year for Valley Baptist Medical Center-Brownsville.
Dr. Longoria has helped Valley Baptist-Brownsville's Emergency Department win several awards, including the "Reader's Choice" Award from readers of the Brownsville Herald, and several "Gold Plus" awards for care of stroke patients from the American Heart Association.  Valley Baptist-Brownsville was also the first hospital in Texas to receive a "Stroke Honor Roll" award for fast response in treating patients with life-threatening strokes or "brain attacks" who are brought to the emergency room.
Valley Baptist's Physician of the Year nomination process seeks input from the hospital staff on physicians who embody the "ultimate" in patient care, professionalism and courtesy to patients, their families and hospital employees.  As this year's Physician of the Year, Dr. Longoria was described as being a good listener, with "a good bedside manner, who provides patients with compassionate, caring medicine" in Valley Baptist-Brownsville's Emergency Dept., which serves as a Level 3 Trauma Center for the Brownsville area.
According to Valley Baptist-Brownsville employees who work closely with Dr. Longoria, he is courteous and respectful, a good team player, timely, has a good attitude, and "serves as a credible role model professionally and personally to the community, other health professionals, residents and medical students."
"Dr. Longoria has become a mentor with younger staff, encouraging them to continue with education, and provides information on educational advancement," Valley Baptist-Brownsville employees added in nominating Dr. Longoria as Physician of the Year.  "He displays a positive attitude and perception – even during stressful moments in the Emergency Room."
Leslie Bingham, CEO for Valley Baptist-Brownsville, thanked Dr. Longoria for his dedication and commitment to providing the very best care to Brownsville patients.
- Advertisement -

"Almost without exception, the many nominations that Dr. Longoria received for Physician of the Year mentioned that no matter how difficult the situation, or how extreme the crisis, they could always rely on him to maintain his cool under pressure.  That's what you need in the Emergency Department, and we are privileged to have him at Valley Baptist-Brownsville, " Ms. Bingham added.
Dr. Longoria completed a residency in Internal Medicine at Raritan Bay Medical Center in Perth Amboy, New Jersey, while receiving a certificate in Medical Humanities from Drew University in Madison, New Jersey.   He graduated from Ross University School of Medicine in the Caribbean Commonwealth of Dominica, in the West Indies, where medical students rotate through hospitals in the United States.   He also attended the Universidad Autónoma de Guadalajara School of Medicine in Guadalajara, Mexico.
In addition, Dr. Longoria received Bachelor's degrees in Biology and Chemistry from Our Lady of the Lake University in San Antonio, where he also organized food drives for homeless shelters as Vice President of the National Science Honor Society, while also playing on a soccer team.  Also while in San Antonio, he was involved in research efforts to develop markers for detecting tumor growths, at the University of Texas Health Science Center-San Antonio.
Originally from Mexico, Dr. Longoria completed high school in Brownsville, and is fluent in Spanish and English.  He enjoys helping people from various cultures and doing what he can to help the community advance in healthcare and education. MDN