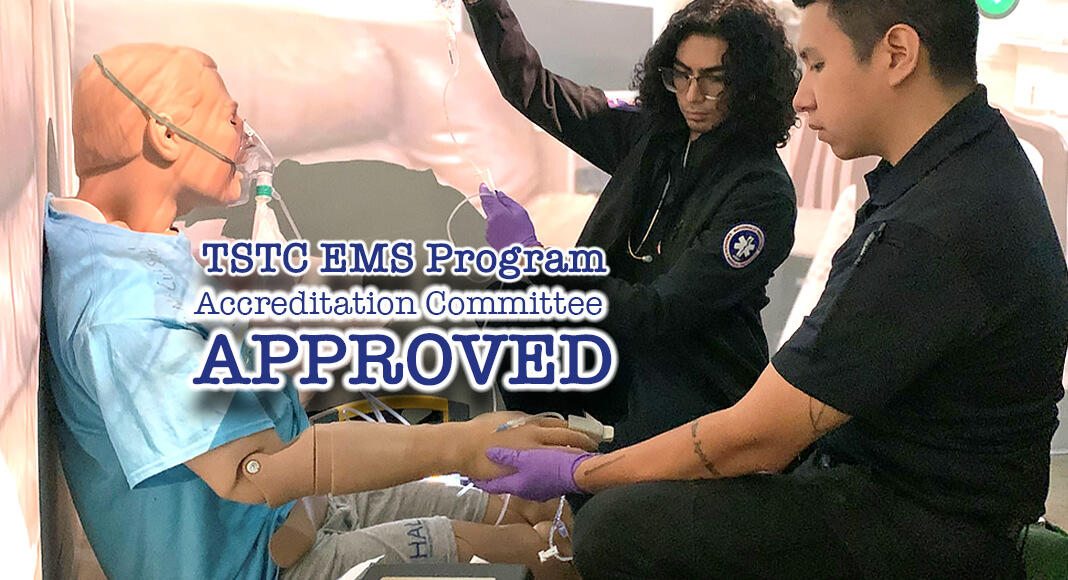 Mega Doctor News
- Advertisement -

HARLINGEN, Texas – Training future medical professionals is a vital component of meeting Texas' workforce demands, and an integral part of that process for any medical education program is being accredited.
Recently the Emergency Medical Services program at Texas State Technical College's Harlingen campus had a successful site visit to show that it complies with the standards set by the Committee on Accreditation of Educational Programs for the Emergency Medical Services Professions (CoAEMSP).
"We wanted to make sure that our program is up to national standards in terms of administration, resources, faculty and facilities of an EMS program," said Ruben Ramirez, lead instructor in the Emergency Medical Services program in Harlingen. "This will allow our students to be prepared and qualified for the field of emergency health care services. An accreditation gives us an opportunity to continue serving our workforce by producing EMS professionals who are industry-ready."
Ronnie Pitts, director of decision support for TSTC's Allied Health division, said a high level of compliance was demonstrated by the Harlingen EMS program.
"Maintaining continuing accreditation is crucial for our paramedic programs in Texas," he said. "TSTC's EMS programs are constantly evolving and improving to produce the highest quality of EMS providers."
Ramirez said the site visitors reviewed several areas.
"The representatives looked into our program's administration, both in the program and at the institutional level, to find out if we had the support to have a successful program," he said. "They also looked into our resources to ensure they were set in place to support the program and the students."
- Advertisement -

The data acquired from the site visit will be sent to the Commission on Accreditation of Allied Health Education Programs, which will make its final decision sometime in May 2024 to determine a renewal of the program's accreditation.
David Campos, interim provost for TSTC's Harlingen campus, said this achievement signifies a remarkable and promising future for TSTC's Allied Health division.
"The commitment to excellence, in-depth knowledge, attention to detail and focus on student success all contribute to the Harlingen EMS program's outstanding performance in accreditation reviews," he said. "These instructors play a vital role in shaping the future of EMS professionals and the success of the program. Faculty and staff can use this accomplishment as a springboard for further advancements in curriculum, industry partnerships and advanced technical training."
The Harlingen campus's EMS program also has future plans to incorporate more emergency vehicle operations training.
"With the recommendation from our accrediting board, we are discussing the possibility of a full-sized ambulance driving simulator to enhance the emergency vehicle operations," Ramirez said. "We are hoping that this will be an added tool in the near future for our program. This will better prepare the students for the role they will have in providing exceptional emergency medical care to the citizens of our community."
For more information about TSTC, visit tstc.edu.