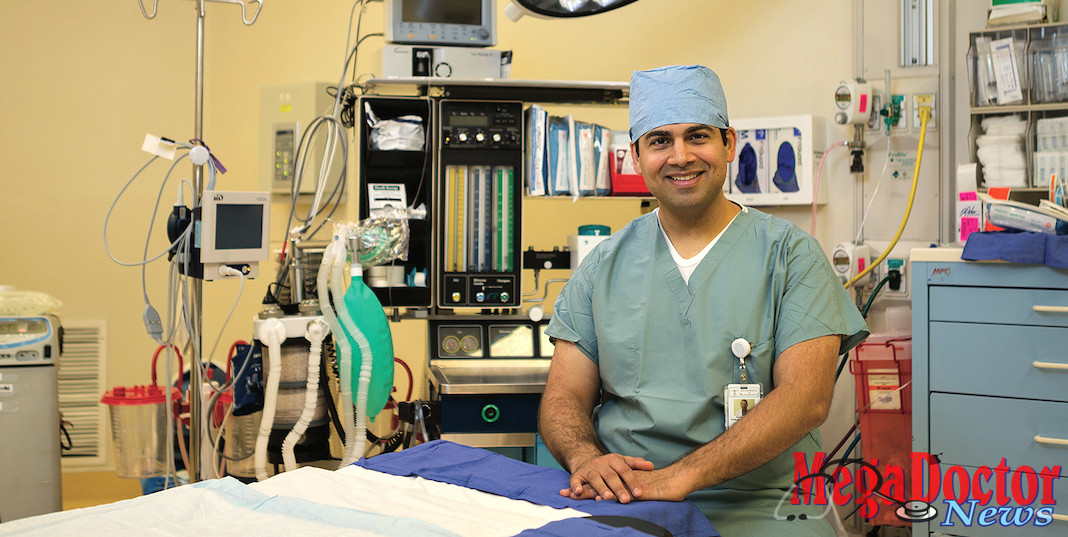 By Roberto Hugo Gonzalez,
- Advertisement -

As originally published by Mega Doctor News newsprint edition October 2016.
Dr. Zishan Hirani is in his second year of obstetrics and gynecology residency and has had a valuable experience as he continues his training at the University of Texas Rio Grande Valley Medical School.
He came to the Valley from Plano, Texas, a principal city in the U.S., located twenty miles northeast of downtown Dallas.
The city's population was 269,776 at the 2010 census, making it the ninth most populous city in the state of Texas and is almost half the size of Hidalgo County.
Dr. Hirani had never been in the Valley before, and before coming here was in community healthcare. He told Mega Doctor News that he knew that in most residencies you only get an education. "You can't apply your research skills, and I thought this was a unique place where I could build my career and get my training," he said.
He has been in the Valley a little over a year testimony and says that the Hispanic culture here resonates well with his South Asian culture. He said, "The transition it seemed it could be difficult, but it's been a very smooth transition for me." He is one of three siblings. However, he is the first one in his family in a medical career.
He said, "I grew up in a very disadvantaged community, and I saw how when you lack access to healthcare what role it plays in keeping you in poverty and preventing you from getting to the middle class." He continued, "I thought that was one of the keys to moving our country forward, and I wanted to play a role in that."
- Advertisement -

Dr. Hirani pointed out that from the gynecology perspective the most underrated illness is mental health illness.
Why do you say that? "Because it's not physical. It's something especially in our culture we try to keep silent." He continued, "For many women, that's one of the major issues we deal with in our clinics. For me, my goal is to make them feel that it's normal and that sometimes is difficult not to be able to talk about such situations and so women's mental health should be critical here in the Valley."
Is it difficult to tell when patients have mental problems? "It's not but I think if you start the conversation and ask how things are going at home, and you observe body language." He continued, "You see how their tone change, their voice inflections, or behaviors, and then you know whether they are telling the truth or not. You push the agenda from there on because you are there for the patient. You want to track it down to why they are there in the clinic. Mental, is one component that I always start with."
He said that usually, people avoid the conversation because they are scared to say they have mental health issues. "One of the nice things about our residency program is we have a behavioral therapist here Dr. Deepu George who teaches therapy and sometimes a substitute for medication."
According to Dr. Hirani, many patients are interested in this and maybe able to be more open about their difficulties knowing that physicians are not here to reproach. "We want to know what's going on, and find ways of addressing those issues to help recognize how they are dealing with their problem," he said.
Dr. Hirani had an opportunity to tell about his experience as a resident in training, and he said, "What made my first year so special was that when you are experiencing advanced cases and doing so many surgeries immediately, you want to share with other medical students, interns that you graduated with."
He said that when he calls them, they are surprised of how to advance his training is in the obstetrics and gynecology residency program.
He told to an audience that he came to the Valley in part because of his training in community health. "I realized early on that the valley had been forgotten but for now, once being here, in partnership with UTRGV I realized the value that can have its identity, its needs defined by its own community residents and solutions from its academics."
He continued, "With the experiences that I've had so far I am confident that my training is a rigorous academic environment with my goals focused on community health and disease prevention," he finalized. MDN