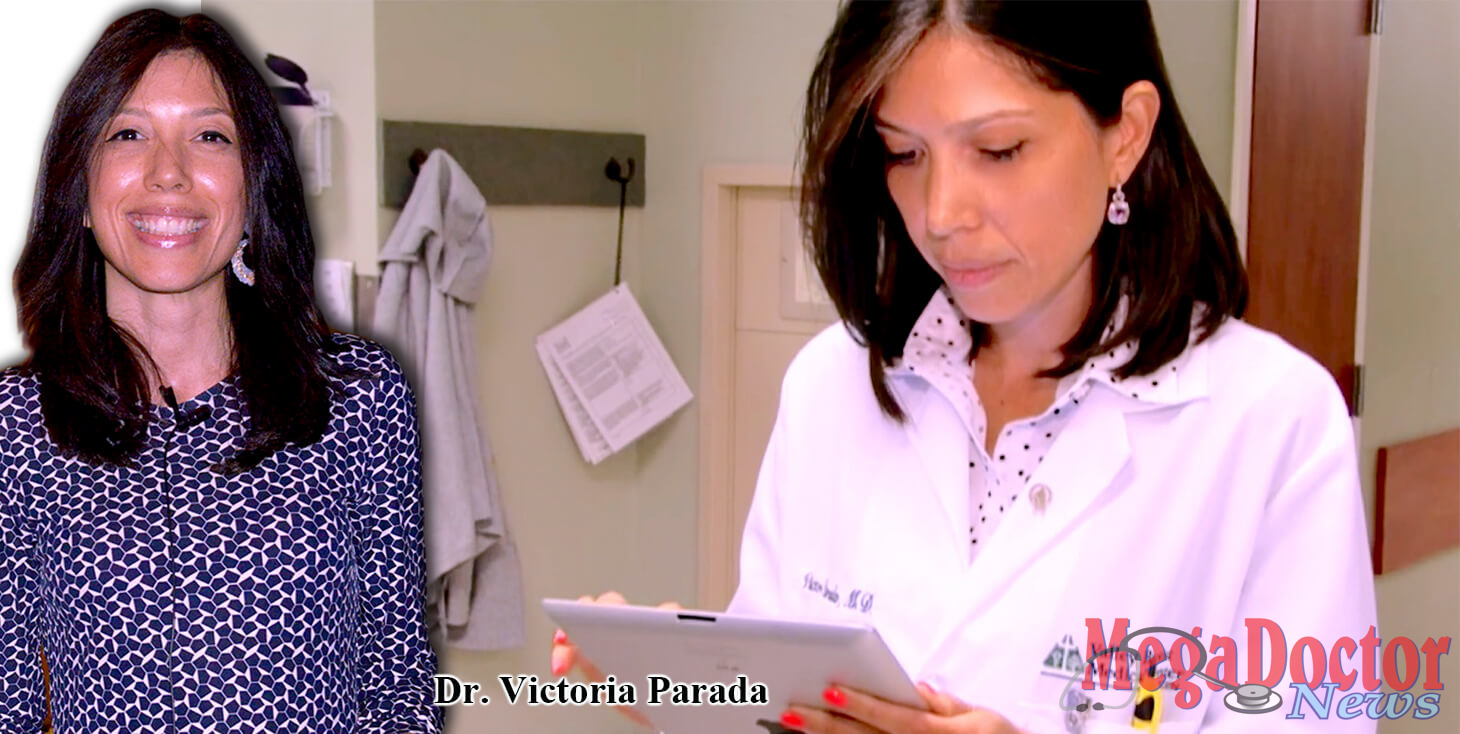 By Roberto Hugo Gonzalez
As originally published by Mega Doctor News in its newsprint edition June 2018
The Rio Grande Valley population has had many challenges for years in dealing with multiple diseases. One of them, quite serious, is the stroke, which is an injury to a part of the brain caused by no blood flow to the brain.
Blood runs through arteries carrying nutrients to the body, and one way that the brain can be injured is when the artery is blocked by cutting the blood supply.
This represents a critical situation for the patient because without blood supply the brain does not get oxygen and permanent damage to the brain could be the result if no proper treatment is delivered on time.
About 15 years ago, when Dr. Victoria Parada came to the Valley, she was the physician to give the first thrombolytic "Clot Buster" at Valley Medical Center. Dr. Parada is a vascular neurology specialist based in Harlingen, Texas.
This region is fortunate to have Dr. Parada, she is one physician that doesn't give up when treating a stroke patient.  Her experience and tenacity in the field of stroke treatment are commendable.
Recently, she was part of the continuing education faculty that updates physicians or anyone in the health industry about stroke.
- Advertisement -

The event, of continuing medical education organized by Dr. Robert Sepulveda and Dr. Dionisio Calvo, III was titled The 26th Annual Rio Grande Valley Medical Education & Expo.
Dr. Parada had an opportunity to do what she loves to do, and that is to lecture and share her knowledge and experience about a disease that burdens South Texas.
Her topic was on Posterior Circulation in Strokes and The Great Mimickers.
She told Mega Doctor News that twenty percent of the strokes occur in the posterior part of the brain, pointing out that the majority of physicians including very well trained and seasoned physicians mostly see the Anterior circulation of strokes. She said, "Once the circulation is affecting the posterior part of the brain, the syndromes are not well defined, and it can be tricky for physicians to identify correctly that the patient is sustaining a stroke."
Dr. Parada continued saying that those tend to be some of the most disabling and life-threatening strokes. "Unfortunately, 75 percent of those strokes, even with all the advances with strokes are still missed. And the reason being is because they don't present typically with a localizing presentation. They typically present mostly episodes of dizziness and vertigo."
She also mentioned that is very easy to be confused by a peripheral process unless you perform a specific detailed neurological examination. "A lot of times, patients themselves don't even recognize the symptoms. Unfortunately, these strokes continue to show up to the emergency room late and in progress, and they will remain with degrees of disabilities."
Her talk was intended to educate physicians to recognize that not so obvious patients with a stroke, but if they intervened and identified correctly they can change the outcome entirely and prevent that patient from dying or having significant disability.
Dr. Parada says that she participates in giving her lecture at least once a year. She is the founder of Valley Baptist Stroke Center and its former director. The stroke center's inception was in 2005 and was the first one south of San Antonio. "I was there until three years ago when I stepped down."
She has been instrumental and in a way one of the pioneers in bringing more attention and solutions to such devastating and dangerous disease.
As she was forming a team, she recruited two talented physicians that have helped carry the heavy load of medical cases.
They are Dr. Ameer E. Hassan, D.O., F.A.H.A., F.S.V.I.N., a triple board-certified neurologist who specializes in stroke, neurocritical care and endovascular surgical neuroradiology and Dr. Wondwossen G. Tekle, a dual board-certified neurologist who specializes in Stroke and Neurocritical care and Endovascular Surgical Neuroradiology.
"So, my main passion is education." She said, "I have also served as an educator for UT Health Science Center in San Antonio now UTRGV."  Also, she said, "For a long period of time, our medical students were from San Antonio. They used to rotate in neurology. So, I became their director and I had the honor and a blessing to be part of their education."
To recognize the symptoms of a stroke she said the following, "You should pay attention if you feel a sudden change in your function." She continued, "If it's a stroke, vertigo or dizziness will be the main symptoms.
"We educate patients that dizziness comes together with other symptoms like double vision, slurred speech, transient numbness and inability to walk or drunk feeling they should call 9 1 1 immediately and be prompt to the nearest emergency room."
She said that compared to when she arrived at the Valley, now every hospital over the years have made an excellent effort to become primary stroke centers. "I served at the Stroke Committee, and I know that every hospital from Brownsville Hidalgo County have made their effort to become primary stroke centers, and they had also made an effort to start providing interventional services."