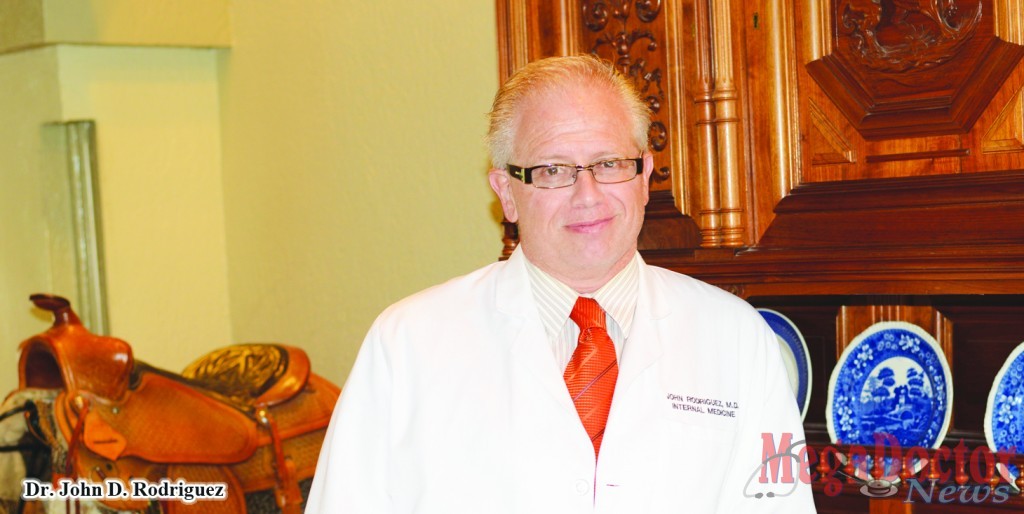 By Roberto Hugo Gonzalez
- Advertisement -

As originally First published by Mega Doctor News newsprint edition
I don't exactly know why this has not taken on faster, a San Antonio medical doctor has cut the umbilical cord from government paid services and does not accept any type of insurance. He has managed to stay in business for more than 18 months and he keeps growing his medical practice.
San Antonio primary-care physician John D. Rodriguez M.D. has come up with a solution: Don't accept insurance.  Dr. Rodriguez' practice is called Business Healthcare Solutions.  He charges a $25 monthly fee plus $10 per visit, which includes an annual physical, EKGs, most lab tests and vaccines, same-day service in most cases, 24-hour on-call service, discounted X-rays, and chronic disease management.
He told Mega Doctor News that he has 17 years of experience in delivering healthcare.  Dr. Rodriguez knows that the solution with the current crisis lies with the medical community. "I pray my example will give other physicians the desire to do the same."
He also pointed out that he started this new model practice out of the frustration at trying to make a living doing what he enjoys.  "I could not afford to support my family of 7 children, pay back student loans, mortgage, and retirement with the poor insurance reimbursement. Patients can pay $25 a month and get unlimited quality healthcare. This has never been done before. This challenge is very exciting to me," he said.
When he says frustration, even the word is too short to really describe what doctors are going through and not just with insurance reimbursements but also with government's overwhelming regulations. Last month the Texas Medical Association in their May 2013 issue of Texas Medicine magazine, presented in their front cover photo a clear message of the matter as seen here in this report.
We can even say that Dr. Rodriguez is a born again professional under the current business model he is running. He said that his challenge in his profession is, "The day to day of running a practice was impossible under the insurance Medicare model but with low cost membership fee much more fulfilling. It is improving the patient-doctor relationship."
- Advertisement -

His patients have something to say, "Dr. Rodriguez was like a breath of fresh air after my last experience. He runs a retainer practice, which means you pay a fee and in exchange get a comprehensive physical and 24/7 access to the doctor by email, text, or phone," Dawn E. wrote. She continued to say "He does house calls as part of his contract with you as well as after-hours visits and does not charge extra fees."
These are comments from one Dr. Rodriguez' patients and many of Mega Doctor News readers probably are surprised by this kind of service. Dawn went on to say that Dr. Rodriguez does what he says he will when he says he will.
"I have yet to have a single problem with botched insurance filing, rescheduled appointments, wait time, referrals, lab results, or prescriptions."
According to Dr. Rodriguez, the City of San Antonio has half a million uninsured residents and now there is a very good option for them to have appropriate health care services without it costing an arm or a leg or more. He first started his practice in 1996 and at the end of 2011 started this new model that has attracted close to 1,500 new members.
His immediate and long-term plans are, "We are looking to possibly franchise this opportunity for other doctors to replicate the success we have had here in San Antonio and eventually to include hospital and specialist care," he said.
Dr. Michael E. Speer, past president of the Texas Medical Association (TMA) in his last President's message wrote, "There's disagreement over who first said "Decisions are made by those who show up," but who ever said it was right. We can sit back and complain about what government and insurance companies do to us and our patients, or we can show up."
It is important to note these underlined words because coming from a distinguished medical doctor and leader of the industry, they carry a lot of weight.  Something has to be done to stop so much confusion, so much paperwork, and skyrocketing health care costs.
So now it is very simple to understand the creativity of Dr. Rodriguez after becoming fed up with increased paperwork, red tape and delays in getting paid by health insurance companies. Now he is part of a small but expanding segment of primary-care physicians who have ditched health insurance for a "direct pay" model because of what they consider to be an expensive and bloated bureaucracy that drives financial reimbursements.
Statewide, the TMA reported that 9 percent of all physicians don't have contracts with health insurers. But that includes doctors in specialties, such as plastic surgery and psychiatry, which generally do not accept insurance.
Nationally, the American Academy of Private Physicians estimates 1,100 primary-care physicians don't accept insurance, double the number of five years ago. It anticipates the rate of growth will accelerate.
Dr. Rodriguez graduated from Texas A&M University majoring in Biochemistry and from the University of Texas Health Science Center San Antonio. He did his residency at the University of Texas Health Sciences Center San Antonio.
He is an Internal Medicine medical doctor and his excitement is the ability to intervene in people's health and give them the right tools, diet, and medication to live a healthy life and help relieve suffering.
Dr. Rodriguez was born and raised in San Antonio and is happily married for 23 years and has 7 children. He is active in church and family activities and enjoys his hobbies of cycling, fishing, and woodworking.
He says that what brings him fulfillment about being in this profession is, "To help fix the healthcare delivery problems that currently exist and bring the cost down."  Dr. Rodriguez' practice is located in Stone Oak in San Antonio, Texas.   MDN
Written by Roberto Hugo Gonzalez the 2009 SBA Journalist of the Year Award Winner & The 2009 and 2012 Paul Harris Award recipient.