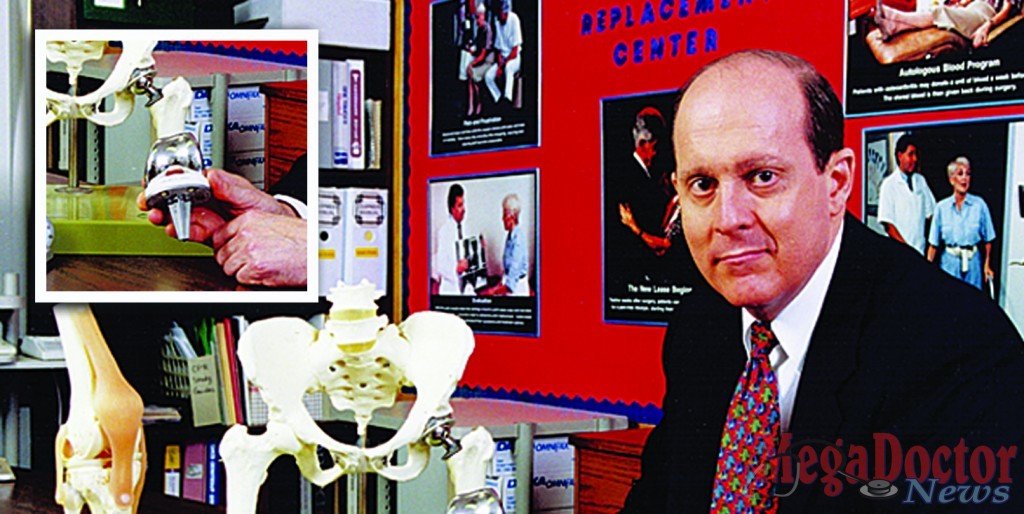 - Advertisement -

By Roberto Hugo Gonzalez
As originally first published by Mega Metropolis Health & Fitness now Mega Doctor News newsprint Edition
In the medical field either you perform with positive results for the wellbeing of your patient or you are out of the game as fast as you came in. Those who know Dr. Rick Bassett know that he is a very talented and experienced orthopedic surgeon.
In almost three decades of his medical career he has performed to a level of excellence in surgery that few in his specialty have achieved. The South Texas area residents should know they are in good hands when they are under his care.
Dr. Bassett has worked for Valley Baptist Medical Center (VBMC) – Harlingen Hospital for the last 28 years, he is the Medical Director of Valley Baptist-Harlingen's Orthopedics / Joint Replacement Program and together with the hospital became the first hospital South of San Antonio to be certified as a "Center of Excellence" specifically for knee and hip replacement surgeries by a national accrediting organization for healthcare organizations.
Joint replacement surgery is performed for patients who have pain, discomfort, or loss of function because of arthritis, accidents, or other causes.  Arthritis can eventually cause a joint to deteriorate or wear out to the point that partial or total replacement is necessary.  The replacement surgery is designed to restore the patient's ability to walk and relieve pain.
In the medical field this is a huge accomplishment that requires dedication to achieve this level of perfection in the service and performance of the surgery.
Dr. Bassett has performed more than 10,000 knee replacement and 2,000 hip replacement surgeries at Valley Baptist.   Patients have come to Valley Baptist from across the country and Canada to have their knee or hip replacement surgery done by Dr. Bassett.  In fact, Dr. Bassett has operated on patients from 48 states, including Alaska and Hawaii.
- Advertisement -

"This certification for our excellence in joint replacement is a testament to the expertise, dedication and care of /Dr. Bassett and our entire joint replacement team at Valley Baptist, including all of our orthopedic surgeons and nursing and rehab staff," said James Eastham, FACHE, President and CEO of Valley Baptist Health System.  "Our physicians and employees provide outstanding care to our patients on a daily basis.  This national honor is great news for our community and for the entire Valley."
The Joint Commission, which is based in Illinois, granted the first-ever specialty certification in the Valley for knee and hip replacements following a survey on July 28, which included interviews with some of the thousands of Valley residents who have received knee and hip replacement surgery at Valley Baptist.
VBMC-Harlingen is now one of only 11 hospitals in Texas which have the disease-specific specialty certification in knee and hip replacements.
Dr. Bassett's pioneering work has attracted the attention of physicians from around the world, including surgeons from Europe, Asia, and South America, who have come to Valley Baptist to observe the cutting-edge surgeries Dr. Bassett has performed.
As a skilled orthopedic surgeon and a biomedical engineer, Dr. Bassett has worked with an international company to design the joint replacement prosthesis he uses, including three different knee prostheses and one hip prosthesis.
Now, Dr. Bassett is using the "Vanguard® Total Knee," described by its manufacturer Biomet, Inc. as a "state-of-the-art" system, which is designed to promote greater movement of the artificial knee when the patient bends or straightens his or her leg.
Dr. Bassett recently performed his 3000th Vanguard knee replacement surgery on a 61-year-old Harlingen man, Daniel Cavazos.  The patient did very well – so well that he was discharged from the hospital in only three days.
Dr. Bassett was born and raised in Los Angeles, California. His parents William and Marilyn Bassett, who are now in their eighties, still live on the West Coast.  Dr. Bassett has two brothers and two sisters and they all work within the family business in electronics. Dr. Bassett's paternal grandfather was an oral and maxillofacial doctor and his maternal grandfather was a family practitioner.  He is the father of two wonderful children, Ian and Nina.
Dr. Bassett graduated Magna Cum Laude (with great distinction) from Harvard.  He received a Master's Degree in Orthopedics / Biomechanical Engineering from the University of Minnesota and attended medical school at the University of Cincinnati.  He completed a residency in orthopedic surgery at the prestigious Mayo Clinic. In 1983 he came to the Valley to practice medicine.
But what motivated this very talented doctor to come to the Valley?  Well, the Academy of Orthopedic Surgeons runs a study frequently where they look at the distribution of orthopedic surgeons for each metropolitan area in the United States. According to him they found out that for his field 20,000 people was the appropriate number per orthopedic surgeon. "If you had fewer orthopedic surgeons in one area then it was classified as an underserved area," he said. At the time that he arrived to the Valley there were 185,000 people for every orthopedic surgeon.
He said that we are fortunate to live in a time when technology is very advanced and this is an advantage to help people.  "Sometimes, they come here with a lot of pain and after two months they heal and they say good-by," he said.  Dr. Bassett says it is very fulfilling to see his patients get well after he has performed a surgical procedure on them.
Dr. Bassett is a Fellow of the American Academy of Orthopedic Surgeons and a Clinical Professor of Orthopedic Surgery at the University of Texas Health Science Center-San Antonio's Regional Academic Health Center in Harlingen.  He has authored and co-authored numerous articles on orthopedic surgery, which have been published in national medical journals.  During a state-wide poll of other physicians for Texas Monthly magazine, Dr. Bassett has been named a "Texas Super Doctor".  Dr. Rick Bassett has demonstrated great dedication to his patients and that is why he has been named a Mega Doctor for the month of September.  MMHF