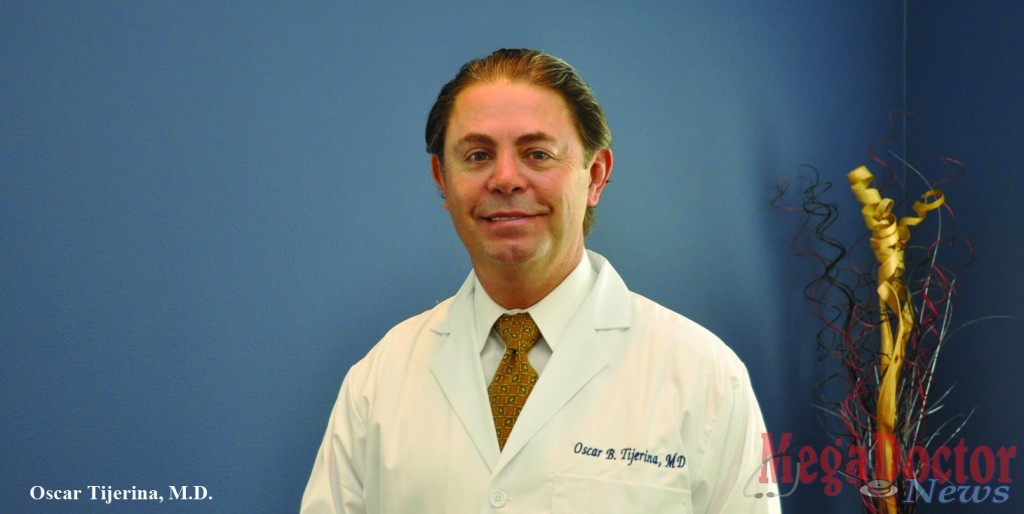 By Roberto Hugo Gonzalez
- Advertisement -

As originally First Published by Mega Doctor News newsprint Edition
If you have experienced the long wait in any of the hospitals at the emergency room, then you will appreciate Urgent Care 4U operated by a group of visionary physicians with a lot of experience in the field of medical emergencies.
Just recently, Mega Metropolis Health & Fitness spoke to Dr. Oscar Tijerina. He is board certified and currently the Medical Director of the Emergency Department at Mission Regional Medical Center. In addition, he said that Urgent Care 4U medical center was created having in mind, the health care needs of the residents of the Rio Grande Valley.
Dr. Tijerina grew up in Monterrey, Nuevo Leon, Mexico and attended the Universidad of Nuevo Leon where he studied medicine. He spent two years at the University of Minnesota doing research and three years doing his residency in family medicine.
We are a group of 14 doctors and we provide staff to the emergency rooms to both hospitals in Mission and in Weslaco. "We experience on a daily basis the needs and problems with all patients while they look for medical services in the emergency rooms," he said. It is from those experiences that the idea of a minor emergency care center came about. According to Dr. Tijerina, these types of emergency centers are very common in the Northern part of the United States. "Here in the valley it is just catching on," he said.
The groups of doctors operating at Urgent Care 4U are highly trained physicians in emergency care. Urgent Care 4U is open from Mon-Fri: 9 am – 9 pm and Sat-Sun: 11 am to 5 pm.  Dr. Tijerina said that the Urgent Care 4U center does not provide family medicine. "There are some patients that see us on a regular basis, however we prefer that patients continue with their primary care doctor," he said.
Urgent Care 4U is equipped with X-ray equipment and a lab and also provides services like IV/Therapy, vaccinations, physical exams, diagnostics tests, and treats illnesses and injuries. No appointment is necessary and patients are seen in less than an hour wait.
- Advertisement -

When a patient visits their clinic and it happens that he has had a heart attack, the patient is rapidly channeled to a local hospital. "We take care of about 60% of the needs that usually go to the emergency room of a hospital except for major traumas," he said.
During the three years that Urgent Care 4U has been opened, Dr. Tijerina said that they have seen just about everything. "Injuries such as minor fractures, people sometimes fall and get injured," he said.
He provided a list of illnesses that could be treated at an urgent care center. "It isn´t a complete list, but it includes the most common minor emergency conditions like : Twisted or sprained ankle, cough, cold, sore throat, minor skin rash, ear infection, fractures and dislocations, strains and sprains, cuts and lacerations, burns, neck and back, minor eye problems, and fever." They also see patients that need treatment for high blood pressure, headaches, or abdominal pain. "Like last year when we had the influenza emergency we treated many patients with those symptoms," he said.
A patient that visits their clinic is the typical person that usually goes to see a doctor once a year or that really does not see any doctor on a regular basis. Since Urgent Care 4U medical center does not require an appointment many of the patients that fall in this category choose to get medical care with them.
Urgent Care 4U located at 6316 N. 10th St. Building "C" in McAllen, Texas fills a very important need for the valley. The vision of all the doctors who created these emergency services is commendable and a great alternative for medical care of minor injuries.
Dr. Tijerina emphasized, "if you´re facing a serious situation – (stroke, heart attack, severe bleeding, head injury or other major trauma – go straight to the nearest ER. Don´t take a chance with anything that is life threatening. The ER of a local hospital is the best place for these and other critical conditions."
No appointment is necessary and patients are seen in less than an hour wait.
Dr. Tijerina invited the residents of the Valley to seek out the services provided by the Urgent Care 4U minor emergency care center and explained that no appointment is necessary and patients are seen in less than an hour wait for most minor emergencies.
Written by Roberto Hugo Gonzalez the 2009 SBA Journalist of the Year Award Winner & The 2009 and 2012 Paul Harris Award recipient.