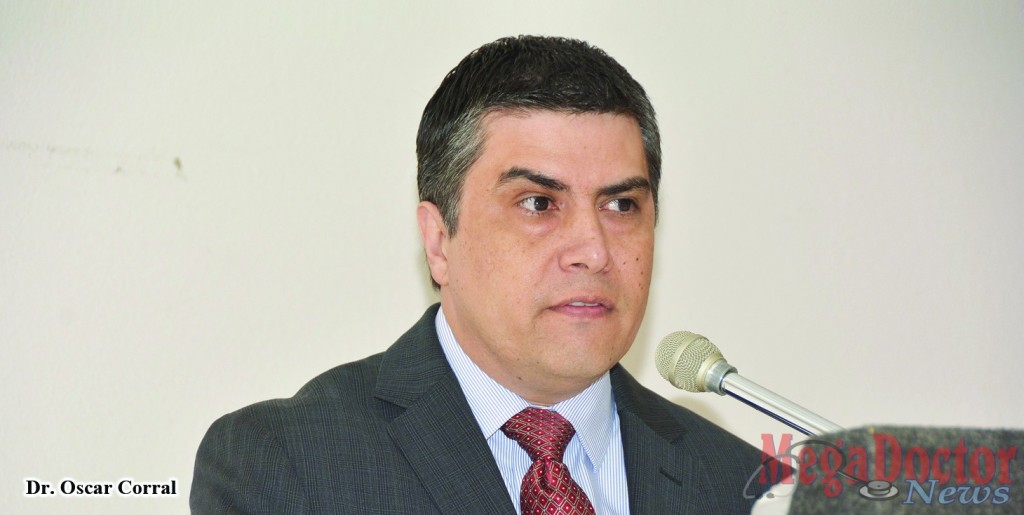 - Advertisement -

Mega Doctor News – 
By Roberto Hugo Gonzalez,
"My talk today is probably the most powerful talk you are going to get this morning." That's how Dr. Oscar Corral, D.P.M., a podiatrist, started his presentation during a workshop hosted by Solara Hospitals from McAllen and Edinburg.
Dr. Oscar Corral, D.P.M. is board certified by the American Board of Podiatric Medicine and the American Board of Foot and Ankle Surgery.
"I'm going to give you the information to be able to evaluate yourself, your friends, your family and your patients to determine if they are high risk," Dr. Corral said referring to self-examination.
The goals of his presentation were to perform a foot history and exam to evaluate the risk factors for ulceration and amputation. To be able to identify high risk patients and to determine the level of care that you can be giving yourself, friends, family, and patients.
He also said that if they have an ulcer, to look at the probability that it's going to get infected in the amputation or to determine whether or not this patient, your friend, your family member, or you will need to go to the hospital or if it can wait.
- Advertisement -

He asked, "Why is foot examination important?" Dr. corral said that there is a big reason because the states that border with Mexico are ground zero for diabetic foot infection. "They are ground zero for diabetics and all the wounds associated with diabetes," he said.
He pointed out a study done between 2002 and 2012, determined that the people that were evaluated in the clinics, were the people that could actually afford health care in Mexico. He said that despite the fact that the people that were able to afford health care and get the diabetes treated, the diabetes care they received still remains suboptimal. He said, "Because of that the patients that cannot afford or otherwise are being under treated in Mexico, they are going to end up here, and we need to be able to evaluate them and to let them know if they are at risk or not. It is important to be able to give them good advice of whether or not they need to go and seek medical attention or they could fix something themselves."
Dr. Corral emphasized, "Something that a lot of people don't realize is once you have developed an ulceration that leads to amputation, whether is the foot or a toe, or above or below the knee, 55% of those people who get an amputation will likely be dead in five years."
"Among Hispanics, we all have friends and family who are diabetics. We all have friends and family that they think they are "macho", and don't want to go to see the doctor. They think they can take care of themselves and even the wound; they think they would be able to take care of it." He said, "They need to realize that the doctor is here for a reason, and all of us are here to help each other."
He was clear to say, "We need to realize that the older the patient, the more likely it is that he or she would be dead five years after the first amputation. It does not matter whether it is just a toe, arm, or foot, or above or below the knee," he said.
Dr. Oscar Corral, D. P. M. was born in El Paso, Texas and raised in Fort Stockton, Texas. Dr. Corral received his doctorate from the New York College of Podiatric Medicine in 2002. After graduation he fulfilled a three-year residency program in podiatric medicine and surgery at St. Barnabas Hospital in the Bronx, New York. St. Barnabas Hospital is a level-3 trauma center where Dr. Corral was trained to perform reconstructive surgery of the foot and ankle.
Dr. Corral now resides in McAllen, Texas and joined Complete Family Foot Care and treats patients with diabetic foot and its complications since 2006. MDN