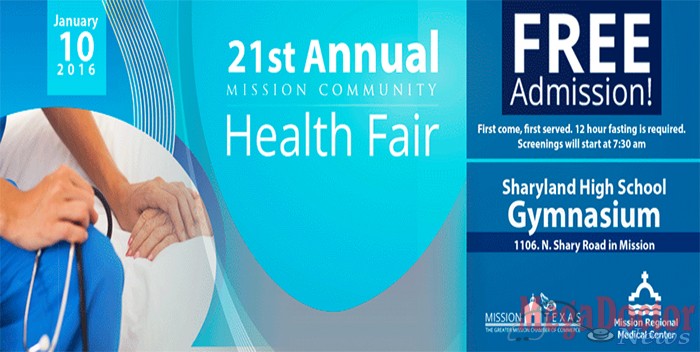 Mega Doctor News 
MISSION, Texas – The Greater Mission Chamber of Commerce (GMCC) in collaboration with Mission Regional Medical Center (MRMC), is gearing up for the upcoming 21st Annual Mission Community Health Fair at the main Sharyland High School Gymnasium located at 1106 N. Shary Rd in Mission. The event is scheduled for Sunday, January 10, 2016, from 7:30 a.m. to 12:00 p.m. It is free and open to the public.
"Mission Regional Medical Center is steadfast in its commitment to improve the health of the communities we serve.  It is our mission as a non-profit community hospital and supports our vision to be the hospital of first choice for patients, for employees, and physicians. The clinical tests and health information we're providing let people know if they're on the right track with their health and wellness. We're proud to be able to offer these services for free during the Annual Mission Community Health Fair," said Nick Espinosa, Director of Marketing, MHN, Planning for Mission Regional Medical Center.
Free screenings at the Health Fair include: bone density (osteoporosis), flu vaccines, pulmonary function tests and much more. The laboratory team from Mission Regional Medical Center will be providing master blood tests to the first 500 people. The screening includes: complete blood count (anemia), comprehensive metabolic panel (diabetes, liver and kidney function), lipid profile (total cholesterol HDL and LDL), also free PSA (prostate cancer screening) for males over 40 and free TSH (Thyroid function screening) for females. These FREE screenings are valued at approximately $1,000. A 12 hour food fast is recommended for those wishing to have blood screening tests performed.
"We are very excited to host this community health fair here in Mission," said Chamber of Commerce President & CEO, George Myers. "It provides a great opportunity for the public to examine their own health while at the same time, learning how to help others become healthy as well."
For more information about the event or for sponsorship opportunities please contact Laura Vela at events@missionchamber.com  or at 956-585-2727 or visit www.missionhealthfair.com