- Advertisement -

As originally published by Mega Doctor News newsprint edition November 2022
By Roberto Hugo Gonzalez
Edinburg Vision Center has been in Edinburg since 1968. Dr. Gary L. Ahlman founded the company on June 11, 1968. Thirteen years ago, Dr. Luis S. Navarro took over the iconic clinic, and since then, he has serviced patients from Edinburg and the surrounding cities.
Dr. Navarro is an optometric glaucoma specialist, the highest level of optometry that can be practiced in the state of Texas. He and his team of doctors and professional technicians see many patients each week.
"I'm very proud of our work," Dr. Navarro said. "We do so many eye exams for children who need glasses. We ensure that as they transition into teenagers and adulthood, they have the best possible vision."
Dr. Navarro told Mega Doctor News that myopia has always existed; however, in today's world the prevalence and severity of myopia has increased dramatically in young people and children due to the constant use of handheld devices such as cell phones and tablets.
Myopia, also known as nearsightedness, is the inability to see distant images or objects clearly — making it difficult to see road signs, the television, or a clock on the wall. It affects millions of children and adults worldwide. According to statistics, myopia is affecting up to 40% of people by age 17.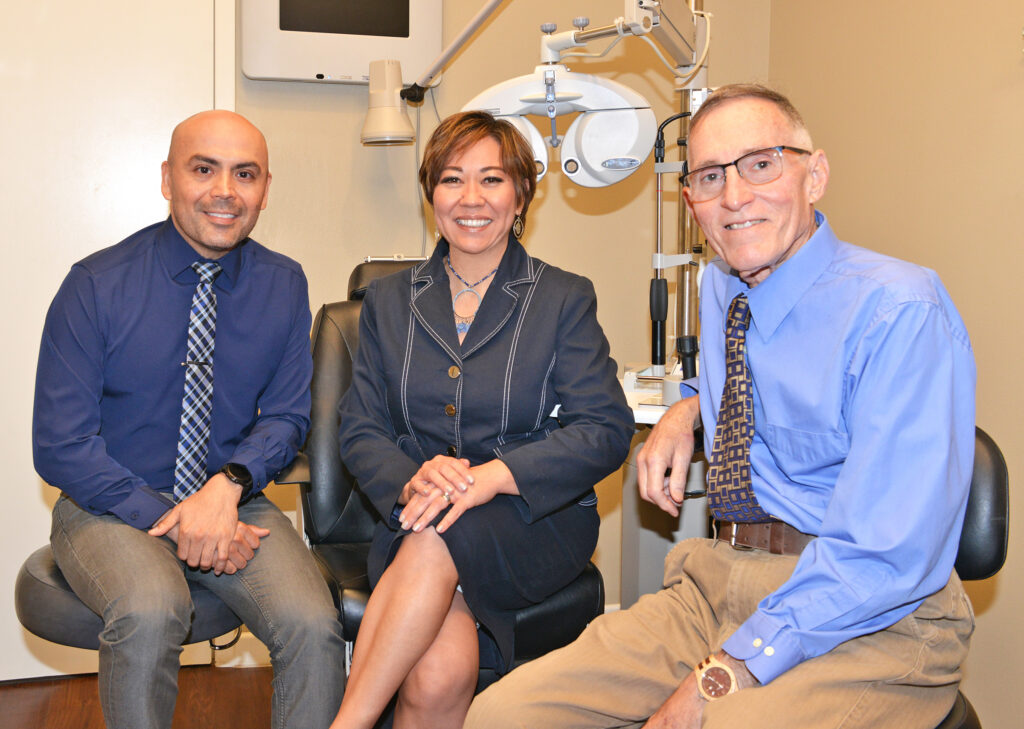 Dr. Navarro explained that the majority of cases of myopia occur when the eye grows too long. A myopic eye focuses images in front of the retina instead of directly on the retina, resulting in blurry distant vision. Traditionally, myopia is corrected with glasses or contacts. Refractive surgery, such as LASIK, also provides a solution, although sometimes temporary, as some patients become myopic again later in life.
- Advertisement -

"The good news is that myopia is manageable," Dr. Navarro said. "I'm excited to practice myopia management because nearsightedness is becoming a huge issue with kids and teenagers."
He continued, "Because they're looking at devices all the time, there is a higher percentage of kids that are myopic than there has ever been in the history of the world."
Dr. Navarro explains in simple words that these kids become high myopic when their prescriptions are greater than 5 diopters of power on their glasses. A normal eye is less than 24 millimeters in diameter, but high myopic eyes grow to be greater than 24 millimeters. As a consequence of the eye growing too big, the retina gets stretched, which then causes myopic degeneration, retinal detachments, retinal tears, retinal holes, and glaucoma. Many of these patients with high myopia may need surgeries to repair their retinas during their lifetimes. In severe cases of myopic degeneration, the retina can become damaged, leading to irreversible vision loss.
"Throughout my career," Dr. Navarro said, "I've been watching starting with a little bit of myopia when they're six or seven years old, and then by the time they finish high school or college, their myopias are above minus ten diopters." He continued, "Before, all we ever did was prescribe glasses, prescribe contacts, and watch them get worse. But now we can slow down the progression of the myopia disease in kids and teenagers. We have treatments with contact lenses, diluted formulations of an atropine drop, and orthokeratology, which are contact lenses that you can sleep with." These treatments are also helpful to young adults that are experiencing myopia progression.
Edinburg Vision Center acquired sophisticated instruments that allow the doctor to measure the diameter of the eyes and monitor myopia disease for progression. The parents of these young myopic patients are counseled on the appropriate treatment for their child. The diameter of the eyes is measured at the initiation of treatment and at subsequent visits. If the diameter of the eyes is the same or about the same size, that means that the treatment is working.
For parents that are worried about their children becoming more myopic over time, recent studies provide evidence that these treatments help to slow down the progression of myopia and axial length by up to 60%.
For example, he said, "If a six-year-old has minus five diopters of myopia, it's possible that by the time they finish high school or college, they can be above minus ten diopters. But by putting them under treatment, we can keep them as close to what their prescription is right now." The doctor went on to explain that progression can still occur with treatment but is much more severe without treatment.
The doctor further explained, "If we put a child on treatment, and the treatment is not working as intended, we can combine one treatment with another treatment if necessary."
Due to the high number of children affected with myopia, Dr. Navarro projects hundreds of children will enroll in myopia management. As he said, "Our role is to slow myopia progression before it worsens. Therefore, these children will have less risk for retina surgeries and vision loss as they get older."
He explained that a major risk factor for becoming myopic early in life is if one or both parents are myopic. Another risk factor for developing myopia and for myopia progression is spending too many hours indoors and looking at handheld devices. He recommends to parents to limit their children's screen activity and to encourage them to spend more time outdoors.
Edinburg Vision Center operates with more than 30 employees. "We're slowly transitioning our small plaza into a campus." He said, "We have twelve exam rooms and a wide variety diagnostic equipment to help our doctors diagnose, monitor, and treat diseases of the eye." Dr. Navarro is open to acquiring new technologies that help to diagnose or treat his patients.
"We have our surfacing laboratory and a very robust menu of lenses. Most lenses, we can make here. So, if you need a pair of glasses immediately, we can probably get you into a pair of glasses the same day."
Regarding contact lenses, they fit regular soft lenses and specialty lenses. "We fit scleral lenses for people that have corneal degenerations, like keratoconus. In addition, we also fit specialty contact lenses on patients who've had LASIK complications or other injuries."
One of the most sought-after services they provide is dilated eye exams for people with diabetes. "We do thousands of diabetic eye exams. A yearly dilated eye exam is essential for patients with diabetes. It's the best thing they can do for their eyes to make sure they have vision for their entire lifetime," he said emphatically. Diabetes and diabetic eye disease is endemic to the Rio Grande Valley.
Dry eye disease and glaucoma are two other diseases that the doctors at Edinburg Vision Center are happy to diagnose and treat their patients.
Three additional optometrists help treat patients at Edinburg Vision Center; they are Dr. Ronald D. Richardson, Dr. Cibele Saporito, and Dr. Joshua J. Cedillo.
Edinburg Vision Center is represented by a team of eye care professionals dedicated to providing quality eye care in the Rio Grande Valley. At Edinburg Vision Center, you can rest assured that your eyes will be examined using the latest technology by an expert doctor of optometry.
You can visit them at 2301 South US-281, Edinburg, Texas 78539 or call for an appointment at 956-383-5581 or text to 956-267-9753.