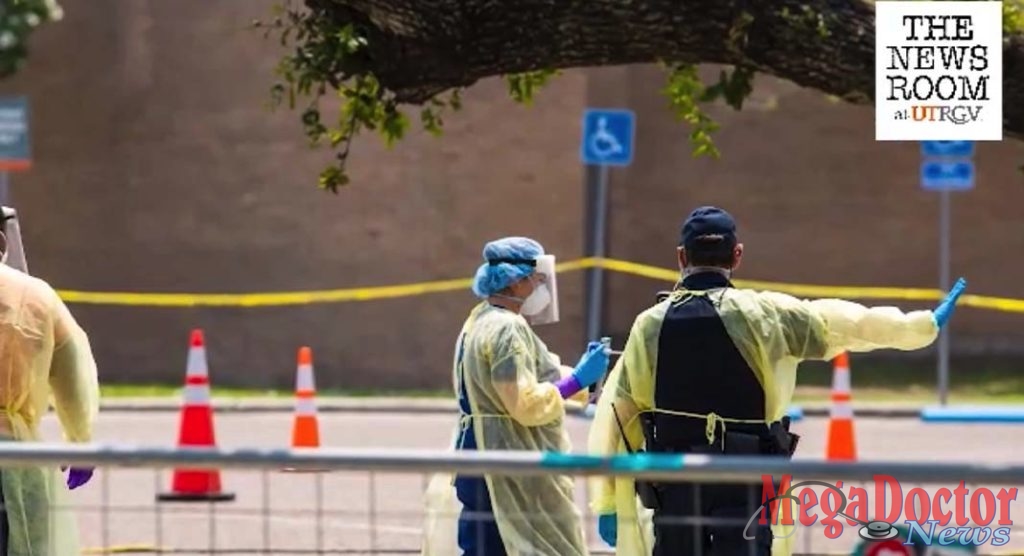 Mega Doctor NEWS
RIO GRANDE VALLEY, TEXAS – JUNE 26, 2020 – Under the blazing South Texas sun, Dr. Linda Nelson and her team can be seen swathed in hair covers … goggles … face shields … gowns … double gloves … shoe covers … and the N-95 masks that are covered by yet another ear-loop mask to block smaller particles.
This is the uniform that stands between health and illness for people like Nelson who are contributing on the front lines of the COVID-19 pandemic. 
"It's all about keeping any contaminants away that we would ingest through our eyes, nose and mouth," said Nelson, a Doctor of Nursing Practice (DNP), RN, pediatric nurse practitioner, and senior director of Clinical Operations for the UTRGV School of Medicine and UT Health RGV.
In the wake of COVID-19, the UTRGV School of Medicine, along with UT Health RGV, federal and state leaders, and county and city leaders have worked in collaboration to combat the spread of coronavirus by developing drive-thru testing sites.
The first sites officially opened March 30, and UTRGV's testing sites are now available in Edinburg, Mercedes, Harlingen and Brownsville.
From sunup to sundown, Nelson and her medical teams have been working at the sites with potential patients, screening them, logging information, swabbing, checking temperatures, referring them.
UTRGV's teams arrive at their respective testing sites by 7:30 a.m. to start testing at 8 a.m. Sometimes, they are so busy, they forget to break for lunch, Nelson said.
"We are scheduled solid – double-booked and sometimes quadruple-booked based on need," she said, as they see at least two patients every 15 minutes. And with the recent surge in cases in the Valley, they are seeing four or more at a time.
"The average for our testing sites alone, we were at about 130 to 140 people getting tested a day at all sites, and this was back a few weeks," Nelson said. "It is substantially more now.
"It was a little strange to get started – I've never done a drive-thru," she said. "I don't think any of us had. We go through a drive thru every day, but not for someone sticking a swab up your nose."
The sites run until about 5 p.m. each day depending on how many patients are still waiting. While each patient is supposed to call the Patient Communications Call Center in advance to register an appointment at a drive-thru, Nelson said, they sometimes have to help register those who are frightened or stressed.
No stranger to hard work, Nelson was a faculty member at the University of South Florida in Tampa and had her own practice as a pediatric nurse practitioner before moving to the Valley to join the UTRGV School of Medicine.
Her passion for caring for underserved communities and helping shape future generations of doctors inspired the move.
"It's hard to leave a place that you'd been for 22 years, and I had a very busy pediatric practice because I am a pediatric nurse practitioner by training," said Nelson, who is married to Dr. Robert Nelson Jr., a pediatrician, senior associate dean of the UTRGV School of Medicine's Faculty Affairs, and founding chair within the Department of Pediatrics. "But we decided it would be a fun thing to do. 
"My husband and I have been in academic medicine for almost our full careers, but we had never been a part of a startup med school, which is what brought us to the Valley," she said.
Some of Nelson's proudest accomplishments within her almost six years at UTRGV include the number of clinics they have been able to establish across the Valley, and the second clinical effort she was able to put forth, which was UniMovil, a mobile clinic that brings comprehensive primary health care to people living in underserved communities.
"We have clinics for 120 miles across the Valley," Nelson said. "We go to 14 colonias in the UniMovil, and it's that same van team that started the COVID-19 drive-thru sites with me."
Nelson said it has always been a group effort to get the Valley's first medical school up and running, and she is proud of the accomplishments from the medical community and excited to see what comes next.
"There are a lot of accomplishments. None of it has just been me – it's about all the clinical team and the med school and the university," Nelson said. "Dr. Bailey is behind the medical school 100 percent and Dr. Krouse has done just a remarkable job and positioned us to grow."
The COVID-19 pandemic has taken over Nelson's usual responsibilities within the School of Medicine, but the drive to push forward keeps Nelson and her team going.
"The fear of COVID – I think that's been astronomical. My children were very upset that I was even going to be on the line – and I was afraid, too," she admitted. "But you have to push forward. We are here to serve the Valley and make everyone safe. If we don't test enough, we aren't going to make anyone safe."
Almost three months in, and the UT Health RGV testing sites continue to be booked. As the virus persists, Nelson said, she sees no immediate end to the need for testing. But she and her team are ready to continue to serve the communities that need them – the same communities Nelson fell in love with almost six years ago.
"People in the Valley care about other people. People in the Valley care about their community," she said. "I think I've always cared for the underserved and been community-focused, but this is a different community. They grab your heart."