By Roberto Hugo Gonzalez
For years, Dr. Leonel Vela, MD, MPH, has worked diligently teaching medical students; that is his passion. He was Founding Dean of the Regional Academic Health Center (RAHC), a campus of the University of Texas Health Science Center-San Antonio initiated in 2000 and based in Harlingen, Texas.
At the time, Dr. Vela held the appointment of Professor with Tenure in the Department of Family and Community Medicine. In this capacity, he directed the medical education and biomedical research components of the RAHC.
The years went by fast, as the first Regional Dean, Dr. Vela provided leadership in developing and establishing the RAHC campuses during their formative years and for the next 16 years until the RAHC transitioned into the new UTRGV School of Medicine.
Needless to say, it well known how proud the South Texas community feels in having this medical institution in an area that had been very underserved. Many thought that the creation of the School of Medicine in the Valley is a dream come true.
This year, the institution had its first charter class graduation in the middle of the COVID-19 pandemic. Still, he proudly told Mega Doctor News, "It didn't take away from the profound meaning of this milestone of having our first medical school graduation for the Valley."
Dr. Vela, the School of Medicine's senior associate dean for Educational Resources and senior associate vice president for Education, said the virtual ceremony was a unique way to acknowledge the School of Medicine charter class.
Dr. Vela has been a board-certified medical doctor for over twenty-five years. He received undergraduate degrees from Stanford University and a medical degree from Baylor College of Medicine. He completed post-graduate studies at Harvard University, where he received a Master of Public Health Degree and was a Kellogg Fellow in Health Policy and Management. He completed a two-year Fellowship in Community Medicine and post-graduate training in Preventive Medicine; he is a Diplomate of the American Board of Preventive Medicine.
The truth of the matter is that none of this has been easy; South Texas leaders also dedicated time, money, and effort to make it happen. And as always, the funding has been the challenge. But even with many obstacles, the school of medicine is now in full swing and graduating medical students. Unbelievable!
To give a brief timeline before the transition, RAHC was created for students in their third and fourth medical school years. The first two years were completed in San Antonio, the basic science years, "Students would come to the RAHC for their third and fourth year of their clinical training education."
Dr. Vela said, "When UTRGV medical school established, it included the full medical school education; first, second, third, and fourth years." He pointed out that the school of medicine offers the core of residency programs, specialties like surgery, OB-GYN, family medicine, internal medicine, and psychiatry.
"We're adding new specialties and subspecialties in internal medicine, so it's growing significantly. He also mentioned that med students come here come with a substantial interest in primary care.
"I believe in the mission of the school, which focuses on addressing the care priorities and the healthcare challenges in the Valley." He continued, "The mission of the medical school is very much based on primary care, focusing on prevention, and students that come to our medical school come with that interest already."
"Besides," he said, "the students are interested in coming to a medical school with that holistic approach to education that is not just acute care, which is very important. We do prepare students to care for patients that are acutely ill, and to be well-rounded physicians."
Dr. Vela said that med students attending UTRGV School of Medicine are mostly from Texas, about ninety percent, and the majority is from the Rio Grande Valley. He recognizes that the school makes a significant positive difference. "Students like myself, years back, I had to leave the Valley for an education, I had no options, the same holds for many other students aspiring for a medical career. Now, students can pursue their dreams of being a physician without leaving the area."
Dr. Vela is a dedicated professional and feels joy in doing what he does. He was born and raised in the San Juan and Pharr, Texas area.
"In a sense, we've come full circle; given the dreams of past leaders and how they would talk about the need for a med school in the Valley. Their dream was to one day have an opportunity for young people with interest in medicine." He said, "Today, we have the full spectrum of opportunity, no need to leave the Valley."
"Parenthetically we saw the first graduating class this May of our charter class. We had 38 graduates. They all were accepted to residencies across the country."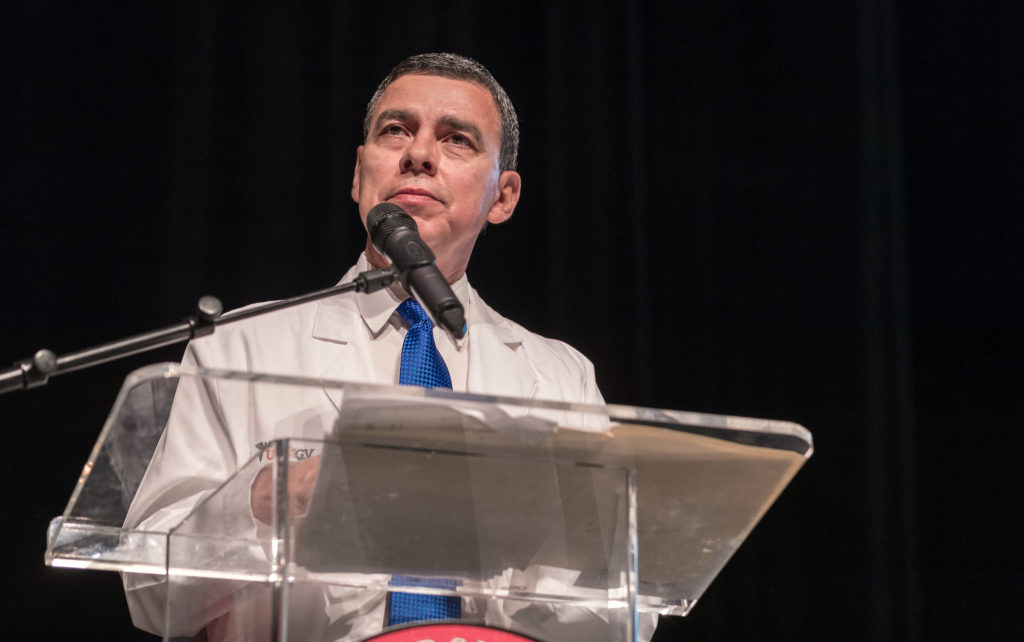 He said that the medical education structure system in the Valley has expanded to where there's much more availability of specialties and subspecialties than before. To his knowledge, the medical school certainly has been a significant nexus for that.
According to him, these specialists and subspecialists want to be part of a training education model. "They really want to be an enterprise that includes not only clinical care but also teaching new learners and residents." He added, "They want to be in an environment of practicing their specialty, and also a part of teaching opportunities and research."
Dr. Vela said that before, the Valley was the passive recipient of new knowledge. Renowned journals were publishing research from other institutions or medical schools. Now, the Valley is generating new experiences for the rest of the country and the world. He said, "The research that we are conducting here, we are publishing in major prestigious journals. It's true, that is exactly what is happening."
It is refreshing to hear him talk about the activities in a four-year-old medical school. He also said that they have thousands of applicants from students requesting to join the school. "We cannot take them all. It's impossible." He said, "That's painful enough for any med school, because there are many young qualified individuals, but not enough opportunities for everyone."
He also said, "We've been able to recruit excellent faculty from around the country. That has been very gratifying."
Personal Life
Do you have anybody in your family following in your footsteps?
"Yes, I do. I have four children, and three of them are following a health career. Adrian is pursuing medicine. My daughter, Clarissa recently graduated with a doctorate in pharmacy. Isaac is pursuing a doctorate in physical therapy. Then my fourth, Leonel, Jr. is in law school," he said proudly.
Do you have any hobbies?
"Oh, yes. I play the guitar. I love playing the guitar and music of all kinds. I used to play in a band, so I have always loved music."
More on Dr. Leonel Vela:
Dr. Vela's publications, professional presentations, and committee memberships have focused on Medical Education, tuberculosis, diabetes, migrant health, border health, and telemedicine. He previously chaired the National Advisory Council on Migrant Health for the U.S. Secretary of Health. He received the Plate of Bounty Award by the U.S. Department of Health and Human Services Migrant Head Start Branch.
Dr. Vela was honored by Texas Tech University Health Sciences Center as the recipient of the Rural Health Visionary Award and was a UTRGV School of Medicine inaugural member of the prestigious UT System Kenneth I. Shine M.D. Academy of Health Science Education.
"What brings me a great sense of joy and fulfillment is to have witnessed the Charter Class of 2020 students finish their medical school journey and transition to their residency programs," stated Dr. Leonel Vela.