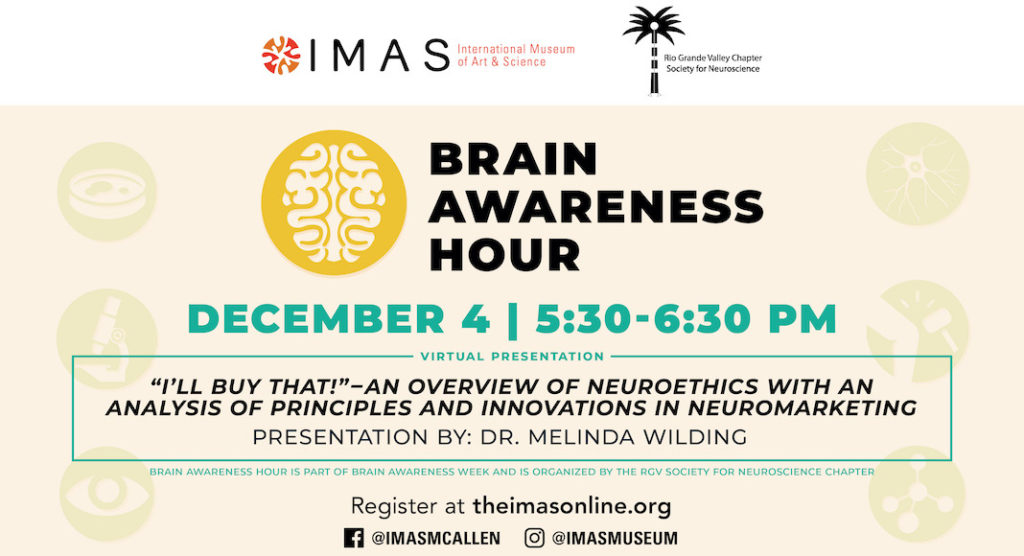 Mega Doctor News
McAllen, TX — The International Museum of Art & Science (IMAS) invites the community to explore the wonders of the nervous system during Brain Awareness Hour on Friday, December 4, at 5:30 p.m. "I'll Buy That!" is an overview of neuroethics with an analysis of principles and innovations in neuromarketing presented by Dr. Melinda Wilding, UTRGV School of Medicine. 
Is anything you purchase always your choice? Neuromarketing bases results and profits on human brain fluctuations and purchasing preferences. Neuroethics researchers question whether it is reasonable to use eye tracking, facial expression coding, emotional response, breathing rate, and skin conductance to promote sales. In this presentation, Dr. Wilding explains neuromarketing and asks the audience to comment on the intersection of neuroethics and neuromarketing.
IMAS has partnered with the RGV Society for Neuroscience Chapter to offer online presentations by nervous system researchers, perfect for teens and adults interested in expanding their awareness of brain science. Recorded lectures are available at youtube.com/user/IMASmuseum or the IMAS website.
Brain Awareness Hour takes place virtually via Zoom and there is no cost for attending though registration is required. Registrants will receive an email with the Zoom link the day before the webinar.