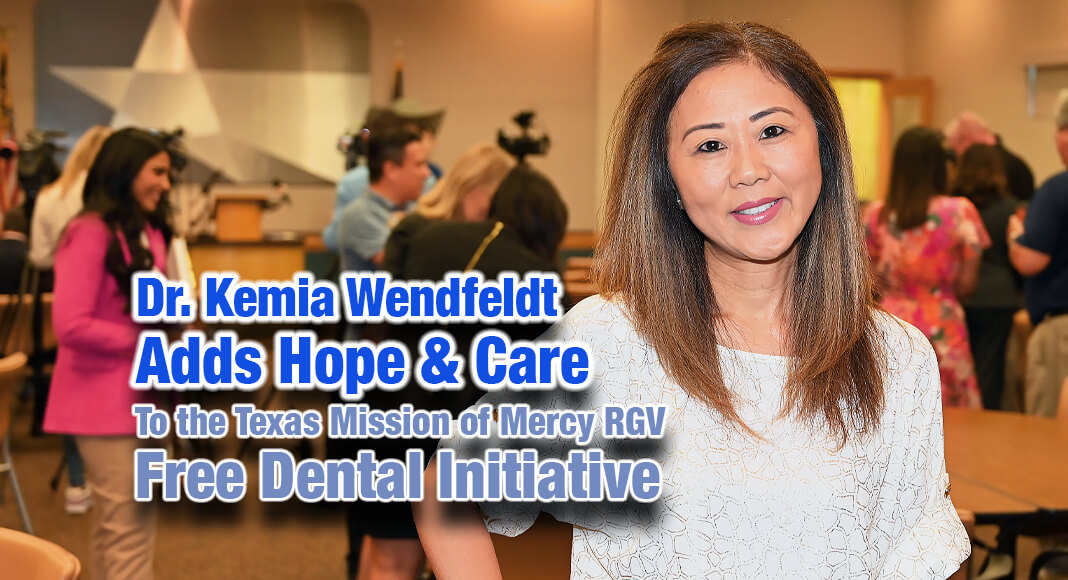 Mega Doctor News
- Advertisement -

By Roberto Hugo González
When it comes to giving back to the community, some individuals go above and beyond. Dr. Kemia Wendfeldt, DDS, a Board-Certified Pediatric Dentist, is committed to the dental community and believes that service is essential to her profession. Dr. Wendfeldt is joining forces with Dr. Carlos Cruz, an oral and maxillofacial surgeon, and a large ensemble of healthcare volunteers to offer free dental care services to the underserved population of Hidalgo County, Texas.
Dr. Wendfeldt is thrilled to be part of the Texas Mission of Mercy in the Rio Grande Valley (TMOM-RGV) event. Spearheaded by Dr. Cruz, the mission aims to provide immediate relief to dental ailments and bring awareness to the importance of oral health in overall well-being.
The resonance between Dr. Wendfeldt and Dr. Cruz's character is evident. "Our goal with TMOM-RGV is not only to provide immediate relief but also to raise awareness about the importance of oral health," said Dr. Cruz, underscoring the broader vision behind the event.
When asked if she had been involved in the planning of the event, Dr. Wendfeldt confirmed her active participation. "Yes, since the beginning," she said, highlighting her keen interest in shaping the mission. Her involvement is not a first-time venture; she has previously volunteered her skills in California, where she received her training.
The preparation for such a significant event is challenging. Dr. Wendfeldt acknowledges the hard work but is optimistic about the outcome. "It is [hard work], but also, I know there's going to be quite rewarding after we're done with the event. It is for all of us an honor to be part of the health and community needs," she stated, showing enthusiasm and purpose.
Her offices are in Weslaco and La Joya, Texas, but her reach goes beyond her practice. Dr. Wendfeldt hopes that this mission can act as a facilitator for dentists across the board. "I would love for this to be a wake-up call for all of us as a dentist to help the community we are in right now," she adds, hoping for the mission to inspire similar initiatives.
- Advertisement -

The event has generated a significant buzz in the Rio Grande Valley, with its residents optimistic, volunteers enthusiastic, and sponsors hopeful. Slated to occur on September 15 and 16 at the Bert Ogden Arena, the event will offer free dental services, including cleanings, fillings, and extractions. Patients are encouraged to attend a pre-screening on September 9th to expedite their treatment during the mission.
TMOM has a history of providing dental care to the underserved. Since 2001, they've held 87 mission events throughout Texas, providing care to more than 50,000 patients. The forthcoming event is supported by stakeholders, including Lone Star National Bank, DHR Health, and the Bert Ogden Arena, with over 60 dentists and 92 pre-dental students prepared to serve.
For Dr. Wendfeldt and her colleagues, the event is more than a charitable act; it's an example of their professional and personal philosophy. The initiative is a testament to their commitment to dental care and holistic well-being, setting an example for healthcare providers everywhere.
For more information or to volunteer for this noble cause, please visit the Texas Mission of Mercy – website at www.tmominc.com
By volunteering her time and expertise, Dr. Kemia Wendfeldt proves that the spirit of giving is a cornerstone in improving public health. She exemplifies how professionals can be agents of positive change, providing a ray of hope in communities that need it the most.