- Advertisement -

DHR Health Neuroscience Institute Offering Comprehensive Neuroscience Care
By Roberto Hugo Gonzalez
As originally published in Mega Doctor News newsprint edition April 2019
On March 13, 2019, DHR Health made an announcement, so big that Marissa Castañeda DHR Health Senior Executive Vice President used the word 'monumental' to emphasize how significant this accomplishment is, and it is ready to be unveiled.
DHR Health is one of the health institutions that has revolutionized many areas of the Valley's healthcare industry. They are proud to have over seven hundred physicians and twelve hundred nurses in an area that still is considered underserved.
She called Dr. Carlos Cardenas, chairman of the board and chief administrative officer, and former president of the Texas Medical Association, to highlight the ceremony.
That morning, Dr. Cardenas referred to the brain as 'el coco" and what we can do for it. He said, "What you can do within a concise period when something goes tremendously wrong, potentially catastrophically wrong; you need to be able to react within minutes and do some pretty incredible things. Today is a true red-letter day because we are embarking on a new journey in neurosciences, as part of being a comprehensive Stroke Center."
He said that Doctors Hospital at Renaissance was carving a path changing the landscape forever in the Rio Grande Valley. "No longer will we be geographically isolated from the major centers of care because we are that Center of Care," he said.
Dr. Juan Padilla, a 24-year seasoned neurosurgeon, said the big announcement is that DHR Health had received the Joint Commission's Gold Seal of Approval® as a Comprehensive Stroke Center — the first hospital south of San Antonio to achieve this certification — and the American Heart Association/American Stroke Association's Heart-Check mark for Advanced Certification for Comprehensive Stroke Center.
Mega Doctor News met with Dr. Juan Padilla, the Chief of Neuroscience at DHR Health. He said, "It is the highest designation a hospital can achieve in stroke care."
Padilla pointed out that with these certifications, DHR Health joins an elite group of hospitals that can provide highly-specialized stroke care. He gave us a brief background of how the Neuroscience Institute started which was the driving force for the development of the Comprehensive Stroke Center.
Dr. Padilla mentioned that the Neuroscience Institute is comprised of very talented and passionate physicians, with specialized training. They will make a real difference in the services provided in that field to residents of the Valley.
He said that to be designated as a Comprehensive Stroke Center by The Joint Commission, hospitals must demonstrate 24/7 availability of specialists such as neurosurgeons, interventional neuroradiologists, intensivists, and neurologists. Adding that a Comprehensive Stroke Center adheres to rigorous clinical protocols, aside from performing high volumes of procedures, they must demonstrate excellent clinical outcomes. The designation also requires a demonstrated commitment to stroke-related research.
"There are less than 30 hospitals across the state of Texas currently designated as comprehensive stroke centers. This, by all means, like Castañeda said, "it's huge" and a great honor," Dr. Padilla stated.
Padilla said that last year they set out to pursue designation as a Joint Commission Advanced Comprehensive Stroke Center by recruiting professionals in the field. He pointed out that throughout this journey, they have seen how this team of professionals has come together, focusing on the same mission, vision, and established goals. "Thanks to the hard work of this team, we were able to establish the parameters required by the Joint Commission to certify us as a Comprehensive Stroke Center." He continued, "We have moved to another level of excellence in patient care and neuroscience research."
According to Padilla, patients will benefit from the Joint Commission certification in many ways. The first, the designation of excellence in the care of stroke patients; two, it creates a loyal, cohesive clinical team; three, the sister organization established a consistent approach to care that reduces variation and risk of error; four, it demonstrates commitment to a higher standard of clinical service; and five, provides a framework to improve patient outcomes.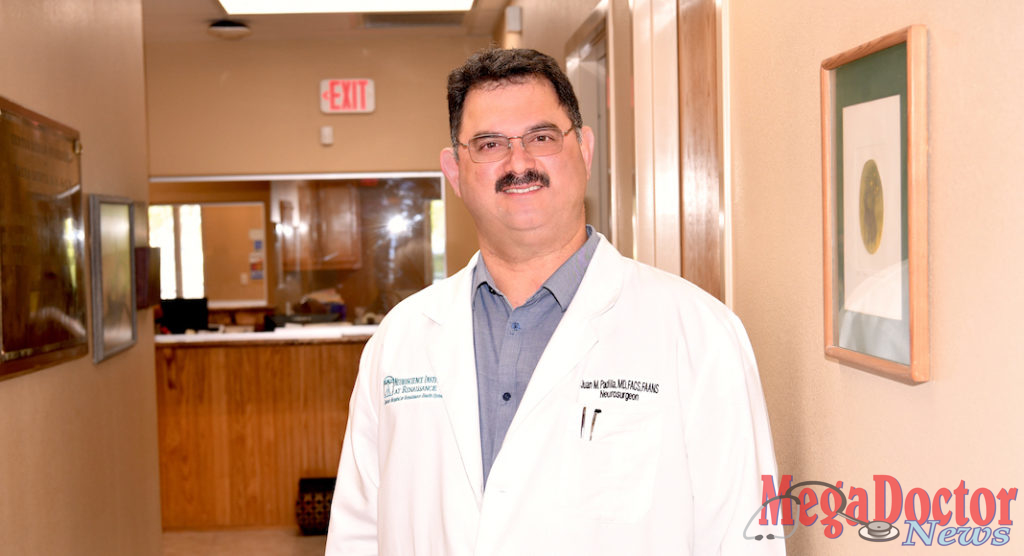 DHR Health Neuroscience Institute has a team of five board-certified neurosurgeons. They are dedicated to performing neurosurgical procedures with 24/7 accessibility.
Dr. Padilla came to the Valley in 2008, now 11 years ago and was part of a group of three neurosurgeons in Harlingen, Texas. Later he worked at Valley Baptist Harlingen, and then with Valley Baptist Brownsville, too.
In 2011, he moved up to McAllen and worked with McAllen Medical and DHR. Two years ago, DHR made him an offer to work exclusively for them.
Dr. Padilla has always been a high-ranking professional in his field, no matter where his position was. He is very down to earth, During the photo session for this article, DHR staff greeted him and spoke to him as if they were lifetime friends. His faith in God and his jovial personality are like an open door. Mega Doctor News enjoyed talking with him in preparation for this report.
He said, "A neurosurgeon intends to resolve all the neurological issues that can be solved by surgery, involving the spinal cord, the brain, and the peripheral nerves." The patients he or the team generally see in neurosurgery are patients with brain tumors. "We work with hydrocephalus; we work with spinal cord issues, also, with a congenital issue called Chiari malformation," he said.
"We also are involved in other congenital malformations like syringomyelia, and those are important conditions that need us to go into the spinal cord. There's also an arachnoid cyst, that we work with; we drain them or fenestrate them or even observe them."
DHR Health once again leads, the reason why being a comprehensive stroke center is so important is that they can treat any type of stroke. He calls it "the top level" it gives other hospitals in the Valley the opportunity to not transfer patients to any other institution out of the Valley. He said, "These institutions can transfer to us. There's nothing in that scale that we cannot do. We can treat all the strokes."
"What makes DHR special, is a large number of neuroscientists including neurosurgeons, neurologists, neuropsychologists, and a pediatric neurosurgeon. "We also have a neuro-endovascular radiologist, which is the complete gamma of neuroscientists for a complete neuroscience institute."
How did you come to select neurosurgery?
"Since my first year of school of medicine, a neurosurgeon came to talk about neurosurgery, and I fell in love with the field. I love what I do, I love to see patients do well. My intention is always to help the people and see how they can do better," he said.
Personal Life
Are you married?
Dr. Padilla replied, "Yes, to Johanna Sanchez and we have two kids, Johanny is 21; she is my first daughter. She's studying in UTSA right now. My daughter loves Spanish, she loves all the languages, and she wants to get a doctor's degree in LENGUAS (languages). My son, Janis 19. He's also studying in UTSA and wants a career in physical therapy."
How did you meet your wife?
"She was my friend, and we went out several times. Then I left for Boston, and I stayed there like four months or so, I mean, the only name that came to my mind was hers. So, when I came back, I believe that I had lost her phone number, then she called me. And I go, "Hey, don't hang up. Give me your phone, please." And then from there on she was my best friend. She is my best friend."
Did this happen in Puerto Rico?
"Yeah, it was in Puerto Rico," he said.
Is Johanna in the medical field?
"She's a certified nurse anesthetist, CRNA. However, she is not practicing now."
So, you left for Boston, and you realized that you missedher a lot?
Dr. Padilla explained, "Exactly. I was thinking about her all the time and all the things we would do together. And I said, "You know what? I think she's the one."
Did you propose right away?
He explained, "No, we went out for six months, and I was in the car with her, I said, "You know what Johanna? We've been going out for six months; do you want to marry me?" And she goes, "Yes" and that was it!"
There you have it; this was probably the best way to meet and get to know him.
Joint Commission Certified
Dr. Juan Padilla is the chief of neuroscience at DHR Health. He and a team of professionals are ready for any type of emergency. They hope that it never happens to anyone, but when it does, the Neuroscience Institute is fully assembled to serve.
What has been accomplished is no small thing, they are the First Joint Commission Certified Stroke Center in the region. They serve 24/7 Specialized Stroke Care with a Dedicated Team of Stroke Professionals, the Fastest Response Time, and achieved their Certification through the Highest Standards.
- Advertisement -