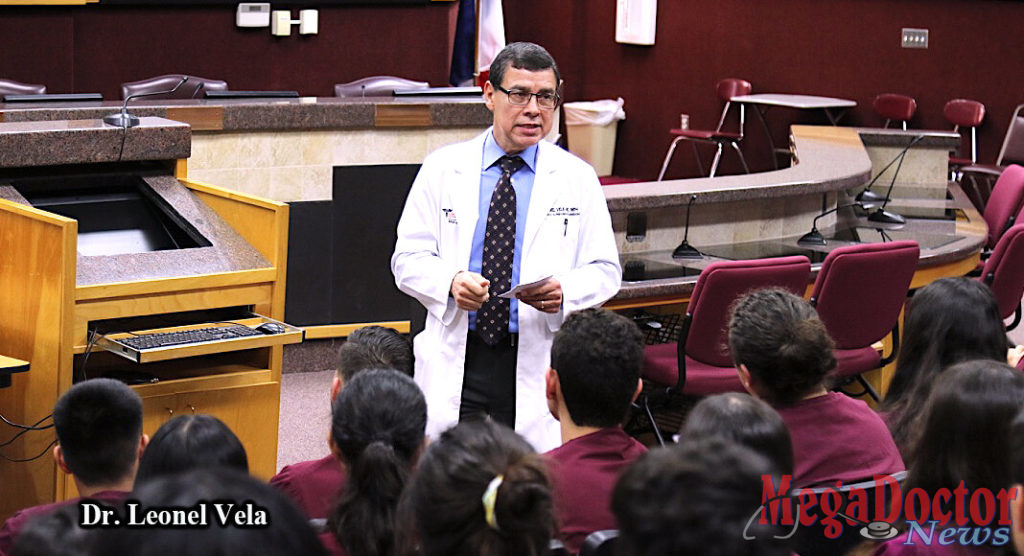 Mega Doctor NEWS
San Juan – As part of National Doctor's Day, which will be celebrated March 30, PSJA Alum and University of Texas Rio Grande Valley Dean Dr. Leonel Vela, spoke to about 150 PSJA students interested in the medical field on March 25. 
Dr. Vela serves as Senior Associate Dean of Education and Academic Affairs in the School of Medicine at UTRGV. He has been visiting PSJA schools for the last two years as a motivational speaker to engage students interested in the medical fields.
PSJA students currently pursuing a pre-nursing degree through Project HEAL in partnership with South Texas College and the Region One Education Service Center, and those who are part of the PSJA Biology Academy got to hear first-hand about his background and story, which led him to where he is today.  
A Pharr native and once a farm worker making $1.30 an hour, picking cantaloupes, Dr. Vela encouraged the students to reach their dreams.  "I wanted to return home to make a difference," said Dr. Vela, who holds a bachelor's degree from Stanford University and Doctoral Degrees from Stanford Medical School and the Baylor College of Medicine.   
For PSJA Early College High School Senior Jason Portillo, Dr. Vela made that difference during his visit. "I'm applying for the Registered Nurse (RN) Program at UTRGV, but I wasn't sure if I was going to be able to become a doctor one day with an RN degree," said Portillo, who talked to Dr. Vela about his concern. "He said that it is possible, that many doctors do it, and it motivated me to keep going. His was phenomenal, I thank him for coming." 
In addition to having several degrees, Dr. Vela was a Kellogg's Scholar Fellow at Harvard University. Dr. Vela's desire to give back to the community is appreciated, because it also impacts the lives of his patients, their families, and future doctors, too.